When is a shed more than a shed?
April 20, 2017
Once the garden shed was little more than a cobwebbed dumping ground for garden furniture and abandoned hobbies. But not anymore. Nicola Venning investigates what it takes to be a Shed of the Year.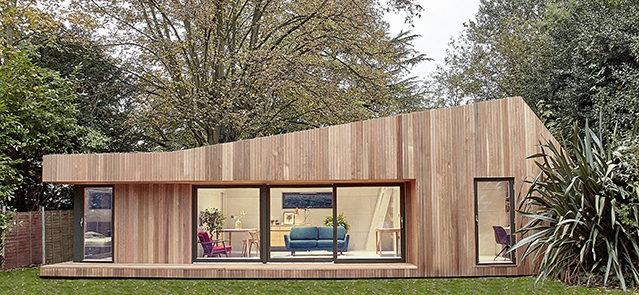 Photo: A far cry from the storage spaces of old, sheds now come in all shapes and sizes. Credit: Ecospace
One reason the humble shed is enjoying such a renaissance is because it is so flexible. Sheds can be used for almost anything, so everyone, from the yoga-practising mum to gaming teens, freelancers and nature enthusiasts, can enjoy them for whatever purpose they choose.
The shed as a multipurpose den
'[Sheds] have gone from being a space to store tools to places that people can escape to,' says Andrew Wilcox, founder of Cuprinol's Shed of The Year competition, which takes place in May each year and has featured in Channel 4's Amazing Spaces programme. 'I love sheds,' he adds.
Without doubt the shed has its ardent fans. Enthusiasts and hobbyists have turned the humble end-of-the-garden shack into cinema rooms, libraries, restaurants, smithies and even a Roman temple.
According to research by Cuprinol, 74% of people claim they feel more relaxed when they are enjoying life in their shed, while 65% say they feel healthier.
For the winner of last year's competition, space for relaxation was key. The West Wing in Berkshire has three separate sections including a spacious loft with a chill-out-cum-sleeping area and a bookcase that opens to reveal a hidden children's play area, as well as a workshop. Rather wonderfully, it is made from recycled materials and also has a turfed green "living" roof.
A space for creativity
For some, a workspace outside of the home is more important. The shed is 'where our best ideas can be nurtured, dreams fulfilled and stress banished', says Marianne Shillingford, creative director at Cuprinol.
As a workspace, these high-end sanctuaries are as well appointed as any household room and finished with bespoke shelving, desk and cabinets. 'People care about their shed as much as they care about their extension,' says Chris Hodge, who runs Shackadelic, a London-based company that specialises in handmade sheds as well as landscaping.
Befitting its new-found status, the reincarnated shed has upgraded its name and its style too, and is now more commonly known as a cabin, studio, pod and even modular garden room, with Wifi, heating (often a fireplace or stove, as well as under-floor heating), plumbing and insulation often included as standard.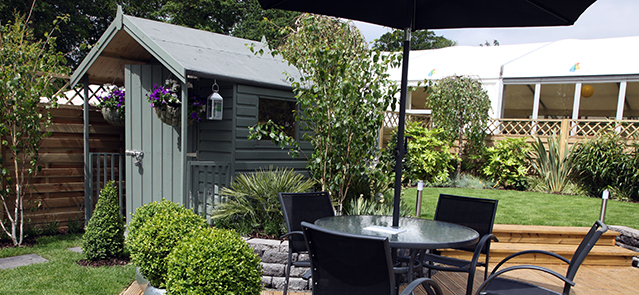 Photo: The garden shed can be used as an extension of the home. Credit: Alamy
A design destination
Current trends are for dark-stained, 'charred', timber which makes more of a statement: high-end sheds are to be admired, after all.
Floors are often in rubber (particularly in artists' studios) or polished concrete, with wide steel-framed Crittall windows. Solar panels are often fitted, while decking with some form of outdoor seating is a must.
Bryan Lewis Jones's The Rotating Shed not only offers a space to enjoy the garden at its best, but a stylish one at that. With a timber oval frame and floor-to-ceiling windows, it moves through 360 degrees to follow the sun.
The room is open plan, with a welcoming fireplace, and is designed to make the most of the view. 'People want something they can use the whole year round,' says Hodge.
But what about cost?
Unsurprisingly, these luxurious bolt holes can cost anything between £20,000 and £50,000. Hodge estimates that interior work and finishing can come to approximately 15% of the total price, though each shed is different and has its own priorities and budget.
As a rough guide, plumbing and an outdoor kitchen start from around £1,000 and £1,200 respectively.
Erecting a shed or garden room can take anything from five days to about three weeks, though prefabricated rooms can be assembled the fastest. Ecospace's modular garden room was put together off site in one week and then delivered to its home in South London.
The 50-square-metre space, which is clad in cedar with an interior lined in birch, has several highly configurable rooms including a kitchenette, bedroom and two lounges.
The shed rules
Today's garden sheds aren't just for pottering about or soaking up the sun. They also have a practical purpose. As house prices rocket and additional space comes at a premium, these discrete lodges are useful additional bedrooms for visiting family, youngsters and anyone else who best belongs at the bottom of the garden.
'A shed is the best way to spend your money if you want to extend that living space without taking out a mortgage,' says Shillingford.
Though most sheds can be erected under permitted development, there are rules. Broadly, outbuildings must be single storey with a maximum overall height of 4 metres (with a dual pitch roof). This drops to 2.5 metres if the shed is built within 2 metres of any boundary.
Garden rooms must also be an ancillary of the main house. 'If they are intended to be used as a self-contained living accommodation then they will require planning permission,' says Mark Tucker, design consultant at Ecospace Studios in London.
The Planning Portal is full of good advice, though it is always advisable to discuss any big project with an expert.
It seems today that the modern shed can be used for just about anything, from family escape hatch to satellite office and even a small holding for visiting relatives. Of course, the issue then becomes… where do you keep the lawnmower?
Through our Building and Contents Insurance, homeowners receive £10,000 of cover for theft from sheds, and garden outbuildings. For more information on our inside out cover visit our dedicated Garden Insurance guide.