What's it like to live in a penthouse?
March 16, 2017
Apart from the breathtaking views, stunning detail and luxurious breadth of amenities, what's the big deal about penthouses? Property expert Nicola Venning takes a look at why these homes are still so sought after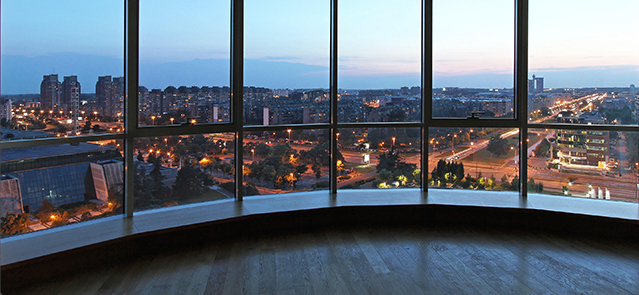 Photo: Alamy
There is nothing that announces success so well as a penthouse. Palatial and polished, they are the trophy homes of our age. From acres of glazing showing off iconic views through to buffed finishes in lacquered bronze or exotic woods, the characteristics of the penthouse are the residential pinnacles of perfection.
But a home in the sky is not only about status, the penthouse is also about lifestyle. In today's competitive market, developers are striving to outdo one another and ensure their apartments stand out from the crowd, according to Jonathan Hopper, Managing Director of Garrington Property Finders.
High rise and high tech
Invariably, the penthouse home is always interior designed down to the last centimetre of flooring, has amenities aplenty and possesses more high-tech wizardry than an orbiting space station.
One such home is The Brummel, a three-bedroom penthouse in Beau House, a boutique eight-apartment development by Dukelease in Jermyn Street, which can be found in historic St James's, central London.
Named after the Regency dandy Beau Brummell, who frequented the gentlemen's clubs and outfitters for which St James's is still renowned, the apartment is as bespoke as a handmade suit and with the same attention to traditional detail.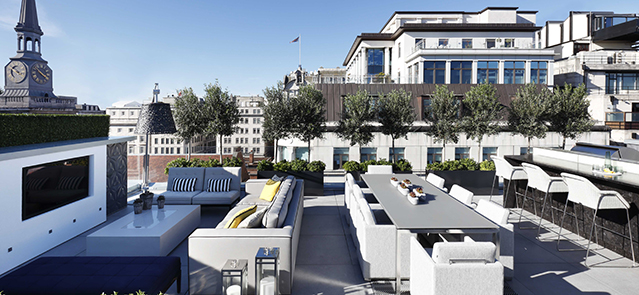 Beau House's roof terrace is a haven of high-tech relaxation
The many unique features include leather panelled walls, walnut cabinetry and herringbone pattern oak floors. There are Calacatta marble floors, Boffi kitchens and Porta Romana Salperton wall lights as well as a dedicated concierge service.
The apartment, which has been furnished by architectural interior design company Oliver Burns, spans three floors, including a roof terrace. 'Penthouses are popular as they typically have a balcony or roof terrace that overcomes the usual objection buyers have to apartments, which is no private outside space,' says Hopper.
The roof terrace is a haven of high-tech relaxation with an entertainment system, outdoor TV and firepit. There are also stunning views of Sir Christopher Wren's St James's Church.
A world within a world
Penthouses frequently top the 'must have' lists of affluent downsizers looking for a convenient lock-up-and-leave home, not forgetting the ex-pats who are relocating back to the UK, foreign nationals seeking a home for their student offspring, and investors.
'We are seeing more crossover buyers who are looking for a house but find that penthouses offer the space that they need, and minimise the maintenance that would come with a house and garden,' says Andrew Grice, Manager of Hamptons International Estate Agency.
Buyers, particularly international buyers, like new-build high rises and all the features that come with a luxury building, says Hopper. Spas, gyms and swimming pools are very popular. 'They are willing to pay top dollar for these things,' he adds.
Any purchaser of the penthouse in new residential tower One Blackfriars, adjacent to Blackfriars Bridge in central London, will enjoy a veritable playground of facilities.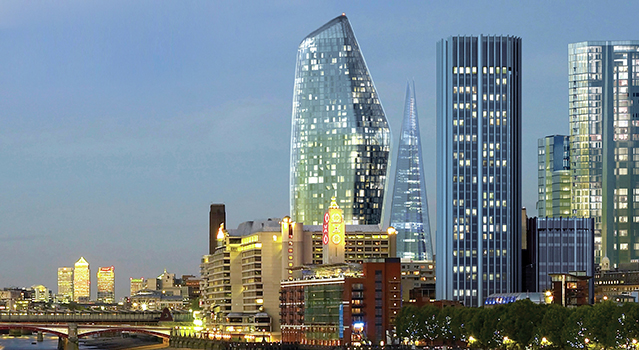 Adjacent to Blackfriars Bridge, One Blackfriars will be completed in 2018
The elegant 50-storey asymmetrical building, which will contain 274 apartments when it is completed in 2018, has a large lower ground-floor complex the size of six swimming pools, all dedicated to leisure.
Amenities include a cinema, wine cellar, 20-metre swimming pool, golf simulator and a thermal suite, including a snow room. The Harrods Estates concierge service will be on call 24/7.
This world within a world includes a state-of-the-art gym that will be built in a small centre opposite the tower and includes a yoga garden. Both are being designed to retain the views of St Paul's Cathedral – naturally. Conveniently, the building will contain cafés and shops and a boutique five-star 161-room hotel will be built next door.
Up and coming
The trend for these palaces in the sky is not restricted to London. Cities short on space are increasingly pushing upwards. York, Harrogate, Norwich and especially Cambridge, are all seeing more developments with tower-top homes.
'There are several examples in Cambridge of seven figure penthouses that ten years ago simply did not exist,' says Hopper. One such example is Parkside Place, a modern block with an eight-storey wing overlooking Parker's Piece in the centre of Cambridge, which is topped with an airy 2,000-square-foot-home.
Built in 2013, Parkside Place has polished wooden floors, floor-to-ceiling windows and, highly prized in this dense university town, four underground parking spaces. The porters ensure the smooth running of the building, which has a communal courtyard and gardens.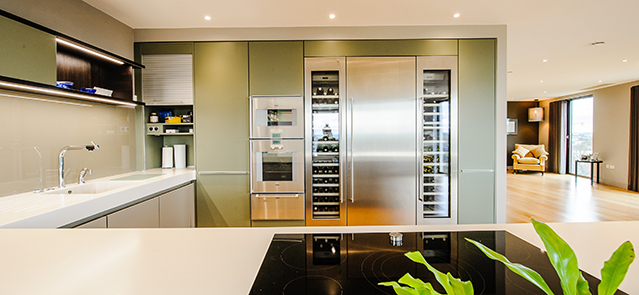 Parkside Place in Cambridge is topped with an airy 2,000-square-foot home
Services charges can vary enormously, depending on the building's age and the level of facilities. But extras such as a dedicated concierge, swimming pool and gym will all add substantially to the annual running cost.
'It's one of the first things buyers should enquire about before they fall in love with the penthouse of their dreams,' says Hopper.
Escaping the rat race
While always to be found in desirable locations, these high-end homes are not just the preserve of cities. The penthouse first reared its head in the roaring twenties when a need for premium properties in prime locations was challenged by limited land on which to build them, so pushing these homes upwards.
The narrow, coastal resort of Sandbanks in Dorset is one such location. Renowned for its opulent residences, Sandbanks attracts buyers from all over the world. The penthouse at Canford Cliffs, Poole, makes the most of its stunning position with glorious views across Parkstone golf course to Poole Harbour.
Sailing, sandy beaches and all the chic shops and restaurants of the Canford Cliffs Village are on the penthouse's doorstep. The 3,400-square-foot home also has its own private lift and is in a gated development of just five apartments. Top tier living… by the seaside.
Find out more about with our Hiscox high value home insurance.