What do architects think of home extensions?
October 12, 2016
The home extension can say as much about the architect as it does the owner – from bold artistic statement to environmental complement. Four architecture firms reveal the thinking behind their glorious designs to Dominic Lutyens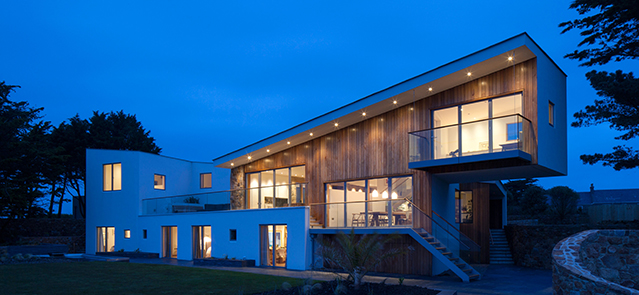 Photo: Alamy
Extensions naturally appeal to homeowners because they add an extra, luxurious layer of space to their property – as well as adding value. Architects, meanwhile, like designing them for different reasons.
Some architects see an extension as an opportunity to express themselves by making strong, personal statements that contrast with – or somehow complement – an existing, historical building. Others prefer to design structures that blend discreetly with their immediate environment: in scenic rural settings, for example, architects often prefer to create understated extensions that, while considerably enlarging a home, barely impose on the landscape.
The Royal Institute of British Architects (RIBA) notes the continuing popularity of home extensions. 'Architects are increasingly seeing homeowners place greater value on design and sustainability, bringing great architectural innovation to the home extension sector,' says a RIBA spokesperson.
Unapologetically modern
One extension that definitely falls into the boldly expressive camp graces Lens House in north London. Designed by Alison Brooks Architects to provide more space for a home and an office for the owners' art photography agency, it was completed in 2013 and shortlisted the following year for the RIBA Manser Medal.
Geometrically complex, the extension wraps around the side and back of a 19th-century house boasting a verdant garden with towering trees. The project references similarly audacious extensions at two other projects by the same architects – Wrap House, also in London, and Salt House in Essex.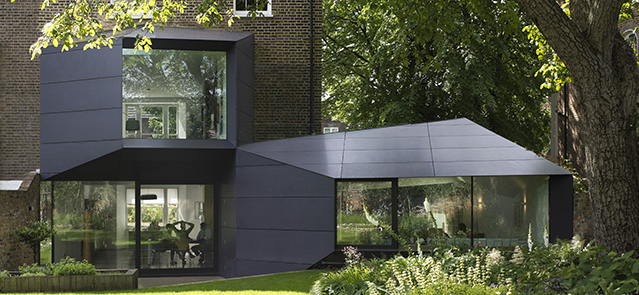 Lens House extension in north London. Photo: Paul Riddle
With angular surfaces that Brooks likens to origami, a key attraction of this unapologetically modern extension is its abstract, sculptural form. Its camera-like apertures – as Brooks calls the glazed elements whose sides are clad with charcoal-grey Corian – resemble gigantic windows. Indeed, they're designed, she says, to frame particular views of the garden and its wonderful trees.
A continuous structure when seen from the outside, the extension is divided internally into two areas – its lower part houses the office, crowned by a roof terrace; its upper one makes the existing living room larger and, jutting out as it does above the garden, provides shelter for a terrace below.
'The project is a favourite of mine because it's the most conceptually and architecturally pure extension I've done to date,' says Brooks. 'Inside, the large walls provide a huge backdrop to the owners' fantastic collection of photographs.'
For Brooks, the biggest hurdle was creating the extension's complex geometric form: 'Buildings comprise many layers – structural frame, insulation, cladding – in this extension, each layer has a slightly different geometry and my team of 3D designers had to ensure that all its planes met perfectly.'
Semi-detached expression
Some extensions, however, are more subtly expressive. Take William Tozer Associates' two extensions to an interwar house in Kent, which were commissioned by a couple with a child who wanted more space and an extra bedroom.
The roof extension added a dormer window and houses a bedroom and en-suite bathroom. Fronted by decking that creates the feel of an outdoor room, the ground-floor extension contains a kitchen and dining space that bleeds into the existing living space to create a much roomier open-plan area.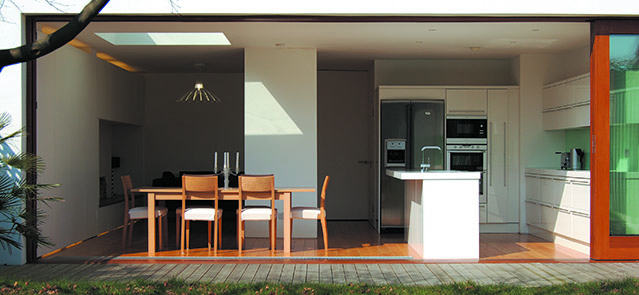 The owners wanted this Kent extension to reference one of the architect's previous projects. Photo: William Tozer Associates
The project was dubbed semi-detached both because the original house is semi-detached and because the extensions are 'semi-detached from their context', explains Tozer. 'Our clients approached us after seeing an extension of ours in Hackney during Open House London [an event that gives access to London buildings not normally open to the public],' he says.
At the Kent house, the render outside the ground-floor extension and zinc that clads the dormer – materials not found in the existing property – reference those used in the Hackney project. 'I see the one in Kent as a success. By reorganising the interior into open-plan spaces and dissolving the barrier between inside and outside, it has radically changed the way our clients use their house.'
Unobtrusive blend
By contrast, Richard Found of London-based Found Associates has created an extension at his family home in the Cotswolds, which merges almost seamlessly with its idyllic rural surroundings.
Despite being 23 metres long and incorporating four bedrooms, three bathrooms, a TV room-cum-study and open-plan living room, dining room and kitchen, it's unobtrusive. Shared by his wife Jane Suitor, an art consultant, and their two children, it adjoins a formerly dilapidated, now renovated gamekeeper's cottage.
Found initially wanted to demolish the cottage but, during the planning process, English Heritage was consulted and it was spot-listed. Planning officials also stipulated that the cottage be at the heart of any design.
Found came up with a design for an understated extension that would be built into the hillside, made of concrete in a tone matching the limestone of local Cotswold buildings and which would boast a predominantly green roof. While this design met English Heritage approval, Found had to spend four months excavating land in order to be able to build the extension into the landscape.
In 2012, the completed project won a RIBA Regional award. The fact that the extension's ultra-minimalist glass-fronted facade is not supported by a column in one corner to ensure unobstructed views of the countryside, appeals to Found. 'It's restrained, uncluttered, the atmosphere in it is calming.'
Historic connections
Knitting together old and new elements was also a key concern for architect Jamie Falla. His project Haut Courtil in Guernsey saw him redesign an existing building – a former gun emplacement – above an old German bunker and add a new extension whose sleek, streamlined style is inspired by 1950s Californian modernism.
The clients, who manage investments around the world, and their two children, required additional space. Echoing the huge windows of the panopticon-like old house, the extension is glass-fronted. As such, it blurs the boundary between indoors and out and capitalises on spectacular views of the English Channel.
'Obtaining planning permission above a historic German fortification and wanting to maximise views while respecting the feelings of neighbours presented major challenges,' recalls Falla. That said, he is very satisfied with the result.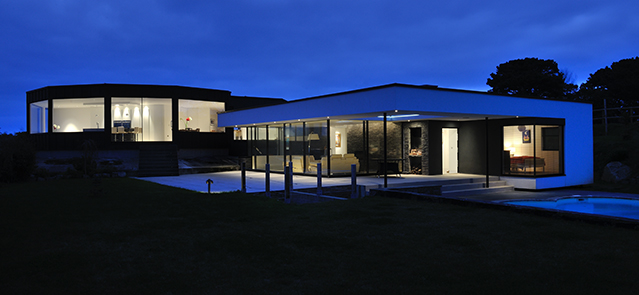 A former gun emplacement was redesigned as an extension in Guernsey. Photo: Matt Cant
'It's special because it connects history with modern design. I like the way it reflects the darker side of the island's past when it was occupied during the Second World War. The extension also bridges a gap that had existed before between the old house and a swimming pool.'
Alison Brooks perhaps best sums up the appeal of designing extensions when she says: 'They're an extraordinary opportunity to create architecture that is completely bespoke yet experimental, and test out new ideas about space, forms and materials.'
Find out more about our Renovation and Extension Insurance as part of Hiscox Buildings Insurance Cover