Grand Designs House of the Year
The real story behind a grand design
December 07, 2016
Dominic Lutyens talks to the judges, architects and homeowners of this year's Grand Designs: House of the Year to find out how they turned construction compromises into architectural opportunities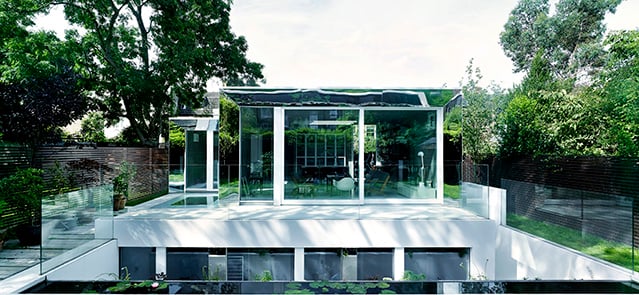 Covert House by DSDHA. Photo: Christoffer Rudquist
In the world of property design, planning and building, there is rarely a blank canvas. From environmental and sustainability requirements through to the issue of space (or lack of it), the architects and owners on this year's RIBA House of the Year longlist often needed to factor a long list of demands into their plans while still building something unique, innovative and spectacular.
Sustainable needs
Murphy House ticked all the sustainability boxes for RIBA architect Damion Burrows of Darling Associates, who visited several of this year's longlisted projects while filming Channel 4's Grand Designs: House of the Year series. He was impressed by the mechanisms underpinning the project's eco credentials: 'It concentrates a lifetime of ideas in one house.'
Murphy House's roof is mostly made of glass and under it are mechanised, insulated shutters that allow heat to enter the house when opened but retain warmth when closed.
One of Murphy House's more idiosyncratic features is its 'disappearing corner' whereby two windows meet to form a corner of the building. When they're flung open, all you see is the outside — a device that Dutch modernist architect Gerrit Rietveld originally included in his 1924 Schröder House.
Responding to nature
For RIBA architect Zac Monro, who also spent time visiting the RIBA House of the Year 2016 longlist while filming the series, the most inspiring homes were the ones that responded to, and worked with, their surroundings.
'Anthony Hudson's Le Petit Fort is an excellent example,' says the architect. 'It's a property stitched into an existing 20th century wall on the Jersey coast in the Channel Islands. Anthony is a master at taking cues from the landscape. When you look at how it sits in the context of its surroundings, it's just brilliant.'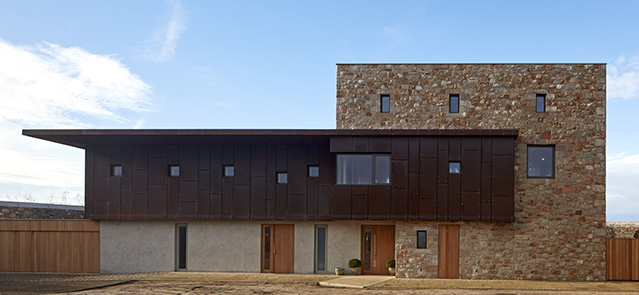 Le Petit Fort by Hudson Architects. Photo: Edmund Sumner
Moving with the times
Practical day-to-day requirements can also be a catalyst for extraordinary building projects. Clients might be motivated to commission architects to build a new home or redesign their existing one to adapt to a change of lifestyle.
This was certainly the case for the owners of Outhouse, a couple whose life after retirement involved painting and collecting art. Designed by Loyn & Co, Outhouse is an expansive glass-fronted concrete structure with sweeping views of the Wye Valley and Severn Estuary.
'They built this huge property centred on two large studio spaces that they use to create these amazing artworks. The art is hung throughout the house, so it almost feels like a gallery,' says Phil Thorn, Hiscox Head of Direct Home Insurance, and one of the award judges.
Matters of taste
At The Narrow House in Brighton and Hove, the homeowners' passion for art combined with their desire to display their collections in a small space to determine the design.
Created by Sanei Hopkins, The Narrow House is a new build constructed on the footprint of a single garage and sandwiched between two adjoining houses. The owners' art collection includes many kinetic sculptures, and these animate the house's stark interior.
'The Narrow House's interior features large mesh panels that the art can be hung from,' says Burrows. 'So although the interior is austere, the art transforms it into a beautiful space.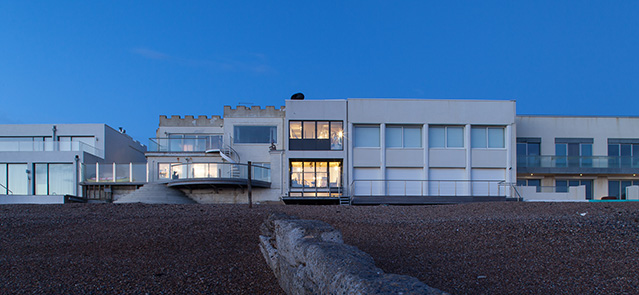 The Narrow House by Sanei Hopkins Architects. Photo: Peter Landers
Creating space
A desire to draw more light indoors and make the building seem bigger were motivations behind Contemporary Lean-To in Harrogate, where Doma Architects converted a basement into a day room-cum-living room for owners Phil and Nicky Dennis and their two young children.
The glass-fronted basement now creates a strong visual link to the back garden. 'We wanted a closer connection to the garden because we thought the children would use it more as they grew up,' says Dennis, an actuary.
Another contender for the award, Modern Mews, near London's Hyde Park, also grew out of a need for more space. Its occupants, Dan and Ruth Wilson, both lawyers, had recently had a son. But the couple had no intention of conforming to the pattern of young families moving to the suburbs.
'Avoiding a long commute means we can enjoy more time at home. Yet we couldn't afford a bigger place. And, since ours can't be enlarged, we thought there must be a way to maximise the space to accommodate a child without feeling we were living in a chicken coop. So we contacted Coffey.'
The mews house only has front windows, which made it 'dingy and dark', according to Michael Henriksen of Coffey Architects. 'Our vision was to gut the house,' he says, 'then insert a new staircase, which reaches all floors and gets rid of wasteful corridor space. We also installed a skylight, which brings light into the entire home.'
Blending in
While some glorious builds are all about standing out from the crowd, homeowners can enlist an architect to do the opposite – making their home blend sensitively with its surroundings or to give them more privacy.
Covert House, as its name suggests, was designed not to impose on the surrounding landscape, a conservation area in Clapham. Designed by David Hills and Deborah Saunt of architects DSDHA as their family home, it boasts an extra subterranean floor, created by digging underground.
'The house was conceived both to minimise overlooking nearby properties and to capture as much light as possible, thanks to big skylights,' says Hills. 'All the rooms on the lower floor have floor-to-ceiling windows leading to courtyards. And white resin floors help to reflect light throughout the space.
'Mirrored surfaces on the window openings make the edges of the house appear to dissolve into its setting, while reflecting the surrounding greenery.'
Meanwhile, Pete Smith and wife Sally, owners of Private House 1109 in Cheadle, took the more radical step of commissioning architects GA Studio to create a very modern looking new build on a plot bought by Smith's parents.
To the couple's surprise, the local council was 'forcefully behind its contemporary design', says Smith. However, they faced opposition from some neighbours. 'They objected to the design on aesthetic grounds, but there's a mix of architectural styles dating from the 1920s to the 1980s in our area, so they couldn't argue that there was one style of local architecture our house needed to conform to.'
Get insurance for extensions or renovation work with high quality cover from Hiscox
The winner of the RIBA House of the Year Award will be announced on 15 December 2016. For more information visit RIBA House of the Year