The art of eco-homes
August 23, 2016
Is it possible to have a home that is both ecologically sound and aesthetically pleasing? Architecture writer, Dominic Lutyens searches for the perfect marriage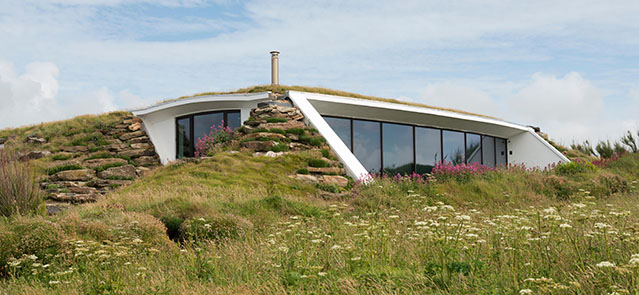 Photo: Alamy
Owning a home that is environmentally friendly and good-looking is a goal many aspire to. But eco homes can conjure up visions of obtrusive solar panels, clunky triple-glazed windows and unsightly air-source heat pumps. Yet the idea of achieving both stylish and sustainable needn't be a contradiction in terms. Architects are increasingly creating stunning homes that are also impeccably eco.
Elegant form
New Forest House by Hampshire-based practice Perring Architecture and Design (PAD), is a clean-lined, rectangular, timber-clad building fronted by a natural swimming pool that needs no chemicals to clean it. The owners, whose brief was for 'a contemporary, sustainable home', can walk on to the natural carpet of sedum planted on the roof.
The planning restrictions imposed on this proposed new-build were particularly stringent as the plot is in a conservation area and on a Site of Special Scientific Interest, which protects areas of outstanding wildlife, yet the sustainable qualities helped to get the design approved.
New Forest House's footprint was restricted to 120 square meters, so the architects created a basement to add space. The excavated earth was reused and packed against the north-facing wall to help insulate the building.
Without compromising its elegant form, the house recycles rainwater and features solar thermal panels – these capture heat from the sun to provide hot water – and a ground-source heat pump, which extracts heat beneath the ground to supply heating and hot water too.
Digging underground
Another inspirational property is Covert House in Clapham, also situated in a conservation area, winner of the London Regional Award from the Royal Institute of British Architects (RIBA) earlier this year. Designed by David Hills and Deborah Saunt of architects DSDHA as their family home, it appears at first to be an unimposing, single-storey house yet an extra floor was added by digging underground.
Clever mirrored panels framing the upper floor's façade, which catch reflections of the garden, help the house to blend into its surroundings. It boasts a discreet air-source heat pump, solar thermal panels and rainwater harvesting. It also has a whole-house ventilation system, which extracts heat from stale air leaving the building and mixes it with fresh air entering it, ensuring that the interior is well ventilated at an even temperature.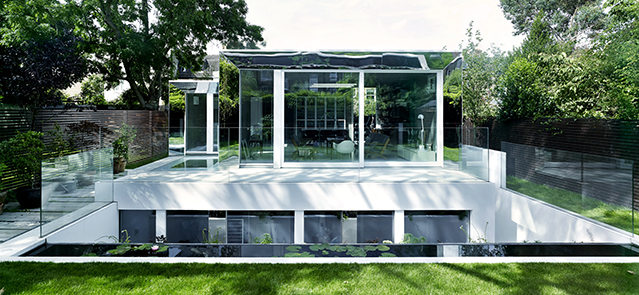 Covert House in Clapham. Photo: Christoffer Rudquist
Natural yet contemporary
A third example of a handsome, eco-friendly home is Orchard House in Wiltshire, designed by Studio Octopi. It looks unmistakably contemporary yet its natural, locally sourced materials – including Cotswold stone – reference traditional agricultural buildings.
It has an air-source heat pump, which provides hot water for its underfloor heating, concealed energy-efficient lighting that casts soft, indirect light and a grey-water recycling system which reuses rainwater collected from the planted sedum roof to flush the toilets and water the garden.
'You don't have to turn your home into a horror for it to be eco,' stresses Wendy Perring of PAD. Her number-one tip for making a home more sustainable without adversely affecting how it looks? 'Spend money on insulating roofs, walls and windows to make them as airtight as possible.'
Perring suggests two good brands for insulation – Kingspan and Celotex – as well as several, more eco options, such as Warmcel (they use recycled paper), Knauf's glasswool (made from recycled glass bottles) and Black Mountain (they use sheep's wool or hemp).
Moreover, Perring recommends triple-glazed windows and sliding doors: 'These have come a long way aesthetically. One company, Internorm, makes fabulous ones with a very low U-value, which means they provide excellent insulation. Sky-Frame's triple-glazed sliding doors are great too. People normally think of triple-glazed door frames as chunky but these are very pared-down and slender.'
Perring also suggests installing relatively energy-efficient underfloor heating on the ground floor, which can be retro-fitted into homes. 'This saves energy as it runs at 15°C, whereas radiators have to be about 4°C more.'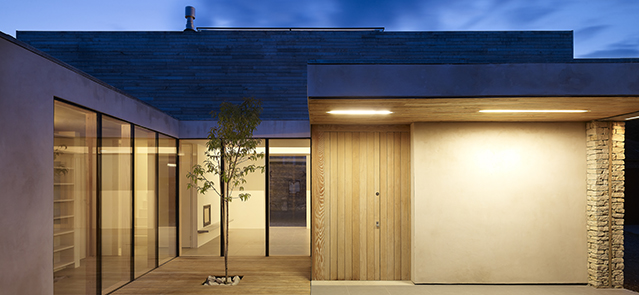 Orchard House in Wiltshire. Photo: Julien Lanoo
Perring advises black solar panels, which 'look better as you notice them less. You can now get ones that lie flush with the roof rather than being bolted on'.
'Solar panels can be integrated into a roof rather than sitting awkwardly on top,' agrees David Hills from DSDHA. 'Or you can replace the entire roof with solar tiles, which creates a more aesthetically pleasing homogeneous surface. In a conservation area, you'd most likely have to use these, just as you'd need to install skylights that don't project from the roof.'
DSDHA included generously large panels at Covert House. 'Skylights are great for providing more natural daylight and ventilation, and a simple way to make a house more environmentally friendly.'
Without the gimmicks
One ruse to integrate eco devices harmoniously into a home is to conceal them. 'At Covert House, a lot of the eco technology is hidden,' says Hills. 'The rainwater harvesting system — basically a big tank — is stored underground with turfed manhole covers. It can be inspected if necessary, while remaining essentially invisible.'
Air-source heat pumps can look like awkward add-ons, usually stuck in the back garden or against the house in caged enclosures. 'At Covert House, we designed an enclosure for it as part of the landscaping,' says Hills. 'There are several white concrete elements in the garden, including a low wall that folds round the pump.'
James Lowe of Octopi Studio thinks along similar lines: 'One of the main principles at Orchard House is for its eco elements not to be obvious. If you get the basics right, such as sealing all gaps round doors and windows to make a house as airtight as possible and capitalising on natural light, there's no need to add lots of gimmicks.'
Of course, air-source heat pumps don't exactly blend into the background, as Lowe admits: 'They're not pretty – they look like big air-conditioning units. But we concealed the one at Orchard House in an outdoor structure also used as a potting shed. It harmonises with the main house as both are clad in sweet-chestnut wood. The shed is naturally ventilated because the wood on it is slatted.'
Overall, according to Hills, an eco-home can function well without being over-dependent on technology. 'At Covert House, the whole house ventilation system can be easily switched off, during the summer for instance. Rather than rely on technology, whenever possible we like to open all doors and windows and let air circulate.'
All featured architects are RIBA chartered practices that comply with strict criteria covering insurance, health and safety and quality management systems. The RIBA website lists over 3,000 RIBA chartered practices and 40,000 projects.
The RIBA's Client Services team offer selection and support services to help you find and work with the right architect for your project. For more information contact them on 020 7307 3700.
With Hiscox Buildings Insurance you can get comprehensive cover for your home if it's undergoing building works over £75,000. For more details, visit our Renovations Insurance page.