Counterfeit wines and how to spot them
December 11, 2017
Wine is one of the most popular forms of alternative investment and amongst the most sophisticated. Yet despite the industry's exclusive reputation it too is a victim of counterfeiting. We speak to wine expert Tom Gearing to understand a little more about how the industry works, and for his advice on how to purchase fine wines for investment without falling prey to fakes.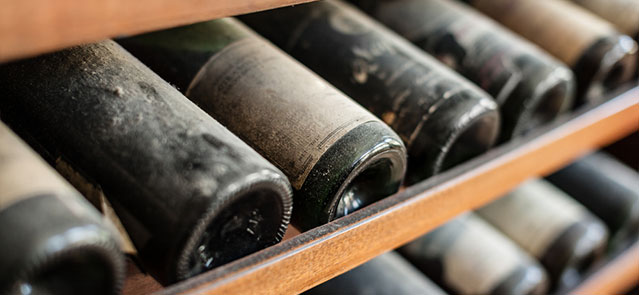 The wine trade is in Tom Gearing's blood. 'I think the first time I went to a vineyard, I was 11 years of age,' He tells us. 'My father was a wine collector. He was very passionate about wine and ran a few wine companies. He used to drag me down to Burgundy and I was very lucky to grow up and be introduced to some of the greatest wine makers and producers.'
When he joined his brother at Cult Wines in 2009, Tom was in the perfect position to add his experience and expertise to the business. With the company now boasting over £25 million's worth of assets under management as well as international offices, they're able to offer reliable insight into an industry that has, in the last decade, been rocked by high-profile counterfeit exposés.
'Unfortunately, we do live in a world where there are people out there fraudulently creating wines and there are people forging wines,' Tom tells us. But to understand how to trace the origins of a wine, it's first important to understand how the fine wine industry works.
Bonded vs unbonded
The process of purchasing wine as a serious investment is slightly more complex than shelling out for the most expensive bottle at your local Oddbins. If you intend to store and save the bottle for resale, you may need to do more than letting it age on your wine rack at home.
'When most people buy expensive wine, they move it to a professional wine storage facility – a bonded warehouse – and will keep it there long term.
Once you take wine out of the warehouse and bring it home as loose bottles in a rack, there's no way for you to reliably prove where those wines have been, where those bottles have been stored, how they've been stored, or what condition they've been in. That's the problem if you want to resell it in the future.'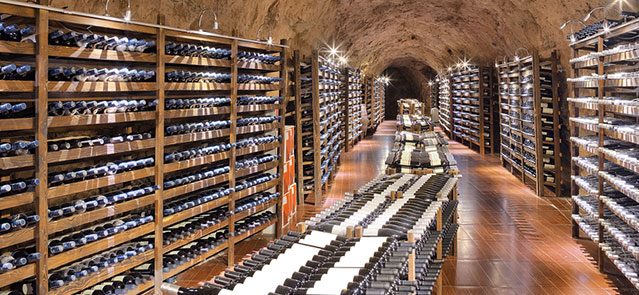 In recent years, in many high-profile wine forgery cases, the fake product has come from an individual's collection. This is often sold on in person, online, or through an auction house. But in an industry populated by wealthy collectors, passionate experts, auction houses and specialist retailers – all with the knowledge of where and what to buy – how does this counterfeit wine get into the market?
How forgery happens
Forged wine that makes its way past expert eyes (despite lacking the provenance of a bonded warehouse) will often be comprised of authentic elements. You might pay a premium for a vintage bottle of wine that has had its background attributed to a private collection, but in reality, the only authentic part of that purchase could be the bottle itself. As Tom explains:
'To use an example like Petrus, they make a couple thousand cases a year at an average bottle price of around £2,000. The 1982 Saint Petrus currently sells at £5,000, whereas the 1983 vintage, might sell at £2,000. So, a counterfeiter will go to an auction, buy Petrus 1983 then buy an empty bottle of Petrus '82 on the black market. They fill it up with the same producer, just one year different.
It's the same grape variety – 100% Merlot. It's going to have the same age-worthy characteristics. So, someone's spent £2,000 on a Petrus '83, refilled their '82 and made a £3,000 profit.'
'Some wine merchants just don't spot it – they might buy 1000 bottles from a private individual and couple of bottles will be counterfeit.'
With such refined counterfeiting practices, it's easy to understand how even the experts can be fooled. But, as a nonprofessional wine collector, how can you make sure that you're paying for the real deal?
Your wine buying checklist
Always ask for provenance
'Anyone that's a genuine wine collector – somebody that's stored their wines at home – will be aware that invoicing and keeping good records is very important. So, whether you're buying wines from an auction scenario or from a private individual – if that person is a genuine wine collector they should have a certain level of record keeping that you can substantiate.'
Do your research
'When you're buying a bottle from an individual, you've got to rely on your own expertise. Have you seen real bottles or real examples? Do the labels look right? Do the capsules look right? Are they consistent?'
Check the details
'There are loads of little intricacies that people really need to know. When it comes to buying duty paid stock (which have been taken out of a bonded warehouse) or loose bottles, a lot more caution needs to be taken. I once visited a customer in Guangzhou in China and he showed me a bottle of Lafite-Rothschild that he'd been given as a gift. I looked at the label and it genuinely said, 'Made in China.'
Check the back stories
'Sometimes the back stories just don't add up. You've got to do your homework and if you don't feel like the evidence is right and there's not enough corroboration on where that wine came from then you can't take the risk.'
Tackling the problem with technology
Counterfeit wines are damaging to everyone in the sales channel, from the producer, through to the dealer and the consumer. But while you can take steps to protect yourself as a private individual, dealing with this criminal activity is not just the responsibility of the collector.
'Counterfeit wines, or whatever it might be – will always have an impact on the brand and the quality, or the perception of that brand,' Tom tells us. 'And the industry has started to fight back. Over the last five or six years, we've seen technology come into play.
Lafite Rothschild has introduced Proof Tag technology. Since 2009, every bottle comes with a unique double strip on the capsule. This is a piece of foil which you can peel off to expose a unique imprint. They also have QR codes which you can verify on their website.'
And for wines that reached the market before 2009, you don't just have to rely on authentic provenances and your own expertise, either.
'WineFraud.com now offers a full authentication service. They will come and inspect your full collection and authenticate every single bottle of wine. These are people that now have got libraries of information on what the label should be in every single vintage. They're about 99% accurate in terms of looking at a bottle of wine visually.'
Whether it's making sure that you're paying for an authentic product, or taking steps to protect the high-value items already in your possession, you should safeguard your collection. With Hiscox Contents Insurance, your cover is unlimited. There's no need to list the value of specific items worth under £15,000, just let us know the value of your collection and we'll keep you covered.
If you're interested in the wine investment market, you can find out more about Tom Gearing's company and the services offered at Cult Wines.