Original wallpaper, specialist DIY suppliers and Victorian coins / Interiors Q&A with Hugh St Clair
April 29, 2015
In our new Q&A series you can ask any interiors-based question that's burning a hole in your mind, and our columnist Hugh St Clair will do his utmost to answer it for you.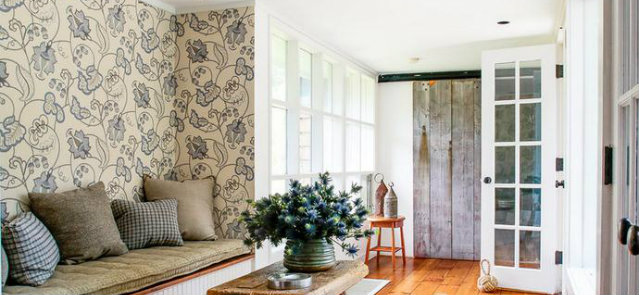 "Pepper Trail" wallpaper http://www.neishacrosland.com/
Here's our first instalment, covering where to buy some truly original wallpaper, where to find a specialist DIY supplier, and what to do with those charming Victorian coins you inherited last year…
Let us know your questions for the next Q&A feature over on our Facebook page
Over to you and Hugh…
---
Q. I would like to wallpaper the hall and stairwell in our country house. I want the wallpaper with a large pattern that is colourful and original. The house is around 150 years old so I don't want something too modern. Where should I look?
A. For original wallpaper, Coles, www.cole-and-son.com has been going for 150 years and they have taken some fantastic designs from their archive for their New Contemporary and New Contemporary Two ranges .Choose a pale ground and soft colours to bring light and give a sense of space. David Oliver "Mayflower" is large white flowers on lilac grey and green pastel backgrounds http://www.paint-library.co.uk/, Neisha Crosland, "Pepper Trail" (shown above), "Clematis Flower", "Cactus Paisley" and "Anemone" are beautiful, http://www.neishacrosland.com/. For a geometric pattern look at G. P and J. Baker design "Hicksonian" by Ashley Hicks. The most suitable colours are" Dove Green" and "Taupe Bronze" http://www.gpandjbaker.com/group/en/
---
Q. I recently bought a Mid Century Modern chest of drawers. It has small black round Bakelite handles but one is missing. I doubt I will be able to replace just this one. I wonder where I could find a set of handles in keeping. The chest of drawers is in walnut.
A. Contemporary furniture and home accessory companies who reproduce in 1950s style seem to make new knobs more fancy than the originals which would have been in unadorned wood, copper or Bakelite in a square or conical shape. The best of manufacturers of bespoke door, cabinet and bathroom fittings to look at are Haute Deco http://hautedeco.com/ who make jewel colour resin knobs but also black and clear glass resin ones at around £40 which would suit your piece of furniture best. Graham and Green http://www.grahamandgreen.co.uk/ can supply conical mother of pearl knobs that cost £3.95 each.
---
Q.My grandfather left me a collection of thirty coins, mostly British from the early nineteenth century through to George V1. The majority are silver but there are some smaller Victorian gold coins. We are not sure if they are of any value and we do not know who to approach to see if they may be of interest?
A There are certain factors governing how much old coins are worth. You are not going to get a great deal of money anyway for modern coins as collectors seek much earlier ones – a coin from 500 BC is only worth a few hundred pounds. Coins are valued on their rarity and condition. Dealers distinguish between a collection and an accumulation of coins. A collection is formed from money never in circulation. A proof sovereign or crown from 1887 Queen Victoria's Jubilee has value. Proofs were originally for approval by the mint master and the monarch. When coin collecting began to become popular about two centuries ago, a larger number of proofs were made on special occasions to sell to collectors. The vast majority of coins minted in the last 150 years however are valued on their silver or gold content. Coins pre 1947 have 50% silver content. If you think you have anything of value take it to A, H Baldwin in London. http://www.baldwin.co.uk/
Let us know your burning interiors questions over on our Facebook page