Objects of Desire: Chairman of Berry Bros and Rudd, Simon Berry
February 26, 2015
Leading wine expert and chairman of Berry Bros and Rudd, Simon Berry, talks to interior designer, Hugh St Clair, about his favourite 'Object of Desire'.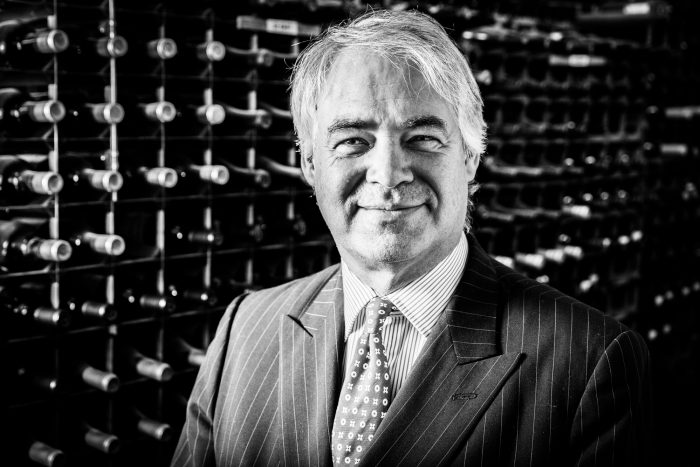 Objects of desire can come in many different forms. Looking for stylish and inspirational ways to adorn your home? In this new series, the UK's leading figures in the interiors, antiques and art talk us through their 'Objects of Desire', their favourite pieces, what they would love for their own home, and where you can go to make them a part of your home.
In our first piece, we hear from Simon Berry, the seventh generation of his family to work at wine merchants Berry Bros and Rudd in St James's Street, London.
According to Simon, nobody drinks out of decanters these days:
"Cheaper wine really benefits from decanting. It allows it to breathe far more easily than in an open bottle," he declares. Very young wines often taste better when double decanted. This allows more air to circulate and reduce levels of tannin. It's best to decant red wine half an hour before serving."
Simon also explains that before glass became so affordable, wine in 18th and mid 19th century was stored in casks and then poured either into hand blown bottles with family stamps that were reused again and again or decanters.
When Simon's grandfather died, almost all of his famous collection of glasses and decanters was either sold or donated to museums. As a result, Simon now can't resist buying unusual Irish Georgian decanters. "Because they are rarely used nowadays, you find lots of beautiful cut glass ones in good condition," he says. "Laurie Leigh Antiques in Stow on the World, is the place to find wonderful decanters." David Leigh is an expert on decanters and the author of "Decanters 1760 -1930," Shire Books.
Simon's chosen 'Object of Desire'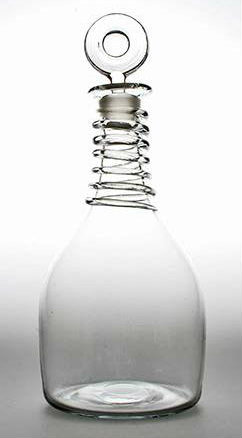 Simon Berry has chosen a very simple, but extremely rare plain barrel shaped decanter with spirally trailed neck rings and a molded glass stopper from around 1800 (£825) and a beautiful Georgian tapered decanter cut with three rows of engraved floral decorations and a cut disc stopper (£495).He also likes a decanter that has a label on a chain surrounded by vines saying 'CLARET' engraved into the glass. This is the most expensive of the three at £1350.
It's rare to find decanter engraved with a wine description. Most decanters weren't specific to one kind of wine so silver labels were hung round their necks. As decanters are used less today, so are wine labels, although they have an intrinsic value for collectors. Silver Georgian wine by Scottish or Irish provincial silver smiths is sought after. Expert David Buck, from Steppes Hill Farm Antiques, says an 18th century Irish label depicting a balloon was recently bought for £4000. Georgian labels from further afield than France Cape (South Africa) or Mountain (Malaga) and Tenerife sell for around £350.
Find out more about Simon and Berry Bros & Rudd here: http://www.bbr.com/.
If you want to keep safe your treasured possessions and protect your 'Objects of Desire', find out how our home contents insurance can give you the cover you need.
Image credit// www.laurieleighantiques.com