How to weather-proof your home
January 09, 2018
With storms lashing out across the UK this winter, we find out what measures can be taken to help our homes stand firm without compromising their design.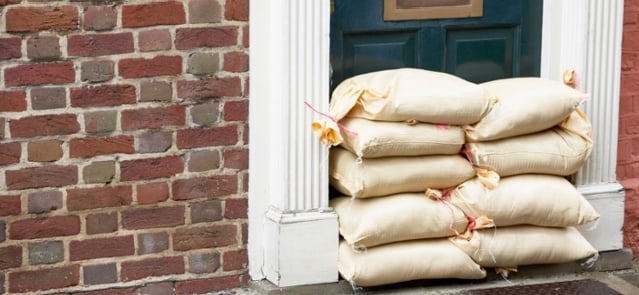 Photograph: Alamy
Britain's weather has traditionally been characterised as a distinctly lacklustre affair – short, disappointing summers and long, grey winters. Yet the effects of climate change mean there has been a noticeable shift in recent years. The 2017-2018 storm season has been one of the most active so far, with homes across the country being affected.
Weather extremes are expected to continue, so preparing our homes for the worst is increasingly important. The good news, however, is that this needn't involve a drastic overhaul. With regular maintenance and the right precautionary measures, you can create a safe haven, without compromising on style.
Tough at the top
The roof is a particularly vulnerable area, and extreme wind and rain can cause it to loosen and leak, while flat roofs can blister in high heat. However, as Steve Hodgson, Chief Executive of the Property Care Association, explains, 'You're not going to redesign UK roofs to make them more weather resistant…they're pretty good as long as they're well maintained.'
Upkeep is crucial and it's recommended that roofs are inspected at least twice a year to ensure all tiles, lead flashing and pointing are secure and in good condition. Chimneys and anything attached to the roof such as aerials, satellite dishes and gutters need to be checked too – if these are loose, they can cause significant damage in high winds.
Roofs and renovations
When considering improvements or renovations to your home it is always worth thinking about the possibility of additional rainwater from storms that might collect on a new or extended roof space.
'The larger the roof area, the more rainwater will be diverted into your gutters and down pipes which can quickly cause them to be overwhelmed during periods of intense rainfall or storm,' says Simon Loerns, Hiscox Field Claims Manager.
Loerns suggests asking your surveyor or architect whether they have factored in the increased volume of water that will be collected on a roof during adverse weather, and if the existing gutters and drains can cope.
Gutters and downpipes
Gutters and downpipes also need to be clear so that water can flow without obstruction during heavy rains, and Nigel Armstrong of residential builders R W Armstrong points out that moss on roof tiles is something to be aware of. 'Moss will absorb a lot of moisture in the winter months, and if that freezes it can shatter the face of the tiles and destroy roof coverings,' he explains. 'It's quite easy to clear it off, or you can have copper strips put along the ridgeline to discourage growth.'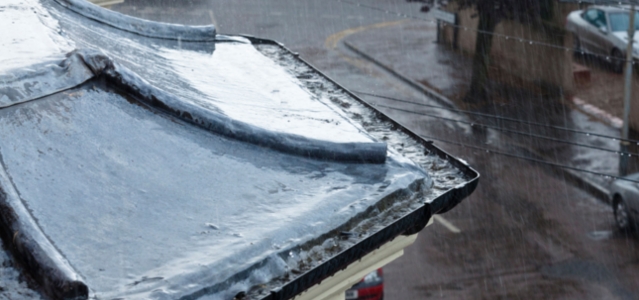 Keeping your gutters clear is crucial when there is heavy rain. Photograph: Alamy
From the ground up
Floods can devastate a house at ground-floor and cellar levels, and homeowners are increasingly encouraged to familiarise themselves with their flood-risk level and take precautions.
If your home is in a high-risk area, the first port of call is registering for a flood-risk warning and work out a contingency plan, says Hodgson. 'I know it sounds ridiculously simple,' he adds, 'but if you can raise your possessions up by eight inches during a flood, you may save yourself a fortune.'
It's also important to check that the external fabric of your building is in good condition, and if you feel further measures need to be taken, call in the professionals. 'A well-meaning DIYer should not simply apply a generic silicone external sealer, and expect it to work as well as it could,' says Hodgson, who adds that specialist contractors or surveyors can put together a bespoke suite of resistance and resilience measures.
These are extensive and can range from external coatings and non-return valves in pipes to automatic flood doors and water-resistant kitchen units. While these may sound intrusive, they needn't look as utilitarian as they sound, says Hodgson. 'The industry is not daft enough to try and sell products that destroy the aesthetic enjoyment of a building,' he adds.
Understand your floors
Electrics are not quite as susceptible to weather-related damage, but if your home is at high risk of flooding, it may be worth looking into having sockets raised to a higher level. Power cuts are also not uncommon in high winds, says Armstrong, so investing in a generator may be a wise move, particularly if your home is isolated.
On a final note, it's important to understand that flooding isn't the preserve of riverside homes, with poor design also risking water ingress. 'Any area of excessive hard paving that hasn't been planned correctly, and has external ground levels that are too high, can lead to flooding,' says Armstrong. Of course, any home should have been built with this in mind, but it's an important consideration when laying additional exterior flooring such as terraces, decking and driveways.
Discover more ways to protect your home, with our guide to winter-proofing.
Find out more about our Hiscox home insurance and Hiscox renovation and extension insurance.