How to display your collection of beautiful things
February 19, 2015
Add a personal touch by displaying your collections. Not only does it add to the character of your home, but the stories behind each item can be great conversation starters, says interior designer Hugh St Clair.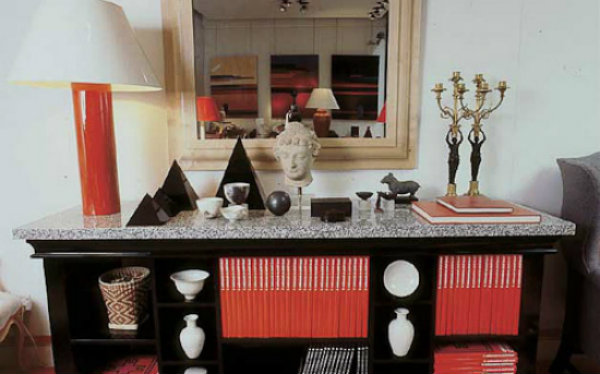 Your home and its interior is an extension and reflection of you. A display of your best-loved collected treasures is not only a conversation starter, but also a great way to add personality and character to your home. Too often we pack these items away, considering them as clutter or untidy. However, it's time to get the most out of these favourite things.
Displaying your disparate collections of favourite objects, both old and new, bought and found, needs careful thought. Legendary 1960s interior designer, David Hicks, created 'Tablescapes' – objects arranged as a landscape on a horizontal surface. Creative display, as it's now called, is all about impact and interest. The challenge is to draw the eye into a beautiful ensemble that looks good, irrespective of value or rarity.
Blogger, Pam Kueber, of Retro Renovation goes by the principle: "one tall one flat one fat" and adds another dimension to the 'Tablescape' concept coined by Hicks, by suggesting that you could include the artwork on the wall and surrounding furniture into your scene. 'Balanced asymmetry', a phrase coined by Pam, refers to her recommendation of placing the tallest piece on the left, which apparently is also good Feng Shui.
Here are a few things to bear in mind when arranging your collections by groups:
One way to achieve pleasing balanced asymmetry is to coordinate by colour.
A hint of blue pattern on a vase near a blue lampshade will help unify an arrangement.
You can opt for a small arrangement in a strong colour, but an arrangement of five or seven things in a strong red could be too loud.
If you opt for a larger collection, then white or a soft colour is more pleasing.
If you're creating a display larger than a pair odd numbers, or things together always looks better.
Another way of arranging old, new, small or large in any finish is by placing similar shaped treasures together.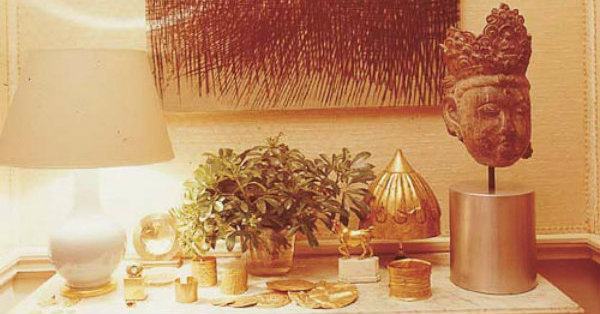 Creative display need not be confined to tables. Walls are not solely for the hanging of pictures. A stunning vintage fabric, colourfully patterned plates and even old garden tools mounted vertically make for interesting viewing. Bookcases also don't only have to be filled with books alone. Beautiful objects work well to help break-up and add interest to a library. Open shelves, or space dividers filled with collections, can be introduced to houses with knocked-through rooms.
Tips for upkeep:
Beautiful things must be cared for and not placed where they could be knocked over or damaged by direct sunlight. Dust natural, found objects, ceramics and glass and metal with a soft artists brush if small and delicate, otherwise use microfiber dusters. Once every few months wash them in warm soapy water and put a towel at the bottom of the sink to prevent breakage. Metal can be polished but not washed.
When it comes to displaying your favourite collectable items, there's a fine line between avid collector and hoarder. But, don't get too self-conscious – have fun. With the above pointers, and books below, all that's left is for you to have a go and experiment. A little artful rearranging is all it takes to turn your best-loved possessions into a curated display.
Books to inspire:
The Stuff of Life – How to banish clutter and style, and display your most treasured possessions by Hilary Robinson
Visual Contrast– The Art of Display and Arrangement by Tim Rundle
Do you have a favourite way of displaying a collection, or have tips for getting the most out of random knickknacks? Share your thoughts by leaving a comment on our Facebook page.
Read more from Hugh on how to add character to a new home.
All objects in your home deserve protection, regardless of their beauty. Make sure that your contents insurance policy has got you and your home covered.
Picture credit// Estate of David Hicks