Colchester take home the 2016 Robert Hiscox Cup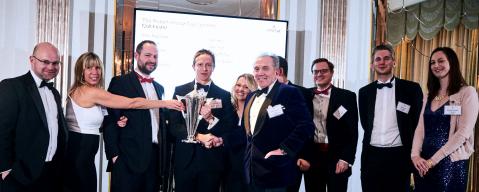 The annual award ceremony and dinner for the UK and Ireland's Robert Hiscox Cup was held at Claridge's in London on the 16th March. This was the 11th year of the Cup, an annual competition which seeks to reward sales achievement as well as stimulate best practice within the underwriting teams.
The judging panel, made up of the UK and Ireland leadership team, chose the winners from 14 teams who each submitted a short video to help convince the panel that they deserved to win.
The winners of the 2016 cup were our team in Colchester – for the third time. We were the best performing region for new business. We wrote the most emerging new business compared with all other Hiscox regions, and delivered top and bottom line for all commercial products. Our team also launched Hiscox's largest UK scheme for cosmetic insurance with Hamilton Fraser.
The team took home a team cheque for £10,000, bottles of Champagne – and the prestigious Robert Hiscox Cup, a fabulous art deco piece of silver which was made in 1928.
Congratulations to everyone who took part.