Claims Today: February 2018
Spotlight on proactive claims handling
When unexpected events occur, proactive claims handling is imperative to reduce the effort and stress placed on our customers.
In January 2018 an underground pipe burst in a heavily populated area of London, affecting many  businesses and residential homes. We were concerned that our customers might need support.
We proactively spoke with one of our Loss Adjusters who was based in the impacted area, to understand more about the extent of damage and their availability to support our customers if needed.
Following this, we made calls to customers and brokers in the affected areas to see if they needed any help and/or had any damage to their home or business.
One of our customers was away on holiday at the time so had no idea if their home was damaged. The customer was understandably worried. We arranged for our Loss Adjuster to complete a visual inspection of the home (we could not gain access due to the insured being away). We quickly confirmed that the water had not caused any damage. We were able to put the customers mind at rest without any charge to them.
Thankfully, none of our customers experienced any damage, however the courtesy calls were well received by all.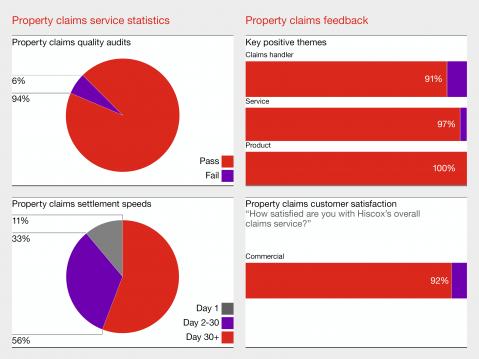 CASE STUDIES
Private Client
The Claim
Our insured called us to report that his wife had just had her handbag stolen whilst dropping their son at school. A motorbike had mounted the pavement and the driver had pulled her handbag from her. As her phone, house keys and wallet were all in her bag, she was unable to do anything immediately. A witness took her in as she was very shaken and they managed to contact her husband.
What we did
Our insured had given his wife the stolen mobile phone at Christmas, which he had full receipts for. This meant we were able to immediately transfer the money to purchase a new phone. The rest of the claim was dealt with smoothly, and following validation quickly settled. Our home emergency team fitted new house locks to ensure the safety of our customers.
What the customer said
"I wanted to reach out to personally thank you for the kind hamper you arranged to be delivered to my wife. It really brightened up her day and made a real difference to her mood."
Personal Accident
The Claim
Our insured was bending down to get some equipment and leant on an adjacent chair. The chair gave way and the insured fell to the floor with her weight put on her hand. The insured fractured her wrist in several places, with a prognosis of 4-6 months to recover. She was immediately signed unfit to work as she was put in a cast and was suffering from severe pain. Once the cast was removed, she required intensive physiotherapy.
What we did
We were in regular communication with our insured, along with her medical team, and paid temporary disability payment to her for 24 weeks until she was signed fit to return to work.
What the customer said
"Thank you very much for all of your help throughout my claim. It made a potentially very difficult situation much easier. I am so pleased that I discovered the Hiscox personal accident policy and I will be recommending it to my self-employed friends."
Professional Indemnity  
The Claim
The insured is a photographer who purchased his policy directly from Hiscox. The insured was contracted by a UK charity which runs human rights programmes in Africa. The insured was hired as the photographer on one of the charity's projects. The project was successful and some of the insured's images were purchased by a national gallery. Under the terms of the insured's contract with the charity, he retained the intellectual property in the images. However, after the project the charity disputed the ownership of the intellectual property and asked the insured to sign a variation to the original contract. Our insured refused and notified Hiscox of a potential claim of intellectual property infringement by the charity.
What we did
We reviewed the situation and, whilst a claim had not actually been made against our insured, we assisted him in managing the situation. We supported the insured in maintaining his position that the intellectual property in the images is retained by him. The charity has now backed down and accepted that it does not have ownership of the intellectual property.
What the customer said
"I would like to thank you, sincerely, for your speedy response on a matter that has caused me much anxiety. I chose Hiscox because of its reputation and that although I would always do everything possible to avoid a claim, if I ever needed to seek help or defend my position then I knew I would want that done reliably and professionally. Hiscox has lived up to my expectation and I would just like to say a huge thank you for that."
Professional Indemnity 
The Claim
Our insured is a chartered accountant. A former client of the insured alleged that the insured negligently failed to enroll it for a specialist flat rate VAT scheme. The client said that this meant it had paid considerably more VAT than it needed to over a three year period. The client claimed £50,000 from the insured. This sum was made up of the additional tax liability, interest and costs. 
What we did
The insured acknowledged to Hiscox that he should have enrolled the client for a specialty flat rate VAT scheme which would have reduced its tax liability. However, despite the insured accepting that he had made an error, Hiscox was able to assist the insured in setting out a number of technical legal arguments which dissuaded the client and its advisors from pursuing the claims any further.
What the customer said
"Your assistance in the matter was totally effective and up to date no further response has been received from the client. Thank you for your brilliant service."