Photograph: Nic Howard's Surrey garden design Credit: Leigh Clapp
The bathroom or kitchen may seem the obvious contenders for home improvement, but there's something happening in our flower beds. According to the Hiscox Renovations and Extensions Report 2018, garden makeovers are growing in popularity as current and planned projects. 
Drawing insight from 1,200 homeowners, 100 UK estate agents and more than 400 local council planning permission records, the report shows a rise in garden revamps and a fall in bathroom and kitchen overhauls. But what does renovation and extension mean in the context of garden design and where should you seek inspiration?  
Inside out
A major development in garden design in recent years has been the blurring of boundaries between inside and out. The vogue for glass-fronted new-builds that appear to lure nature indoors has fuelled the trend. So, too, has the belief that a garden provides a house with an extra room. 
On a grander scale, a garden punctuated by several buildings provides an opportunity to create several styles of garden on one site, resulting in a sequence of self-contained outdoor spaces. And even if your garden is more modest in size, it can still offer exciting opportunities to transform your home.
'The garden, more than ever, has become an additional room – or rooms – of the house, allowing owners to create a slice of paradise in a similar way to interior decoration in a home,' says Aimée Felton, an associate at Donald Insall Associates (external link), which specialises in conserving historic buildings, including private homes and gardens.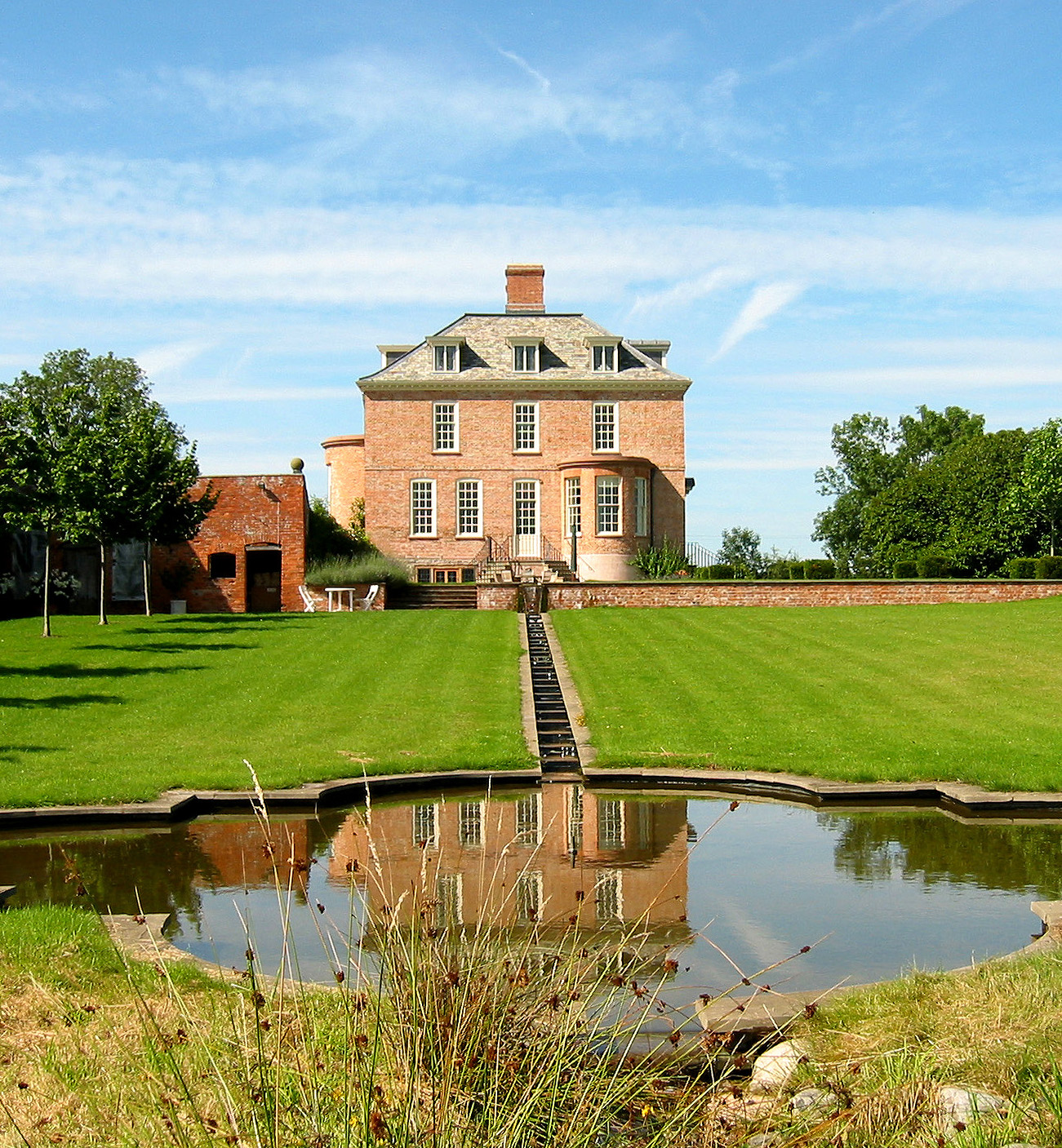 Photography: Donald Insall Associates Eardisley Park Credit: John Kiddle
Another reason why gardens are less likely to be seen in isolation from houses is that the redesign of a garden often goes hand in hand with renovating a home. 'The juncture between garden and house offers a great renovation opportunity and enables homeowners to enjoy their garden all year round,' continues Felton. 
'Improving the quality of windows and enlarging them or introducing a contemporary, fully glazed bi-fold door allows people to enjoy the garden even in inclement weather – and helps to connect house and garden.' 
Regency redesign
Landscape architecture firm del Buono Gazerwitz (external link) has created a series of outdoor spaces for a listed Regency house in Blackheath, London. The property was redesigned at the same time: it had a 1960s side extension and bungalow three-quarters of the way down a long garden. 
Architect Charles Barclay converted the side extension into a hall and kitchen and added a new clean-lined, glass-fronted extension. The bungalow has been replaced by a guesthouse partly enclosed by glass. While creating a break in the back garden, dividing it into two areas, the guesthouse also establishes continuity as its glazed façades visually link these outdoor spaces. 
'The garden is in three parts, each with its own character,' says Paul Gazerwitz, co-founder of del Buono Gazerwitz. 'There's a simple front garden with box and lavender. Behind the main house, the garden is quite classical with a lawn and gravel path. Facing the guesthouse in this area is a concrete terrace fronted by a linear water feature.' 
The biggest discovery is a looser, more informal garden behind the guesthouse. 'It's a secret garden-like woodland with birches, a plum tree, Norway maple trees, daphne shrubs, firs and hydrangeas,' says Gazerwitz.
His client is a fan of contemporary design but wanted her garden to blend with the leafy landscape. 'As it's in Blackheath, she requested a country feel, soft, with flowers,' says Gazerwitz.
 
Irregularity and texture 
There is a prevailing move in gardens towards naturalism, 'a strong trend for naturalistic planting,' according to Jane Brockbank, founder of landscape design studio Jane Brockbank Gardens (external link), who created a garden for a new-build house in north London inspired by neoclassical architect John Soane.
'We've seen a shift towards perennial planting and a craze for birches that parallels the interiors trend for Scandinavian design. Ten years ago, gardens were about regularity and grids, now they're about irregularity and texture.' Gavin McWilliam of garden design practice McWilliam Studio (external link) concurs: 'There's a greater interest in reconnecting with nature.'
Brockbank was commissioned to undertake her London project when a client spotted her design for a garden at the RHS Chelsea Flower Show (external link). 'My brief was to create a garden for a family – practical but also with grandeur so it would sit well with the house's formal architecture.
'There again, they wanted the garden to feel modern, clean-lined, too. So the garden has one foot in the classic English Arts and Crafts garden style of celebrated 20th century British horticulturist Gertrude Jekyll and another in a more contemporary aesthetic.'
One area recalls a minimalist room: two starkly modern benches face a bowl-style outdoor fireplace created by Cathy Azria of BD Designs (external link), which creates a strong focal point. 'Elsewhere, we wanted less defined boundaries,' says Brockbank. 'There are lots of trees, including cherry and liquidambar.' 
Time to cull
Garden designer Nic Howard (external link) inspired his Surrey-based clients, Pam and John Kay, to create a more ambitious garden than originally planned. 'At first they just wanted one border replanted,' says Howard, who has designed The David Harber and Savills Garden for the upcoming RHS Chelsea Flower Show (external link), featuring sculptures by Harber, an artist. 'But when I shared my grander vision for the garden they commissioned a complete design.' Photograph: David Harber and Savills Garden at RHS Chelsea Flower Show Credit: David Harber and Savills
This partly involved a judicious edit of existing plants. Howard retained some rhododendrons but cut down a few conifers. 'It was a hard decision to make but we can see it transformed the site,' admits Pam Kay. 
The cull revealed an attractive flint-lined sunken garden although a lower lawn was replaced by a sandstone terrace. Other new elements include brick-edged gravel paths, a summerhouse and swathes of geraniums, lady's mantle and calamints covered in honey bees, forming drifts of mauve and crimson blooms punctuated by crisp white Shasta daisies. 
'A key trend in garden design is environmental responsibility achieved by using wildlife-friendly plants that attract bees and butterflies,' says Howard. 
Naturally urban
City-centre gardens, by contrast, may not be as spacious as many rural ones but they can still be ambitious. McWilliam has created a complex, glamorous roof terrace on several levels: 'These have different characteristics: the lower terraces are more private, the higher ones more open and light. The lower space, which adjoins a kitchen, is used for alfresco dining. The third level up is also used for cooking as well as entertaining, the fourth level for drinking cocktails and sunbathing.'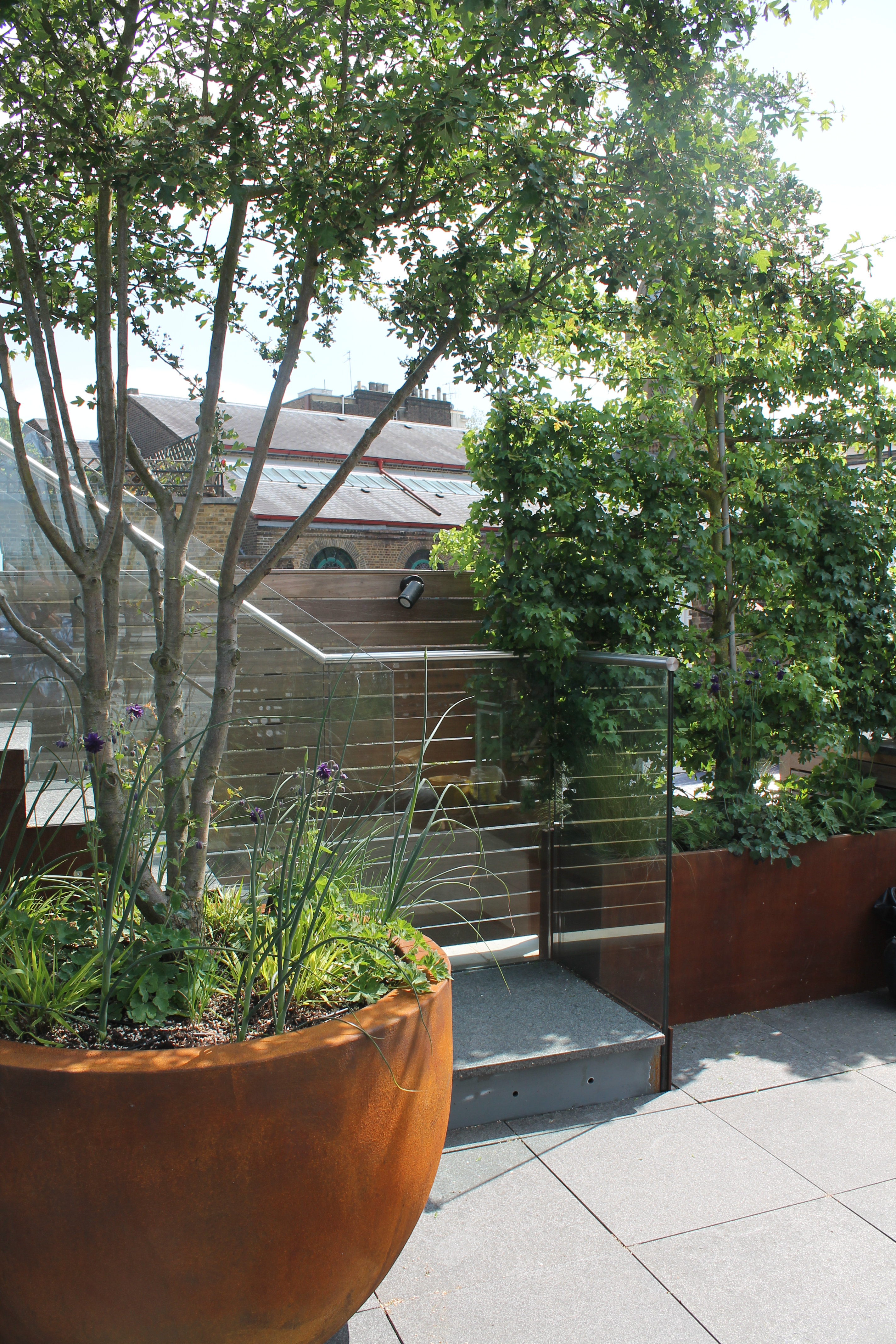 Photograph: McWilliam Studio London roof terrace Credit: McWilliam Studio
Providing privacy are bespoke, naturally weathering COR-TEN screens perforated with hawthorn hedges. 'I wanted to bring a slice of English hedgerow into central London,' says McWilliam. 'At night, lighting brings the garden to life.' Basalt was chosen as the main paving material as, when wet, it changes colour and becomes more reflective. On the top floor is ground cover rich in nectar to nourish butterflies and other insects.
These roof terraces, though large, suggest that relatively compact gardens can be as appealing as ones more epic in scale. 'Large gardens offer long vistas and large focal points,' acknowledges Felton. 'But bigger gardens aren't automatically more beautiful.' 
'Size isn't important when creating a well-designed garden,' adds Howard. 'Often the most incredible transformations of outdoor areas inhabit the smallest spaces, particularly in cities. Urban vertical gardens, for example, are a hugely popular way to green up a courtyard and basement walls without taking up limited floor space.' 
Ultimately, however, available designs are only limited by your imagination. With the British garden now able to embrace the traditional and the modern, the rustic and the formal, it's time to take a break from rethinking the rooms inside your four walls and start dreaming about the space outside.  
Dominic Lutyens is a London-based arts journalist who also writes for The Guardian, The Financial Times, Elle Decoration, BBC Culture and architonic.com
Discover what other home improvements are popular in our Hiscox Renovations and Extensions report 2018. 
Find out more about our Hiscox Renovation and Extension Insurance