Time for a garden makeover
May 23, 2017
As the 2017 RHS Chelsea Flower Show reveals the best in garden design, interiors writer Jenny Coad explains how a few well-chosen items can transform your rockery and lawn into something spectacular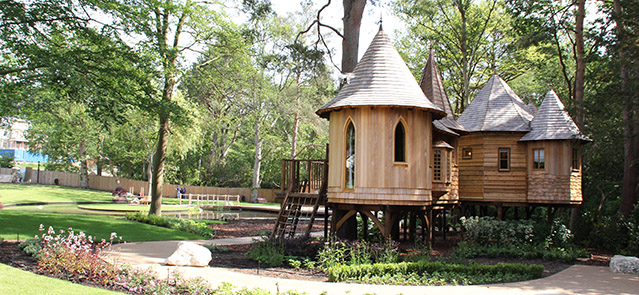 Live out your garden fantasy with a treehouse from Blue Forest. Image: Andrew Whittle
London always comes into full bloom at the RHS Chelsea Flower Show, so it's surely time to mark the official start of summer? Whether we're in for a scorcher or need to batten down the hatches, there's never been a better time of year to consider updating the garden.
The choices are wide, from outdoor cushions and throws to die for and lighting that brings out the best in the flower beds, to barbecue dining that would bring a smile to Gordon Ramsey's face, and even an understated statue.
Creating a garden room
The English summer does not have the easy-going predictability of the Mediterranean climate, so there need to be options, and thankfully there are plenty. Tom Raffield, who creates furniture and lighting from a woodland workshop in Cornwall, is unveiling his Gwenver Garden Room at Chelsea this year.
Designed using steam-bent oak and ash cladding inside and out, Raffield's designs feel part of the natural environment. 'Like all our furniture and lighting, it echoes our belief in sustainable design, craftsmanship and making unique products,' he says.
Elsewhere, Ornate Garden's spherical pods offer a comfortable spot to while away the afternoon, and they even rotate so you can direct yourself towards the sun with ease. Summerhouse comes with a Bluetooth audio system, tinted windows, sofas for 10 and a dining table – great if the rain threatens at the last minute.
For more of a fantastical feel, Blue Forest creates extraordinary treehouses – whether you want turrets, drawbridges, hidden doors or luxury dens. The sky's the limit.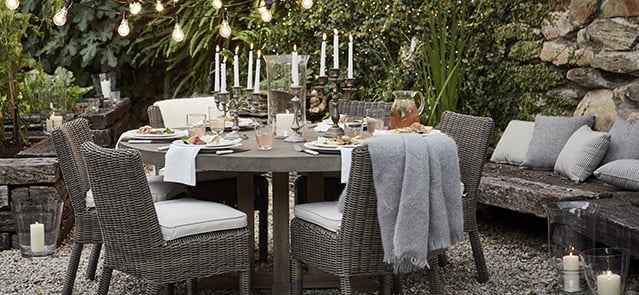 Adding throws, cushions and candles can instantly elevate the look of your garden. Image: Neptune
Fine dining al fresco
The Great British barbecue has gone up in the world, and a burnt sausage around a tripod stove simply won't cut it anymore. The Everdure by Heston Blumenthal HUB Electric Ignition Charcoal BBQ in graphite looks smart and has a rotisserie facility.
Pizza ovens continue to be popular. You can build your own in a traditional style with a kit from The Stone Bake Oven Company, or opt for a sleeker look with the Uuni 3. This stainless-steel wood-fired oven reaches 500 degrees in 10 minutes and will cook a pizza in 60 seconds – guaranteed to impress guests.
A table is, of course, the foundation of all outdoor dining and, according to home company Neptune, teak is the next big thing in garden décor.
'Teak is a very durable hardwood and perfectly suited for garden furniture owing to its very high oil content,' says John Sims Hilditch, co-founder of Neptune. 'Left untreated, the timber will develop a beautiful silver-grey patina and blend in beautifully.'
Combine with a David Hockney-inspired melamine plate collection from Habitat or a set of Nina Campbell St Tropez platters in vivid colours and you'll be halfway to garden party greatness. An advocate of colour, Campbell suggests using Indian saris as tablecloths to brighten up the scene.
Light it up
You reap the benefits of a cleverly lit garden all year round. 'More and more people are realising the impact great lighting design can have on their garden spaces,' says Sheena Lawrence, co-owner and designer at Jim Lawrence Lighting.
'Artisan-crafted, high-quality brass exterior lighting can underline classical garden design. In the past couple of years, we have seen a growth in customers looking to create elegant garden rooms and bring their interest in interior design outside.
'Our IP rated glass pendants are perfect for creating a pool of light over a garden table or porch way,' she says.
Another option is to scatter the garden with candles to create soft lighting, or a set of Glow Globe translucent wax lanterns from Shearer Candles. The Hehkuva lantern is reminiscent of traditional candle lanterns but is made out of modern glass and metal.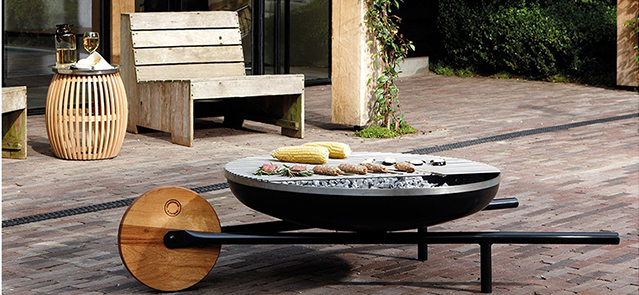 The modern BBQ has come a long way. Image: The Conran Shop
Garden as gallery
Why confine your art collection to indoors, when you could also enjoy it outside? Alex Puddy from Architectural Heritage, which specialises in fine antique garden ornament, statuary and medieval to modern sculpture and has a stand at Chelsea, thinks all you need is confidence.
'Always buy what you like,' he counsels. 'But be mindful of size. I often need to encourage clients to be brave about the size of a sculpture, as we are generally conservative when viewing items outside our known environment. That said, for intimate spaces small is correct.'
Beautiful urns have a statuesque quality and can help to create focal points in the garden, especially handy if you're only interested in a minor update this summer. Garden expert Sarah Raven recommends using lots of pots from huge to small terracotta ones and also a few vintage English versions called long toms.
Staffordshire-based company Long Toms specialises in these characterful, vintage pots, some of which date from the Victorian and Edwardian periods. Whichford Pottery has magnificent hand-thrown Giant Jars and if you want your garden to echo your interiors scheme, look to Sandman Planters, which are hand-painted in Farrow & Ball shades. For good measure, Raven recommends 'a really well done and hidden irrigation system to feed and water the pots'.
While summer in Great Britain might not equal guaranteed sunshine, a garden update is sure to brighten up the season.
Jenny Coad is Deputy Travel Editor/Interiors and Property Editor at the Daily Mail
Find out more about Hiscox buildings and contents insurance. Individual items or sets up to £15,000 are covered as standard – you don't need to list them or buy separate cover.