Would you buy a painting online?
June 20, 2016
While consumers are becoming more comfortable buying art solely on the basis of a digital image, we look at whether technology can ever create the same level of trust that you would get viewing items in a gallery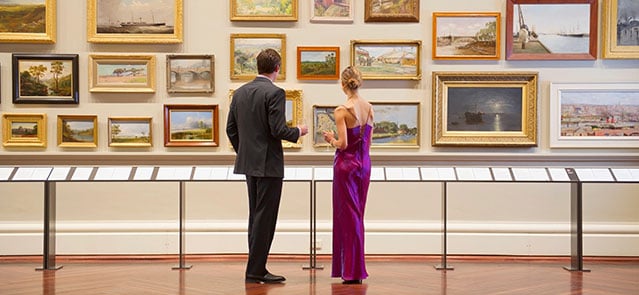 Photograph: Alamy
Would you buy a work of art without seeing it on canvas? How important is it to see the layers of oil or watercolours that have been built up to create the piece? Would you feel confident about how it might look on your wall by flicking through an online gallery via your mobile phone?
The Hiscox Online Art Trade Report 2016 reveals that consumers are no longer wary of making a purchase based solely on a digital representation of a work. Technological improvements coupled with improved trust between consumers and online galleries meant that 92% of online buyers thought they were likely to buy online again in the next 12 months.
Websites such as Artsy, Paddle8 and Artspace now compete alongside traditional auction houses such as Christie's and Sotheby's in an online market that could be worth an estimated $9.58 billion by 2020.
'More sophisticated technology has made it easier for people to become collectors,' says Whitney Hintz, Curator of the Hiscox art collection, which over the years has amassed over 1,000 works ranging from Francis Bacon to Keith Coventry and Gavin Turk. 'Information is also much better documented, meaning people can buy in a more democratic way.'
Bridging the gap
Online art galleries are keen to bridge the gap between the digital and real world. Saatchi Art has created an award-winning app that uses augmented-reality software to allow customers to view a piece of art in their own living room before buying – a world first.
'We were the first online art gallery to offer this kind of augmented-reality technology,' says Rebecca Wilson, Chief Curator at Saatchi Art.
Saatchi Art wants to help people who aren't familiar with art jargon and don't think in terms of dimensions to visualise how a particular work might look to scale on their wall. 'We achieve this with our View In A Room feature on both our website and our mobile app,' says Wilson.
Saatchi Art allows artists to upload their own images of their works, all the while keeping a fastidious eye on curating the selection and ensuring that pictures are a minimum of 1,500 pixels wide and file sizes no smaller than 150dpi to render the sharpest possible image for digital screens.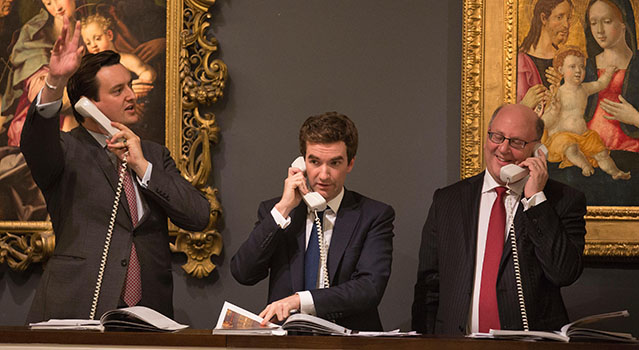 Websites compete alongside Christie's and Sotheby's in the online art market. Photograph: Alamy
It's all about trust
While increased information and image quality can help to make buyers feel comfortable, what part does trust play when deciding to buy an artwork online? For Hintz, the ability to trust her source is imperative.
'Though the technology has definitely improved, I think there is still a way to go before we see online fairs being the norm. I do buy art online but I tend to buy from artists who I already know or whose work I have seen in person.'
Hintz explains that if she doesn't have familiarity with the artist, she tends to stick to a medium such as photography, or a print, 'because they are better represented digitally. Critically, I also don't spend as much.'
Wilson believes that increased visibility over the web is helping buyers to feel more secure: 'With collectors buying from Instagram and people discovering artists all over the world via social media and online galleries, artists can increase their exposure dramatically – and also internationally – which leads to sales as well as invitations to be in exhibitions where people can see their works in person.'
Before you buy
As the online art market has grown, there are more ways than ever to discover, view and buy new art. But doesn't proliferation mean that the industry is left open to error and potentially flawed works? And how do you ensure that you're buying the best-quality product, without ever seeing it in person?
Hintz and Wilson give their top tips:
ask as many questions as possible about the artwork – most online galleries have curators and advisors who can answer all of your queries
ensure there is a comprehensive condition report and a guarantee, as without these you can never be sure that what you're buying is the real deal
ensure there is a returns policy, in case the work isn't as described
adjust your computer settings to show maximum colour when looking at a work or the colouration may differ from the real thing
as with any artwork, choose for love
don't spend too much money on an online purchase unless you know the artist or have a very good relationship with the online gallery