What's rarer than a diamond?
July 12, 2017
Jewellery designers are looking beyond traditional gems to create one-of-a-kind pieces whose value can lie beyond the raw material. Telegraph Luxury's Sarah Royce-Greensill finds the desirable in the obscure.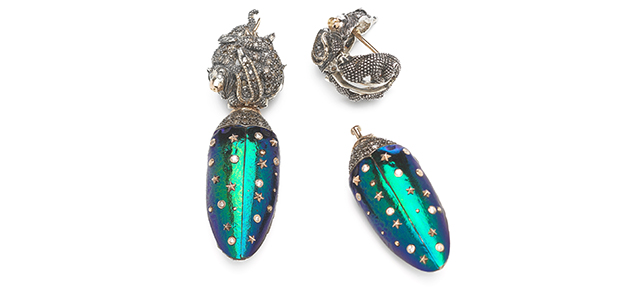 The hanging part of Bibi van der Velden's animal earrings are made of scarab wings and rose gold
Diamonds may be a girl's best friend, but jewellery aficionados are now looking beyond D-Flawless sparklers. Coloured gemstones have soared in popularity and price: the record price-per-carat for emeralds has increased from $89,000 in 2010 to $305,000 in a new record set this June.
With sapphires and rubies seeing similar hikes, consumers are becoming more comfortable with colour. The more adventurous are even venturing outside of the traditional 'big four' (diamonds, emeralds, sapphires and rubies) to explore niche gems and unusual materials – be it stones that change colour at night, scarab beetle wings or doll's house plates from the 18th century.
Rare intensity
Paraiba tourmaline is a distinctive, electric-turquoise gem discovered in the Brazilian state of Paraiba in the 1980s. An estimated 10,000 diamonds are mined for one Paraiba tourmaline and the original deposits are now almost exhausted, making it highly sought-after and valuable.
'Once you are into Paraiba tourmalines you will never want anything else, which is unfortunate because they have become hideously expensive,' says Swiss jeweller Suzanne Syz. 'I fell madly in love with the stone at first sight. The colour is indescribably beautiful.'
'The vividness and intensity of a Paraiba tourmaline is unequalled, and to find one of a significant size is incredibly rare,' agrees Jeremy Morris, managing director of David Morris, adding that his clients now have a wider knowledge of gemmology and are excited by vivid-coloured gemstones. 'They want to acquire stones they don't yet own, such as the mystifying hue of padparadscha sapphires and colour-changing alexandrite.'
A variety of chrysoberyl, alexandrite changes from greenish-blue in daylight to deep purplish-red in incandescent light. High-quality Russian alexandrite that displays two distinct colours is extremely rare; most specimens are under two carats, making a larger example a true collector's stone.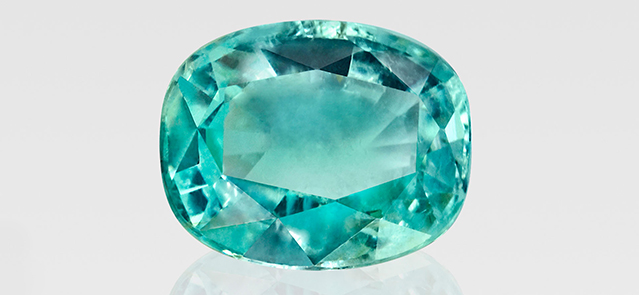 An antique-cut Paraiba tourmaline gem. Photo: Alamy
Unconventional materials
Splashing out on a rare gemstone is one way to build a jewellery collection that stands out from the crowd. Other jewellers take a different approach, using materials that are in abundant supply but not traditionally seen as precious.
'There is an important distinction between rarity and unusualness,' says Christian Hemmerle, director and head designer of fourth-generation family-run German jeweller Hemmerle. 'People are limited by the perception that fine jewellery can only be made out of gold, platinum, diamonds, rubies and sapphires, but nature offers us so much more.'
Hemmerle has built a reputation for using non-traditional materials in one-of-a-kind pieces. It juxtaposes gemstones with everyday metals such as iron, brass or copper, while the creative team sees the precious potential in any and every raw material: from nuts and pebbles to walrus teeth, 18th-century doll's house porcelain plates and even real snail shells, set into brooches alongside white gold and diamonds.
'One of our biggest mantras is that there is never a "no",' explains Hemmerle. 'You can try something and fail, but there isn't a no at the beginning. It's a wonderful approach that helps us to push boundaries.'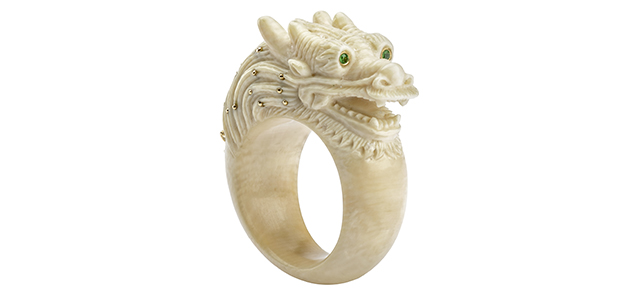 Bibi van der Velden's Dragon Ring is made from mammoth ivory, 18 carat gold and green tsavorite
Tusks and meteorites
Dutch jewellery designer Bibi van der Velden is famed for using unconventional materials. She trained as a sculptor and takes an artistic approach to her jewels, using 40,000-year-old mammoth tusk and real scarab beetle wings alongside diamonds, pearls and coloured gemstones in statement, conversation-starting pieces. The materials might be avant-garde but, importantly, they are also sustainable.
'As the Siberian ice caps melt, a lot of mammoth tusk is being uncovered and, since museums have enough of it, I gained permission to create jewellery with it,' explains van der Velden. 'Likewise, scarab beetles are eaten as a delicacy in Thailand and the wings are leftovers, but I am thrilled to be able to use them in my work.'
In her online jewellery emporium Auverture, van der Velden has brought together a collective of designers who share her commitment to interesting aesthetics and exquisite craftsmanship: from Venyx by Eugenie Niarchos, who embeds meteorite into sci-fi-esque pieces, to Monique Péan, who incorporates fossilized walrus ivory and dinosaur bone into art deco-inspired jewels.
Going beyond traditional gems isn't without its challenges. 'I can't just Google "unusual materials" and find a perfect fit,' says van der Velden. 'All of the materials I use I discovered accidentally. It's the best part of my job: getting inspired by a wonderful material, learning how to work with it and turning it into a little piece of wearable art.'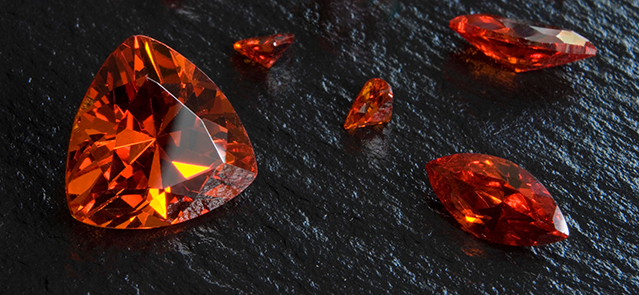 Interest is growing in vivid-coloured gems such as padparadscha sapphires. Photo: Alamy
Dare to be original
Wearable art is how Christian Hemmerle describes the 250 or so pieces that emerge from the Munich workshop each year. Hemmerle's customers appreciate the craftsmanship and design behind each piece, beyond the market value of the raw materials.
'The materials themselves are irrelevant; people are seeking originality,' he says, adding that the house attracts collectors who share a general interest in something – whether it's art, architecture or engineering. 'I don't think Hemmerle jewellery is for somebody who has never encountered different jewellery before. It's for people who want to set themselves apart.'
There is no one type of customer that's attracted to scarab-beetle earrings or a cocktail ring carved from woolly mammoth tusk, either. 'Every woman has her own personal reason to buy a piece of jewellery,' says van der Velden. 'The only thing they have in common is that they dare to wear what they like and are not afraid to show off their style and personality.'
We cover jewellery items or sets up to £15,000 as standard as part of our Hiscox Jewellery Insurance