Grand Designs House of the Year
What turns a home into architecture?
November 29, 2016
Dominic Lutyens discovers why the projects featured on Grand Designs: House of the Year are as much about modesty as showmanship.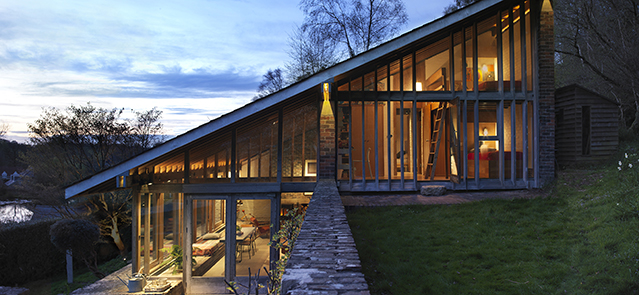 Photo: Ansty Plum by Coppin Dockray architects, photographed by Katie Lock
Given the houses that tend to be showcased on Channel 4's Grand Designs are uncompromisingly bold and cutting-edge, you could be forgiven for thinking that those featured in this year's Grand Designs: House of the Year series will be of a similar ilk.
Yet, as RIBA architect Damion Burrows of Darling Associates discovered, many on this year's longlist shine for their subtlety – being modest yet still clever and creative at the same time.
Along with presenters Zac Monro and Kevin McCloud, Burrows went on a tour of the RIBA House of the Year 2016 longlist while filming the Channel 4 series, including Murphy House in Edinburgh, Ansty Plum in Wiltshire, Contemporary Lean To in Harrogate and Private House 1109 in Cheadle, Cheshire.
Audacious design aside, other factors that helped to differentiate this year's projects from conventional buildings included their location, the materials they're made from, and the client's mindset. As always, Burrows notes that an open-minded, forward-thinking client also influenced the designs.
Little box of tricks
One house long-listed for the award that does live up to the Grand Designs name is Murphy House in Edinburgh, differing from a conventional build in terms of sheer experimentation and even showmanship.
'Murphy House, designed and owned by architect Richard Murphy, was probably the most innovative,' says Burrows. 'It's in a tricky setting – it bookends a traditional Georgian terrace. It would have been easy to create an unoriginal, pastiche building. But this was very different.'
Layering influences from such iconic buildings as Sir John Soane's Museum in London, Carlo Scarpa's redesign of a garden in Venice and Paris's modernist villa, Maison de Verre, Murphy House is sophisticated and erudite in its architectural references.
One of the award judges is our own Phil Thorn, Head of Hiscox Home Insurance, agrees: 'Murphy House really stood out for me. It wasn't a huge house and it wasn't particularly jaw-dropping from the outside but when you got in there it was like a little box of tricks.'

Photo: Murphy House by Richard Murphy Architects, photographed by Keith Hunter
Small is beautiful
'What stands out with the other projects is that many don't break the mould in terms of construction,' adds Burrows. 'Their designs are relatively humble yet have had a profound effect on how the homeowners live.'
Burrows references Contemporary Lean To in Harrogate, designed by Doma Architects, as the most modest intervention he encountered. 'Yet it has transformed the way its owners – a family – live,' he says. 'Before it was altered, the basement was like a traditional scullery, with all the "dirty" stuff in it, but it's now the main living space.'
The glass-fronted basement now connects directly with the garden, greatly enhancing the sense of a wide, open space. What's more, a staircase has been removed that frees up yet more space, while a new one has been created in a small extension that hugs the side of the house – hence the 'lean-to' part of its name.
Clad in a matt black fiber cement, the project was designed to echo the slate tiles on the house's roof, albeit in a modern way. According to its architect, Ruth Donnelly, the lean-to is visually contemporary and different from the standard extension you'd expect from a Victorian semi in Harrogate.

Photo: Contemporary Lean To by Doma Architects, photographed by Ruth Donnelly
Donnelly's clients weren't conventional either. 'They collect classic, designer furniture and, from the outset, were keen that their home's architecture would be bold and innovative. Our design inspiration came initially from them.'
When Donnelly asked her clients to provide a scrapbook of ideas to help build their own 'Grand Design', they cited Alison Brooks's Lens House as something to emulate. 'For us, as architects, this was very exciting,' she says.
Our friends and neighbours
If Contemporary Lean To's extension is tucked discreetly at the back of the house, Private House 1109 in Cheadle, a new-build by GA Studio, is bolder, essentially comprising a wood-clad cube atop a brick structure.
Seen from the street, the home is more arresting still for featuring slender openings rather than conventional windows. Larger windows are found on another façade that doesn't face the street.
'The clients wanted privacy,' explains Burrows. 'But the house also met with a lot of opposition from neighbours, so it had to avoid overlooking the other polite Victorian houses in this staunchly residential area.'
According to its architect David Lambert, although it could have looked incongruous, the building has been designed to harmonise with the surrounding houses: 'We chose bricks that match those of the neighbouring Victorian buildings. The house is also surrounded by a lot of planting, which conceals one façade in the summer.'
Another factor that differentiates the house from a standard build is its strong eco credentials: 'The client wanted to create what's called a "passivhaus", which aims to reduce conventional heating to virtually nil.'
Lambert was able to deliver the heating reduction by using a super-insulated timber frame, clad in brick on the ground floor, that's very airtight and minimises heat escaping. In addition, the roof has solar panels.
Sustainability was one of many criteria involved in judging the properties, according to our own Phil Thorn. 'It was a real mixture of criteria and it was a challenge to balance them,' he says, pointing to the cost of the build and budget; the level of creativity and innovation; and even how the architect and client collaborated.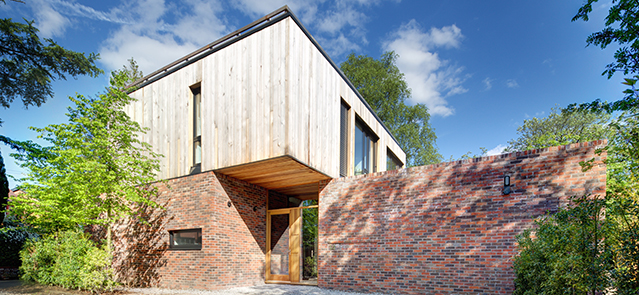 Photo: Private House 1109 by GA Studio Architects photographed by Charlie Coleman
Never to be overlooked
For Burrows, one of the projects he was most drawn to was Ansty Plum in Wiltshire, whose rather quaint-sounding name belies its avant-garde pedigree. This house was designed in 1964 by David Levitt for Roger Rigby, who worked for engineering and design firm Ove Arup. British modernist architects Peter and Alison Smithson designed a garage and studio for it too.
'The owner has meticulously restored Ansty to its former glory. It could have felt very alien in its context – it overlooks some ancient 12th-century buildings – but it holds its own,' he says. 'Its original building techniques, such as the very simple, steep monopitch [single-slope] roof, were groundbreaking.'
Ansty Plum was renovated by architects Coppin Dockray and one of its co-founders, Sandra Coppin, now lives there with her husband, Nico de Beer, and their two daughters. 'The original architects were ambitious in creating a boldly designed building despite its rural location,' she says. 'We hope we've continued to work in the same way when protecting these fine yet overlooked buildings.'
Get cover for your home project with our high quality renovations insurance cover
The winner of the RIBA House of the Year Award will be announced on 15 December 2016. For more information visit RIBA House of the Year