Understanding the role of the art consultant
March 21, 2017
What constitutes a great work of art may be a simple matter of taste but the decision to buy a piece can be a little more complicated. Whitney Hintz, Curator of Hiscox's art collection, deciphers the role and responsibilities of the art consultant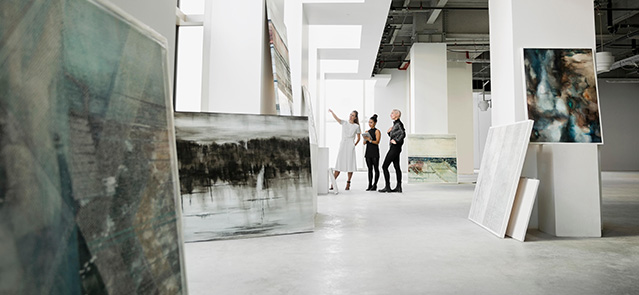 Photo: Alamy
Before buying a piece of art, when is it prudent to seek advice? Is it to establish the worth of a piece or to get insight into an artist from a professional? Or should you consider using an art consultant simply to decide if a piece will work in your own home?
'[Art consultants] are essentially the eyes and the ears for a client,' explains Whitney Hintz, art consultant and Curator of Hiscox's contemporary collection. 'Art isn't a realm to be entered into lightly, so if you know that you're prepared to invest in art, you should seek advice.'
With years of experience and contacts in the industry, art consultants can be a mine of information if you've discovered a new passion for an art style or artist and want to learn more. They can show you where to look or if you're after something special but don't know where to find it. An art consultant can also help you find a piece that fits your family home or, alternatively, would make a sound financial investment.
'Everybody has different motives for collecting art, it is subjective, and people's motivations for buying vary,' says Hintz. 'In my role curating the Hiscox collection I'm constantly looking at art that will become part of the working environment – mainly in offices – and so it has to fit a certain context. Certain traits are avoided, such as artwork being too political or too provocative.'
Take time to prepare
As a starting point, Hintz likes to visit the home of her potential clients and to discuss what art they are interested in, as this is often the starting point for a conversation that will evolve with the relationship between collector and consultant.
'Home surroundings provide a strong impression of personal taste and aesthetic tendencies,' says Hintz. 'Through the home I can establish what a client wants to live with on a daily basis. Of course, it helps if I'm given a specific brief, but the home is a good starting point to understanding someone's taste.'
Hintz adds that it is crucial to have an idea of what you are willing to spend before you hire a consultant. It can also be difficult if a client hasn't really clarified what they're looking for, resulting in the consultant suggesting work that the client can't make a connection with.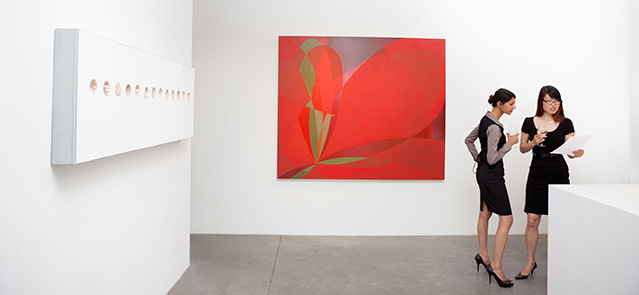 Photo: Alamy
Establish industry contacts
Sourcing fine art is no easy feat, and getting access to the right galleries or dealers can be tricky for those just starting out as collectors. Through industry connections, art consultants can grant access and expert insight into the ever-changing and nuanced marketplace, whether it be through visits to art fairs, private sales or galleries. All of these might offer opportunities to buy art that a layman might not be able to access.
Knowing where to look should not be underestimated, according to Hintz. 'The art world – when you're inside of it – is small, but to an outsider it can be intimidating. How do you go into a gallery and strike up a conversation if you don't know anyone there? Which galleries do you go to in order to find the works that you like?'
There's also the online art market, which today accounts for a lot of sales, and yet can be totally overwhelming. 'It takes time and understanding to figure out what's actually worth looking into and what's worth ignoring. In that way, I'm rather like a filter,' she says.
As an art consultant, Hintz tries to stay one step ahead of the crowd, suggesting art that a client might not know about, discovering artists at the right point in their career or securing a piece of work that's hard to get hold of. 'I also advise on what will be good for a client's collection and I tailor it to their needs, whether that means works of art that they find interesting, or works that are in keeping with their motives for collecting.'
Make time for research
'If you're serious about collecting, you have to commit time to understanding the market and the artist,' says Hintz. The more you know, the better equipped you are to make a good decision and buy the right work.
Hintz suggests her clients do as much independent research as they can. If you're interested in a certain artist, look at other examples of their work from different periods of their career to compare your preferences. If you really like Picasso's abstract expressionist works, for example, why not look to other abstract expressionists who were creating work around at same time? In that way you can try to curate your own preferences, which could help you to get more from your consultant.
Essentially, if you're serious about building an art collection then you should think about employing an art consultant to help you, but you should also come prepared with your budget, and a basic understanding of what you like and want from the art world.
Whitney Hintz's top 5 tips for budding collectors
Head over heart: Go with what you love but be sure to consider the financials when making a purchase. Make sure you are paying the right price, do your research and always ask for a discount. But ultimately if you love something, it is about how much it is worth to you – that's the question you have to ask yourself before each purchase!
Stay informed: If you're interested in the market value, take a look at auction results as they can be a good indicator of the demand. Try trusted sources such as artnet, Sotheby's and Christie's. All this information should be taken with a grain of salt, however, and don't get too consumed by auction results because they can be fickle. Look into who represents the artist, which gallery if any, and where the artist has exhibited using public exhibition history. These things are more important than an artist's auction history. An artist's gallery, exhibition history and the collections in which the artist is represented in, play a major role in determining an their career and legacy.
Buy in depth: The best collections are ones that are focused on an artist or a movement. They show commitment and an in-depth understanding, and are more likely to contain better examples of a particular artist or movement.
Buy unique: That said, prints have become better investments, and are currently doing really well – subject to the artist and the condition.
Make the time to seek art out: If you live in or near a city, there's likely to be a wealth of art on your doorstep, you just have to make the time to seek it out. In London, Hintz's recent recommendations include: Eduardo Paolozzi at Whitechapel Gallery, Barbara Kasten at Thomas Dane Gallery, Jaki Irvine at Frith Street Gallery, David Hockney at Tate Britain, and Richard Mosse at the Barbican. 'If you're starting off collecting you need to go and see works in person. Avoid going through online auction – they're more of a convenience, not necessarily the best avenue for someone new to the art world.'
Find out about Hiscox art insurance