TV presenter Philip Mould and his Object of Desire
May 08, 2015
Philip Mould OBE is an art dealer specialising in portraits, author of 'Sleuth the Amazing Quest for Lost Art Treasures' and TV presenter of BBC Fake or Fortune and the Antiques Road Show. By Hugh St Clair.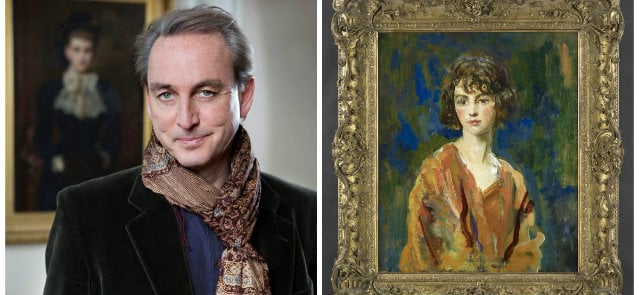 Philip Mould has made his reputation by unearthing what in the art world are called "sleepers".  The word describes something of value that is not recognized or correctly catalogued as the work of a well known artist.
Philip's first success was buying an unattributed painting at a local auction for £180 that he had a feeling was something special. His hunch was right. It turned out to be by well respected court painter Geoffrey Kneller and he sold it to a collector for £20,000. The teenage sleuth Mould was hooked and after University he decided to open a gallery specialising in portraiture. In the early days the investigation process was lengthy but thanks to the Internet it is now much easier to access historic archives and records. He found a Gainsborough on eBay for £120 and in 2011 an unidentified Van Dyck in an auction catalogue.
Forensic examination
"Forensic examination of paintings has also greatly improved since I started," he explains. "The methods of determining pigment and date are very advanced today." While previously he had to get X-rays from a private hospital, now a team of art specialists visit with the relevant equipment.
John Major's government appointed him as the official art advisor to the Houses of Lords and Commons, a post he held for 22 years, charged with finding paintings to "hang in the corridors of power "as he puts it.  He is now a co-presenter of BBCs "Fake or Fortune" with Fiona Bruce  and in the next series will  travel the world  investigating possible undiscovered works by Renoir , Tintoretto and Lowry.
"Portraiture is humanity and art combined," he explains, "of course beautiful women, handsome men and famous figures sell best. I would love to see an unquestionable portrait of Jane Austen – none have come to light so far and if I found one I could name my price."
After years of dealing 18th century British portraiture Philip has moved his focus to what he feels is a less explored area. A section in his new Pall Mall Gallery will be devoted to portraits from the early 20th century that he will sell for under £20,000."It's a sort of British Salon de Refuses- artists who combined modernity, tradition and sensibility" he explains, mentioning artists such as Henry Lamb, Glyn Philpot and Oswald Birley.
Philip's Object of Desire
"The painting I wish I still owned but regrettably sold to fellow art dealer Danny Katz is a portrait of Lois Sturt by Ambrose McEvoy in 1920," says Philip. "It's a piece that follows in the figurative tradition of British painting but incorporates the contrary influences of modernism from abroad". He explains that Lois Sturt was a society girl and debutante when this picture was painted. "She is dressed demurely and placed in the centre of the canvas, as in portraits by Van Dyck and Reynolds, but the background is an abnormal explosion of colour. Mc Evoy was an artist who pushed boundaries."  He adds: "The strong colours behind the demure portrait create a wonderful tension. She went on to lead quite a wild life so maybe the artist could see into the future".