The making of a modern den
January 25, 2018
The evolution of the den means that these spaces are no longer just a masculine domain for cigar smokers. Dominic Lutyens discovers how the rest of the family have staked their claim.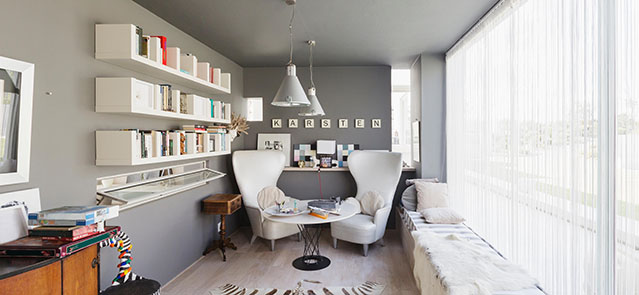 Photo: Alamy
The evolution of the den into a 'man cave' seems like a boyish product of the late 20th century. These flashy, bachelor pad-style media rooms boasted home cinemas, state-of-the-art projection screens, pool tables and even bars.
Dens, however, have a masculine pedigree stretching back to the 15th century – rooms used by men as a retreat first appeared in European palaces. Called 'cabinets', they often catered to cultured minds, lined as they were with books and art.
The female equivalent was the boudoir. Both answered practical needs, too: sprawling palaces were difficult to heat and these cosy havens, which usually adjoined bedchambers, offered privacy from the household.
Time for change
While dens today are often still kitted out with the latest gadgets, they're no longer the preserve of technology-obsessed men. What's more, they come in myriad styles and, more often than not, are enjoyed by the entire family.
The modern den fulfils a desire to escape and unwind, and as such is typically designed to feel separate from the rest of the house. It therefore makes sense to create one in an extension, although there are no hard-and-fast rules about where it should be.
According to Rupert Martineau, Associate and Project Head of Residential Interiors at SHH Architecture and Interior Design (SHH): 'It depends on the property. We often dig down or build out. But building up is not such a good option as most houses have bedrooms upstairs, which may necessitate additional soundproofing.'
Multifunctional spaces
Dens are no longer confined to serving a single function. 'People have realised that a media room or home cinema can be multifunctional: families can entertain guests for film nights, kids can use it as a games room, or it can be used simply to relax,' says Rob Sutherland, a board member of UK smart-home technology association CEDIA and founder of Inspired Dwellings, a smart-home technology consultancy.
'In today's multipurpose rooms, clients use their smart TV for regular daytime viewing with the family, while at night a projector screen, which covers the TV, is used for watching movies or sports,' says Sutherland.
Comfort is still key
Technology aside, comfort is a crucial ingredient of today's dens, according to British designer Timothy Oulton. 'When it comes to furniture, I always say start with a ridiculously comfortable sofa and design the room around it. It's perfect for a family den, as is a big coffee table to put your feet up on or to spread out a board game and hold snacks and drinks.'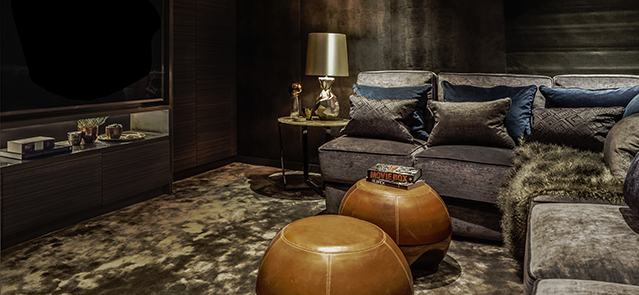 A media room that can only be accessed via a dark corridor and bronze pivoting doors. Photo: SHH Architecture & Interior Design
A den can also be playful. 'It could include an artwork that makes you smile,' says Oulton, who has created many a den, albeit in public spaces. Most notably he helped with the relaunch of the speakeasy-like Blue Room at the refurbished Los Angeles Athletic Club, formerly a venue frequented by the likes of Charlie Chaplin and Clark Gable.
Dens across the Atlantic
Family dens have long been a feature of US homes where they often double as opulently and eclectically furnished libraries. US firm Arthur Dunnam for Jed Johnson Studio has created one in a new building in New York. 'Its walls are panelled in mahogany, while its sofa was custom-designed,' says Dunnam, the company's founder.
The furniture includes chic white chairs by mid-century Italian designer Franco Albini, yet it also features high-tech elements. 'It has a huge flat-screen TV and music is controlled by an app on an iPad mini,' adds Dunnam.
Ensuring the room felt secluded and luxurious was a top priority. The den is at the end of a long hall and is the perfect spot to get away from all the activity in the rest of the apartment. Enveloped in warm wood panelling, the homeowners have even gone as far as to call it a 'cocoon of calm'.
A room for all seasons
In the UK, the meaning of den is being redefined to take into account its multifarious uses. 'It now varies hugely in size, proportion and style,' says Rupert Martineau of SHH. 'Dens are being reclassified as day rooms, family rooms, media or games rooms and even as wine and cigar rooms.'
Since dens are usually conceived as relatively self-contained, their décor doesn't need to be in the same style as that of other rooms in the house. 'We normally ensure there's a theme in the homes we design, so that all its spaces interconnect. But dens can be an exception since they provide a discrete disconnect from the rest of the home,' says Martineau.
Interior dramas
One of SHH's recent projects is a media room in the basement of a family home in central London. 'We wanted it to have a sense of drama when you approach it, so we designed it to be accessed via a dark corridor and bronze pivoting doors,' says Martineau.
'The room's walls are clad in dark blue leather, hand-stitched embroidery and metal studs, evoking a coral reef. The underwater feel is enhanced by many styles of lighting creating different moods and uses. We were asked to design a "total immersion room" with interactive connections for anything from gaming to working.'
The den has a huge TV screen, speakers and gaming paraphernalia housed in joinery that is wrapped in horsehair, which ensures excellent acoustics. 'The male member of the household even requested a silent air-conditioning unit that allows him to smoke cigars without them fogging up the room,' adds Martineau.
Integrated living
Clerkenwell Cooperage, a former brewery built in the 1900s, gives a different but equally striking take on the modern den. Designed by Chris Dyson Architects, it's not separated from the rest of the house, but is part of an open-plan space also containing the kitchen and dining room.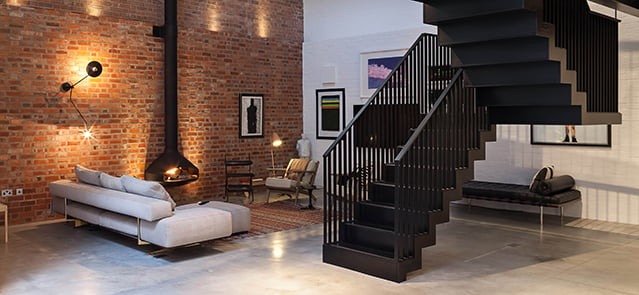 The existing basement was extended laterally to create a large open-plan family living area at Clerkenwell Cooperage. Photo: Peter Landers
Occupying a new lower-ground extension, the den still manages to feel secluded as it's situated at the bottom of a dramatic, zigzagging staircase. The space is flanked on one side by an exposed-brick wall that gives it a warm, mellow atmosphere, which is enhanced by a Gyrofocus fireplace with a dramatically tall flue.
A den can also be the nerve centre for your home entertainment. Portuguese company Life Emotions, a member of CEDIA, has created a stylish, fashionably multipurpose den with white walls and funky tangerine seating. Its owner requested a room where he could store his vast collection of CDs and vinyl and install a high-quality DJ system that plays music in every room of the house.
Whether it's a children's messy play area that's hidden from the prying eyes of visitors, a serene sanctuary that allows you to retreat from the pressure of city life, or a state-of-the-art entertainment space for impressing guests, the modern den has escaped from the man cave.
Dominic Lutyens is a London-based arts journalist who also writes for The Guardian, The Financial Times, Elle Decoration, BBC Culture and architonic.com
Find out more about our home insurance.