Why do people extend their homes?
April 03, 2017
From creating a modern feel to designing an integrated living space, Dominic Lutyens explores the thinking behind four home extensions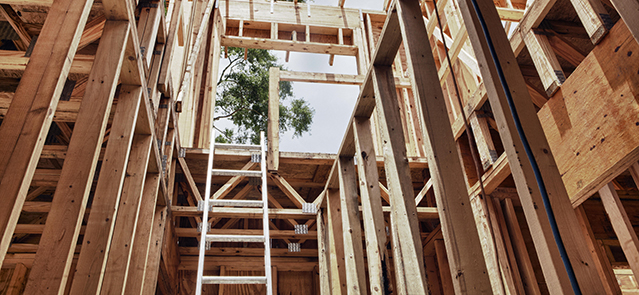 Photo: Alamy
The classic home extension is a ground-floor structure that projects into a garden, allowing indoors and outdoors to blend virtually seamlessly. But the construction of one isn't restricted to building sideways – it can apply to creating more space anywhere in a house, be it upwards into the loft or downwards into the basement. So, which direction do you want to go?
Dancing above the ceiling
Loft conversions are often seen as a way of capitalising on unused space to create an extra room, but architect Joe Wright's roof extension is proof that they can be more ambitious by incorporating an outdoor space.
Located in Camden, north London, the clients are a family of four who previously lived in a two-bed maisonette on the top two floors of a three-storey townhouse. They wanted to continue to live there but craved more space.
'As a growing family, we wanted another living room where we could escape to relax, maximising space for board games and even dancing,' the homeowners explain. 'It was important to prevent the space from being cluttered, and to keep it open and light and connected to the south-facing, rooftop terrace.'
The house's existing flat roof presented an opportunity to extend up from the cramped maisonette. The new room, which can double as a guest room, incorporates plenty of storage space and a shower room.
Although the house is in a conservation area, the rear façade directly faces a railway line and isn't overlooked. As such, this allowed for a more playful approach when designing the back of the extension. It features large, glazed sliding doors, while a window at right angles lets light flood into a stairwell behind it.
Seen from the outside, the doors and window are dramatically framed with battens of Western red cedar wood but, since this is a warm, traditional material, the extension's arrestingly contemporary design also feels familiar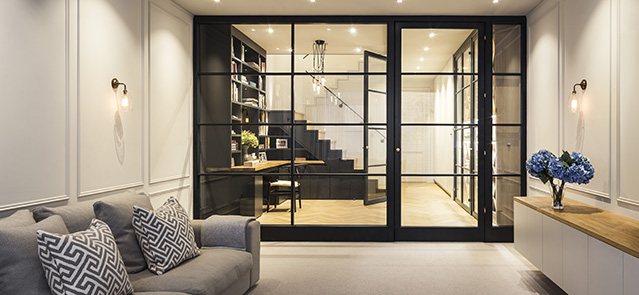 The basement-level extension at Jo Cowen's house in Fulham gives the family space to relax. Photo: David Butler
Semi-detached cinema
Another eye-catching roof extension is Satish Jassal Architects' loft conversion in Finchley, north London, which has added 30% more floor space to a semi-detached house.
Comprising a home office, cinema space and shower room, its most spectacular feature is a window that morphs at ceiling height into a horizontal skylight, bringing daylight into the centre of the room and affording a continuous view of the garden rising up to the sky.
Architect Jo Cowen, meanwhile, has created a ground-floor extension and one at basement level in her family home in a Victorian house in Fulham, west London. Her main motivation was to add value to the property.
On the ground floor, an uninterrupted view links an existing reception room, new kitchen-cum-dining room and back garden. A glass skylight at floor level beyond the kitchen draws light into the basement, which is reached by a staircase with a glass balustrade.
'Light is a key element in our work,' says Cowen. 'Here I've used glazed walls, floors and stairways to bring daylight into every room. But I framed the glazing with timber to give it warmth.'
The basement incorporates Cowen's office and living room ­– the two spaces are separated by a glazed partition so that she can keep an eye on her children when they're playing there – a utility room, spare bedroom and wine cellar. The ceilings here are 2.9m-high to prevent the space from feeling poky, while an adjoining courtyard draws more light into it.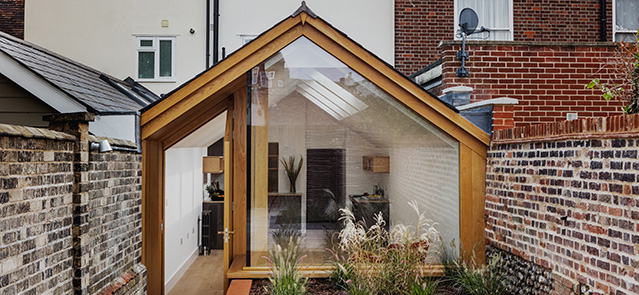 Well Street by IF_DO extends into the garden. Photo: Mariell Lind Hansen
Contemporary conservation
Another example of extending sideways can be found at Well Street in Bury St Edmunds, Suffolk. Architect Al Scott of practice IF_DO has refurbished this Grade II-listed Georgian cottage, owned by his parents John and Margie Scott, and added an 8m-long extension that contains a kitchen-cum-dining room overlooking the garden.
'There was a 1960s extension here before but this blocked any view of the garden and made the main part of the house gloomy,' recalls Margie Scott. 'We wanted more light in the house and to be able to see the garden. We were keen not to have a period-style extension and feel its modern approach complements the building brilliantly.'
The house is situated within a conservation area so, for Scott, the main challenge was to create an extension that was sympathetic to the building's original architecture yet contemporary.
To this end, Scott gave the extension a traditional, almost chapel-like pitched roof and used a restrained palette of natural materials — oak, brick and glass. Yet the end of the extension is almost entirely glazed and, with no frame surrounding the glass, looks minimalist.
Even so, the glazing is so understated and unobtrusive that it doesn't look jarringly modern. 'We love the way the glass appears almost non-existent, bringing the garden right into the house,' says John Scott.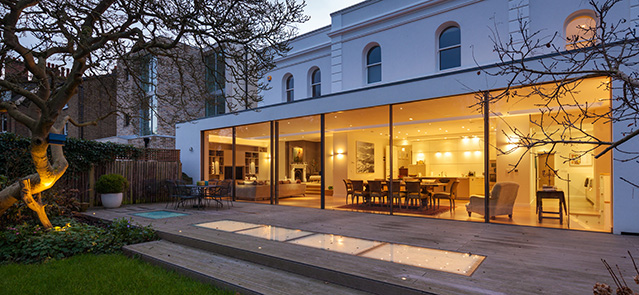 Qualitas Construction's extension to a Victorian villa in south London lets in plenty of light. Photo: Qualitas Construction
Broken-plan living
Generous glazing, designed to flood its interior with as much light as possible, is also a key element of an extension spanning the entire rear façade of Spencer Park, a Victorian villa in Wandsworth, south London.
Floor-to-ceiling glass doors front the extension and a long skylight zips along its flat roof. Created by residential construction firm Qualitas Construction, this design is intended to maximise views of the garden and blur the boundary between indoors and out. However, it is atypical in that it bucks the trend for extensions with open-plan interiors.
The owners – a growing family – were keen to divide their home into zones, nicknaming the idea 'broken-plan living'. Measuring 40 square metres, it is certainly spacious enough to fulfil this requirement and now contains a music room, formal reception area and zones devoted to cooking and eating.
From converting an overlooked loft space into an airy eyrie to burrowing underground to provide a spacious subterranean area, it's clear that extensions are no longer coveted simply for augmenting the size of a property. Whether it's drawing in more natural light or creating a space that effortlessly caters for different generations, the modern extension is all about tailoring your home around your tastes.
Get extension insurance from Hiscox to ensure any big changes or building work is covered