How to make your home smart
April 06, 2016
Technology is being integrated into every appliance in the home. But what are the best uses of wireless connectivity that can save you time and create an easier life? Gadget guru Caramel Quin picks out her 5 smartest devices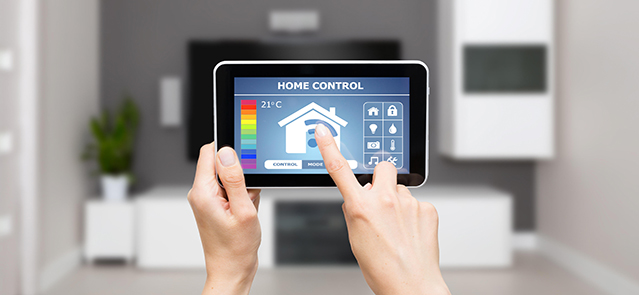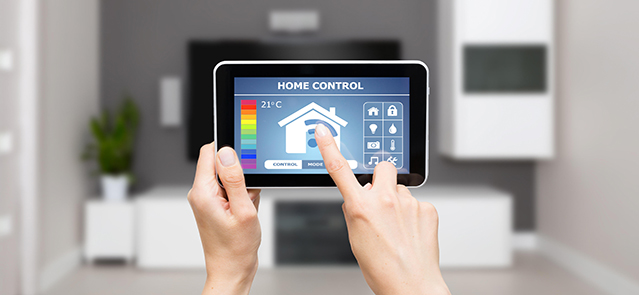 Photograph: Alamy
1. Robotic mower
Robotic vacuum cleaners don't work for most homes. Only really suitable for uncluttered, open-plan apartments, they won't pick up a pile of newspapers to clean underneath, tackle the stairs or squeeze into little gaps. So if you want a time-saving robot to help with the chores, think about a robotic mower.
The Honda Miimo (from £1,999) can be installed by sinking a perimeter wire flush with the ground to tell it where the lawn edge is, then simply schedule its weekly mowing times. Miimo mows quietly, returns to its charging base when done and there's no clippings box to empty: it scatters fine clippings as mulch instead. All of which means you can put your feet up while your robo-minion mows.
2. Smart heating controls
There's a new breed of smart thermostat that promises to help you control your boiler better. You can use a smartphone app to schedule heating and hot water precisely to suit your typical weekly movements. And you can control them remotely from anywhere in the world. For example, turn the heating and hot water off from the comfort of your deckchair, then turn them back on again the day you're due home.
Smarter still are zoned systems like Honeywell Evohome (from £210), which controls each radiator in the house independently. This lets you create a much smarter schedule. For example, if you work from home you will want a warm office on weekdays, but it would be a waste of money to heat bedrooms. Tailor it to your family's movements and you could save up to 40% on gas bills.
3. Intelligent lighting
Smart lighting means more than having clever switches that control more lights. You can integrate your lighting with your other home electricals for a truly intelligent system. This is best done by working with a specialist custom installer – contact industry body Cedia to find one near you.
One of the best uses of intelligent lighting is for security. To deter burglars, high-end lighting control systems can mimic your lighting usage when you're away by repeating patterns from recent weeks. Your security system can be integrated with your whole-home control system too. So if it detects an intruder, as well as an alarm sounding, lighting can flash and music blast out of every audio system in the house.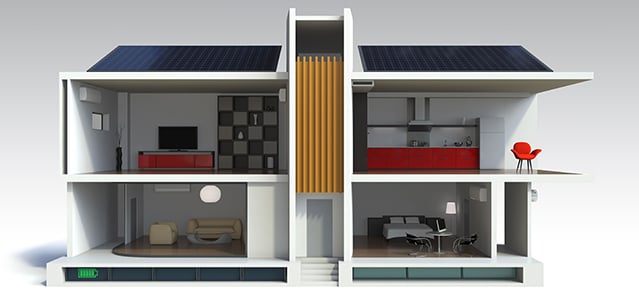 When you're away, smart lighting can repeat your usage patterns from recent weeks. Photograph: Alamy
4. Smart lock
You need a lot of faith in a product if you're going to replace the lock to your front door with it. You do not want the technology to let you down. Hence the belt and braces approach of the Yale Keyless Connected Smart Lock (£132), which can be opened in several ways. You can tap it with a smart card or key fob, type in a PIN code or even unlock it with your smartphone if it's connected to a Yale Smartphone Alarm system.
The lock is geared up for modern living. For example, if the lock is smartphone connected, you can see who has come home, and when, via the app. You can also generate PIN codes that are only active for 24 hours – the perfect modern version of lending a set of keys to a house guest or having to be home to receive a delivery or let a builder in.
5. All eyes on the oven
There are so many smart kitchen appliances on the market, it's hard to gauge which ones are useful and which are just gimmicks. For example, there have been internet-connected fridges for well over a decade now but they're still not that popular.
I do like the AEG ProCombi Plus Smart Steam Oven (£1,499) though. In shops this summer, it has all the mod cons you'd expect of a high-end steam oven, plus a couple of surprises. Most notably its CookView camera gives you a live webcam feed to your smartphone or tablet so you can see what's cooking. If you've ever opened the oven door too soon and seen your soufflés collapse or your sponge cake sink, you'll understand how helpful this could be for a keen cook. You can also change oven temperature, humidity and function remotely via the app.
Self-proclaimed 'gadget girl' Caramel Quin has appeared as a technology expert on Sky News, GMTV and BBC Choice
Find out how your home might look in 2025 in our Home of the Future.