The house I grew up in: The Ana Mum Diary
October 31, 2014
Leading lifestyle and home blogger Amanda Cottingham guides us through the memories she's created in her home.

As you grow up, your home grows with you. In the third part of our series looking at the memories the UK's leading home bloggers have created in their own homes, we hear from Amanda Cottingham.
Amanda runs the hugely popular Ana Mum Diary, a lifestyle, home and parenting blog that documents her life and her interior design passions. Below, Amanda takes on the journey through some of the most precious memories in her house, from the bedroom furniture to a pair of Disney ears.
Amanda's story: How her house grew up with her
"We have lived in our home for seven years.  I don't think there is anything that we haven't changed about it in that time. With a new kitchen and bathrooms, every room has been painted and given new flooring.
We have worked so hard getting this home the way wanted it. Knocking down walls, and blocking up doorways, and many trips to the local hardware store and even more to places like Ikea looking for storage solutions to squirrel away my ever expanding shoe and satchel collections.
One of the first changes we made was to get rid of the gold glitter toilet seat (yes you really did read that right) in the downstairs loo, even though my six-year-old at the time protested by locking herself in there. Some things have remained constant though: some of items that we cherish, memories that we have made together, first as a couple, and now as a family. New and old pieces of nostalgia, that makes our home special to us.
First I thought I would show you some of the older items in our home that we cherish.
I love the warmth of the wood from my bedroom furniture, so I tried to make that the main feature.  I teamed it with cool grey and a pop of yellow. In my main bedroom, my husband and I have a bedroom set – a bed, bedside table and tall boy that we have had for many years, maybe 15 or so. If there was ever a set of furniture that made me smile and think of home, it's this.
I just love the shape of the bed and the woven Lloyd Loom style headboard. We saved up for a long time to buy it and even used the bonuses we both received from work to be able to buy the complete set.
It's more than just bedroom furniture to me, and represents all the hard work both myself and husband made to make a home for our family. I can't imagine ever not having it.
Whenever we have a celebration we use those champagne flutes. The first time we used them was to toast the birth of our eldest daughter – so many memories! Wedding and engagement memories are what fill this corner of our kitchen.
Our favourite photograph framed of our wedding day, a print saying 'All you need is love, love is all you need' that I gave to my husband on our anniversary. The black and white ornament a gift from our wedding, and the Champagne glasses… well just the perfect gift that was given to us on the first Christmas we were married, over 13 years ago.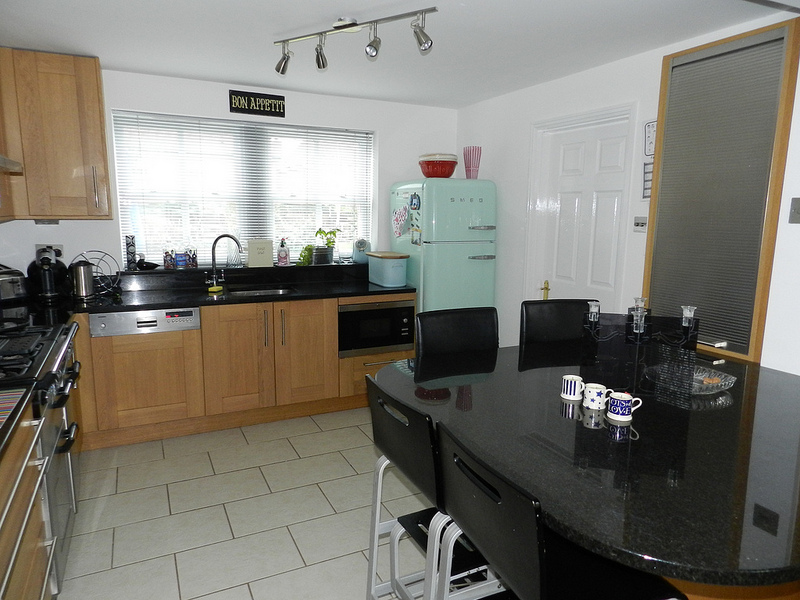 The kitchen isn't as always as tidy as this! My kitchen is the hub of the home. Those walls we took down, and doorways we got rid of? That's what gave us the ability to have a bigger dining kitchen, one that we could have family meal in each evening, and long leisurely brunches in at the weekend. So important to the way our family works.
Over the years I've collected lots of mismatched crockery that we use every day, all of which tell a story of where and why we have bought them.
This is a favourite collection of mine, on a sidetable full of memories. I love this collection of memories on my sidetable. My love of photography and my absolute favourite book of all time Jayne Eyre, with a gorgeous cover, which I treated myself to a hard copy of one year.
Then there's a piece of Jersey pottery I picked up in a charity shop, when I was on a memorable and romantic trip there with my husband. The cup and saucer was given to me by my Grandma who just knew I would love it, and I do!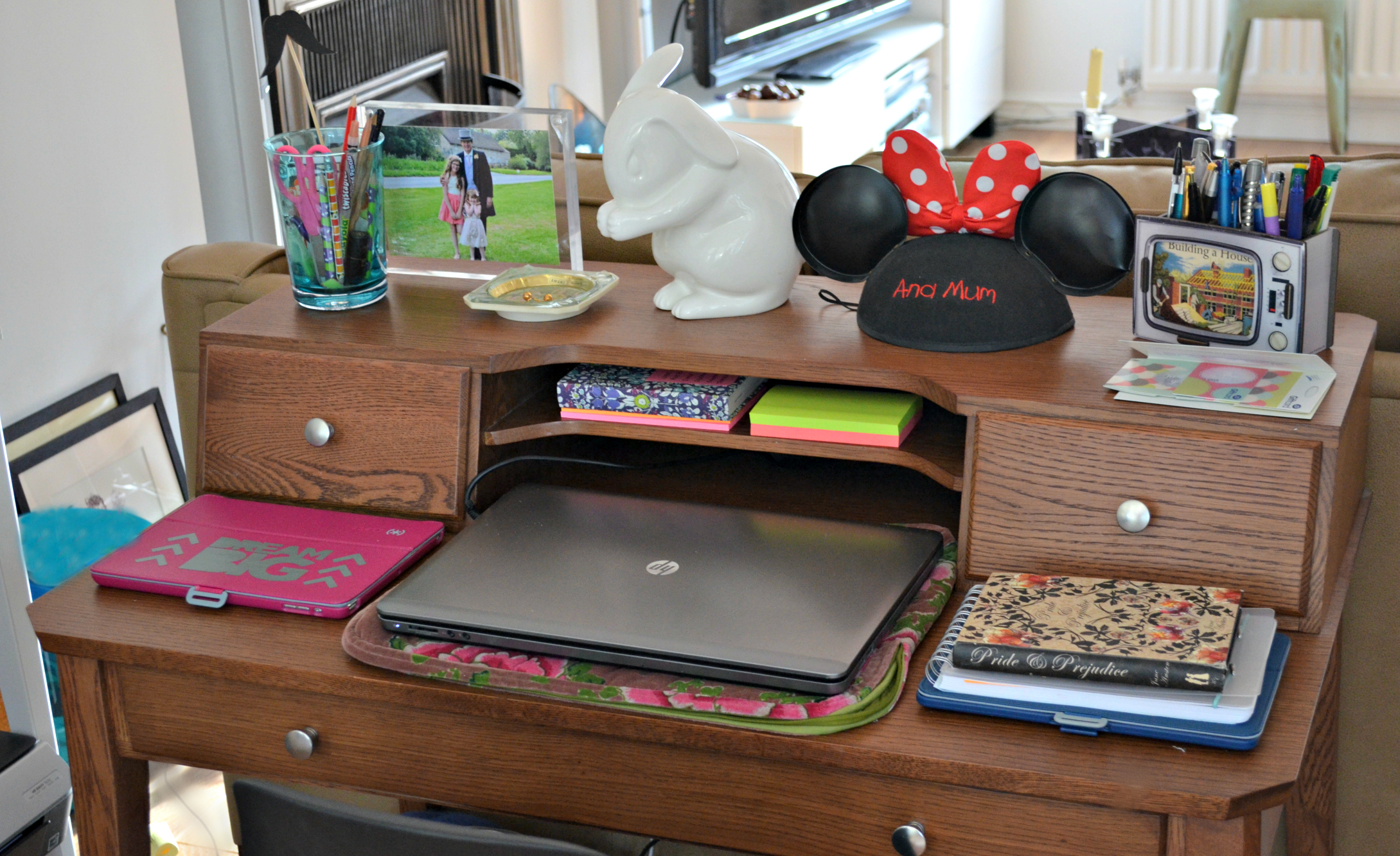 I think it's good to remind yourself whilst you work, what you are doing it for… One of the hardest working areas in my house in the day, has to be my desk, from where I write this today.
I'd not really realised how much I surround myself with memories until I looked at the image. The photograph is of my family, at the most beautiful wedding last year in Dorset.  The white rabbit, was my youngest daughter's nightlight, that has become my desk light now she has grown out of it. When I gaze at it every day it makes me thing of both of my daughter and inspires me to write.
Finally my Mickey Ears. You would not believe the trouble I went to, to get these with the Ana Mum on. They always remind me of just the best holidays we have been on as a family, and that I will always be young at heart. This is my home, and just some of my treasured possessions."
Read more from Amanda at http://theanamumdiary.co.uk/
Read more from The House I Grew Up In series