Hidden depths: what goes into a diving watch
April 13, 2017
With two new versions of the iconic Rolex Sea-Dweller and the Blancpain Fifty Fathoms now available, Tim Barber considers the technology that makes diving watches so tough and the style that makes them so recognisable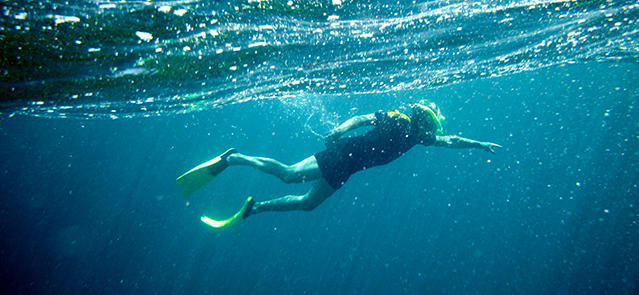 Photo: Alamy
In 1953, the legendary marine explorer Jacques Cousteau released his first book, The Silent World. It recorded the adventures that followed his co-invention, a decade earlier, of the aqualung, the 'self-contained underwater breathing apparatus' (SCUBA) that enabled Cousteau and his companions to swim free and unfettered among shipwrecks and sea life. It completely changed the world of underwater diving.
But it wasn't just diving that changed. By the time of the book's release, the possibilities scuba opened up – scientific, military, recreational – were becoming clear, ushering in a wealth of wider technological developments, including the evolution of that most critical piece of a diver's kit: his wristwatch. A brace of new releases this year reminds us how significant the arrival of the professional diving watch actually was.
Oysters and frogmen
In the early 1950s robust, water-resistant watches were not new, although they were rare. Anyone now sporting a watch from the Italian brand Panerai has on their wrist a design dating back to the 1930s, when the company – then a tiny specialist operation based in Florence – was contracted to supply diving equipment to frogmen in the Italian navy.
Panerai's huge, cushion-shaped watches, with luminous dials were designed to be readable in the murky depths. They were made for Panerai in the early days by none other than Rolex, a young company that had changed the game with its tightly sealed 'Oyster' case, ensuring the kind of water resistance that had hitherto been impossible.
Taking the plunge
Other brands had experimented with water-resistant watches too. But the scuba era required a new type of diving watch – one that was streamlined as well as waterproof, utterly robust, and would easily measure dive times (all the more important when you're carrying a finite amount of oxygen on your back). And just as Cousteau's book landed in 1953, so did what is considered ground zero for the modern dive watch: the Fifty Fathoms from Blancpain.
Designed under instruction from French naval divers, and soon adopted by other military outfits including the US Navy, it was named after its capability: 50 fathoms equates to 300 feet, the depth rating of the watch, and the maximum at which an aqualung could then work.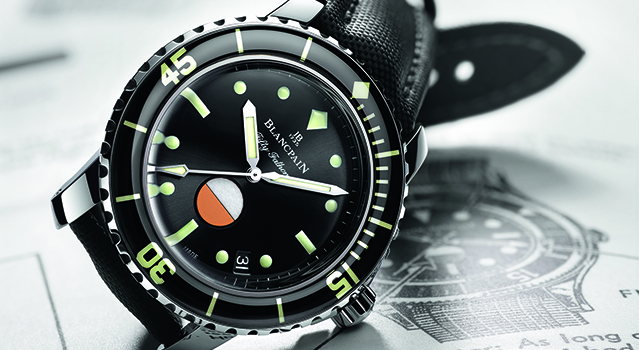 The Blancpain Tribute to Fifty Fathoms Mil-Spec
Fifty Fathoms' most important feature was its outer bezel, segmented into five-minute sections with a central arrow marker, which could be rotated. It was used to count off elapsed time below the surface – if a 35-minute dive was planned, the bezel could be turned with the marker set 35 minutes from the position of the watch's minute hand; when the latter caught up with the arrow, time was up. Crucially, a locking mechanism prevented the bezel being accidentally rotated, which might lead to a dive being dangerously extended.
New depths
As you'd expect, modern-day Blancpain produces a number of glossy, high-tech versions that still draw their DNA from the early models – though one complaint might be that, like so many contemporary sports watches, they tend towards rather hefty proportions. That's all the more reason to love this year's version, which recreates, with a bit of added luxury gloss, a 1957 version of the Fifty Fathoms, known as the Tribute to Fifty Fathoms Mil-Spec.
At 40mm (the size of the original), it's about 4mm smaller than most contemporary Fifty Fathoms watches, with a purist design that includes a quirk of the 1957 model: a circular marker on the dial, half white and half orange, that would turn all orange should any water seep in.
Today, vintage Fifty Fathoms watches go for tens of thousands of dollars. The secure rotating bezel, a simple dial with hours marked by luminescent circles, and high-grade water resistance (Blancpain developed new techniques for this too) would become default elements of the modern diving watch, and so they have remained.
Swimming with Bond
But while Blancpain can claim the blueprint, it was of course Rolex that distilled it into a true design classic. Its Submariner, released the year after the Fifty Fathoms in 1954, made the diving watch famous, and even glamorous, with a style that has changed very little ever since. It was suave enough for Sean Connery as James Bond to sport it with a tuxedo, and formidable enough as a tool for the Ministry of Defence to issue special versions to the Royal Navy's divers (versions of that can go for hundreds of thousands).
Nevertheless, it wouldn't be the ultimate Rolex dive watch – far from it. By 1967 diving techniques had developed such that an even stronger watch, with a deeper capability, was required. The problem was that the deeper a watch went, helium pressure would build up between the dial and its crystal covering, sometimes resulting in the watch simply bursting open.
Rolex's solution would be the next leap forward for the diving watch: the helium escape valve was a tiny device built into the case that could, as its name suggests, release the gas and regulate the pressure, enabling the watch to work at greater depths. Its bulked-up, helium escape valve version of the Submariner, called the Sea-Dweller, was created for the French industrial diving contractor COMEX, and could operate up to a depth of 2,000 feet.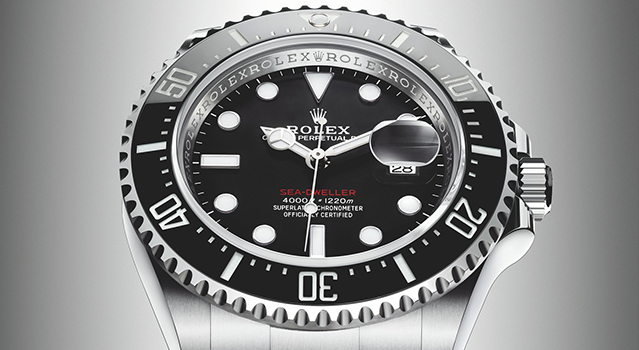 The new 50th anniversary Rolex Sea-Dweller
Aquatic birthday
To mark the Sea-Dweller's 50th birthday, Rolex has this year revamped the modern Sea-Dweller, which was introduced in 2014. The depth rating these days is 4,000 feet – far greater than anyone could possibly need. Rolex also now makes a version known as the Deepsea, which can go down to 12,800 feet, if you have reason to send it down there (tip: don't whatever you do go with it).
While the Deepsea may be the hardest of hardcore, the new Sea-Dweller has history and style on its side. The red 'Sea-Dweller' lettering on the dial is a hat tip to mythically rare vintage versions. Indeed, should you ever find an old model with a red Sea-Dweller marking, known as a 'Single Red' model, you'd be sitting on a fortune in a single watch.
For the first time, the Sea-Dweller now has its date window magnified with Rolex's customary 'Cyclops' bulge in the glass, a ceramic bezel, and markings adorned with the latest, ultra-bright version of the firm's luminescent Chromalight coating. Inside is the crown's most modern battle tank movement, Caliber 3235.
Of course, anyone embarking on serious diving missions now, from COMEX personnel and special forces divers to recreational scuba specialists, has all kinds of digital gadgetry to do a much better job than a traditional mechanical watch. Highly capable they may be, however, they don't tell a story. And you certainly wouldn't find any secret agents wearing one with a tuxedo.
Tim Barber is the Telegraph's Watch Editor and contributes to Spears, Wired, Centurion and Business Traveller
We offer tailored high-value watch insurance as part of your Hiscox home insurance cover