Expert advice for creating the perfect bathroom
January 06, 2017
Interior design expert, Nancy Straughan, sheds light on how to create the perfect bathroom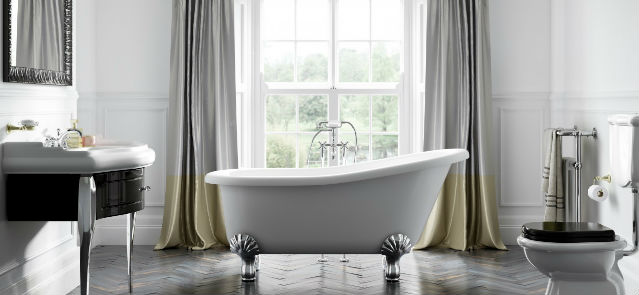 Designing the perfect bathroom is a complex and multi-layered process, according to interior designer, Nancy Straughan. But when you get it right, you can create a haven of both style and comfort.
Nancy works with a team of experts at state-of-the-art bathroom suppliers, Hugo Oliver. Below, she tells us how to get both the practical and aesthetic elements of bathroom design right.
Have a clear vision from the start
There are a lot of technical processes to consider when it comes to designing a bathroom, but before you get started with that, you'll need to have a clear vision of what it's going to look like. Mood boards at this stage are essential. I'd recommend using a tool like Pinterest, which is great for gathering inspiration. Doing this will really help your initial ideas to materialise on paper, making them easier to explain to anyone who needs to know.
Think about flooring, walls, bathroom furniture and fittings, and any accessories like towels, toilet roll holders and soap dishes. Collect images of everything that catches your eye and try to spot similarities between them to help guide your scheme.
The next step will be to make up some drawings. Once you have those you can move on to the actual plans and 3-D modelling to make sure your vision is clear. You may want to consider getting a professional to transform your mood board and ideas into these 2-D and 3-D concepts, as getting them right at this stage is key.
Don't rush over décor decisions
When it comes to bathroom design, thinking about décor can be one of the trickiest elements. As a starting point, think about colour, texture and pattern as a base. Geometric and Moroccan patterns are really popular at the moment and there are lots of bathroom pieces that incorporate this trend.
Remember that you'll have this bathroom for many years to come so if you're looking to add a statement be sensible with your choices. Try not to go with your heart and really consider how you're going to feel about this statement piece in a few years' time.
There are other traps you should try to avoid falling into as well. For example, an overly formal bathroom could stop you from relaxing and enjoying the space. You can still have elegance and beauty at the same time as comfort. Rooms are meant to be lived in and enjoyed, so make sure that your bathroom feels welcoming.
Be wary of misplaced decorating schemes that jar with the style of the house too. For example, a really modern and minimalistic scheme probably wouldn't work in an old, ornate house. Likewise, a nautical theme might not work in a home nowhere near the sea.
Sticking to one colour for the entire room is also a bit of a no-no, as it can make any decorative details disappear. Instead, consider mixing it up with complementary colours.
Consider possible future trends
If you're keen to stay on trend and create a bathroom that remains stylish for years to come, it's worth doing a bit of research about what's set to become popular over the coming years. For example, dark colours are going to be huge in 2017. Having said that, if you have a small room it's best to stick to a feature wall or dark-toned accessories, as anything more than this will make the room feel smaller.
The warm metal trend – the use of copper, brass and bronze – is still going strong but this time, instead of glossy and shiny finishes, matte and beaten metal textures are key. Plants in bathrooms are becoming more and more fashionable too with the fern being the trendiest house plant of them all. Not only are they on-trend, they're perfect for cleaning the air and they love humid conditions.
Make the most of space and lighting
Whatever décor you go for, there are inevitably going to be various practicalities you need to consider too. If you're bathroom has a tricky layout the best thing to do is look at small or unusually shaped bathroom fittings. There's a good variety of small cloakroom sinks available and you can also find slimline toilets and accessories that will fit into almost any space.
You may also need to think cleverly about storage, and utilise any extra space you have. For example, you could create storage underneath the bath or build shelves that recess into the wall.
Hanging slim cabinets on walls will also create extra space, and bathroom storage doesn't need to be very deep to hold all the essentials. And make sure to utilise the space under the sink by installing a basin that has built-in drawers or cupboards.
If you want to achieve a bright and airy look, keep the bathroom light with pale colours on the walls and floors. LED lights are much brighter than standard bulbs and are more energy efficient too, so go for those to really light up the room properly. Try using spotlights dotted around your ceiling for unobtrusive lighting and for some added style you could also include wall-mounted lights. Mirrors will help reflect more light into the room so think about installing a large mirror above the sink and a smaller one somewhere on the opposite wall too.
Put time and effort into nailing a look
When trying to achieve a certain look, it's important to look around at example bathrooms and take note of which features define it as minimalist, for example, as opposed to traditional. In this case, light colours and simple fittings go together to create the stripped back look, whereas formal interior touches and elegant accessories are more traditional.
Clean lines, open space and ultra-sleek fittings instantly create a contemporary look, but barn style lamps, concrete-effect tiles and warm metal basins give an edgy, almost industrial feel.
If you want to create an art deco look, you could go for bold splashes of black and gold, alongside wall-mounted sconces and lampshades for added opulence. On the opposite end of the extreme natural textures like warm wood and stone to bring a sunny, Mediterranean feel to the room.
Whatever the look you go for, it's attention to the finer details that will really bring your vision to life.
Find out more about Nancy Straughan and Hugo Oliver
Find out about Hiscox building and contents insurance
(Image credits: 1, 2, 3 and 4: Hugo Oliver; 5, 6 and 7: Victorian Plumbing; 8: Inspired Wallpaper; 9 and 10: Utopia Group; 11, 12 and 13: Original Style)