11 best antique furniture websites / Tastemaker: Hugh St Clair
April 17, 2015
Looking for antique furniture but don't know where to start? We've done the hard work so you don't have to. Here are our resident tastemaker Hugh St Clair's 11 best antique furniture websites. Over to Hugh…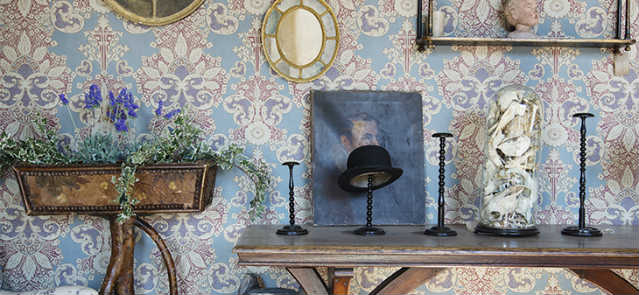 Photograph by Stephanie Ashby for Lorfords Antiques www.decorativecollective.com
Traditional antique shops have been disappearing at an alarming rate over the last few years. Pretty market towns like Long Melford in Suffolk and Broadway in the Cotswolds were renowned for their antique shops – no longer.
Due to rising rent and rates antique dealers have given up their premises and now deal from home and occasional fairs. A good and frequently updated website is essential. Many dealers have combined to create umbrella sites with links to their own individual ones.
Selling Antiques
The biggest umbrella website www.sellingantiques.co.uk encompasses all that is termed antique in glass watches, china and furniture. The dealer has to make a formal declaration of what he believes to be the date of the items for sale. There are 120,000 pieces on the site.
The British Antique Dealers Association
The British Antique Dealers Association is a trade body of elected members in the antique trade who have to abide by strict standards concerning attribution and provenance. Founded in 1918 it has entered the 21st century with a good interactive website www.bada.org
Decorative Collective
www.decorativecollective.com showcases the more unusual and attractive – antique status is not so important. The site is particularly strong on mid-century, beautiful, interesting, decorative pieces from UK and Europe and now features 130 associate dealers. You can register to receive notifications about new stock.
The Hoarde
Sister site of Decorative Collective is www.thehoarde.com  which offers more affordable antiques, 20th Century pieces and vintage objects such as metal office furniture and industrial lighting.
The French House
www.thefrenchhouse.co.uk has a showroom but also operates online selling antique furniture, mirrors and reclaimed decorative items and lighting imported from France. There is a good stock of garden chairs, distressed metal and painted pine furniture.
The Old Cinema
www.theoldcinema.co.uk is a London antique centre selling antique vintage and retro. On the site you'll find everything from an early arts and crafts table to an original Jaws film poster.
Core One Antiques
www.coreoneantiques.com is the website of a collection of nine London  antique dealers who have renounced expensive premises in Pimlico Road and other central London locations in favour of a cavernous warehouse adjacent to a former gas works in Fulham. Stock is of high quality with quirky and statement pieces which typically attract attention from American and European buyers.
Online Galleries
www.onlinegalleries.com features sculpture, pictures, antique mahogany furniture, and upholstered seating from a selection of dealers based mostly in the UK with a few from the US, and stock ranging from £300 to £30,000 and upwards.
Hemswell Antiques
www.hemswell-antiques.com is the website for the largest antique centre in Europe featuring more than 3,000 antiques, many at very reasonable prices.
Modern Shows
www.modernshows.com specialises in mid-twentieth century furniture, lighting, collectables and ephemera. Rather than listing solely by image, they include information on the dealer beneath a generic picture of their stock. The founders of the site offer a search service highlighting what they perceive to be investments for the future.
Design Gallery
If you're looking for arts and crafts and Art Deco furniture this is the site for you www.designgallery.co.uk
Do you know of any sites we've missed? Let us know on our Facebook page