Hiscox have created Influencer and Public Figure Protection as an insurance solution for individuals who live their lives in the public eye. Whether your client is an influencer in a niche area with 10,000 followers, a footballer with multi-million pound boot deals who gives match day interviews, an industry leader who regularly participates in panels, after dinner speeches, and other public speaking engagements, or one of the UK's largest YouTubers - this product has been tailored to cover the media and contractual risks that come with their public appearances, and the content they share on their social media channels and websites.
Who is it for?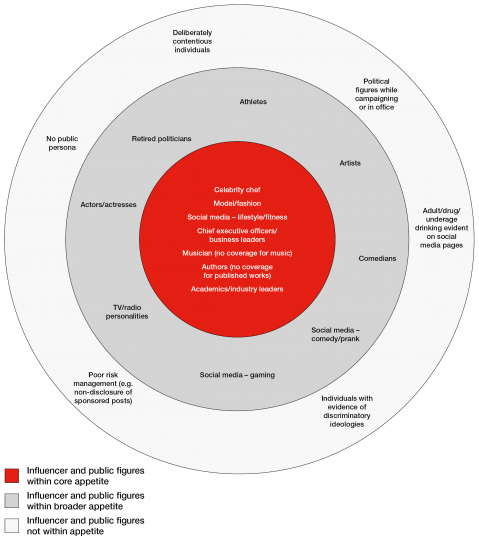 Standard policy cover includes:
Defamation

Intellectual property infringement

Breach of confidentiality

Breach of licence

Negligence

Breach of advertising statutes and codes (when brought by your client)

Full civil liability
Extra benefits of choosing Hiscox Influencer and Public Figure Protection
Clear and broad breach of contract cover for promotions, endorsements and sponsorships

Claims arising from unauthorised access to your social media

Automatic cover for claims against clients (agency/brands) and their end clients (brands)

Subject to the Consumer Insurance (Disclosure and Representations) Act 2012 or Insurance Act 2015 (where relevant) to give the most appropriate cover possible for individuals or their commercial endeavours

Option to work with client's own lawyers with our prior written consent

Optional enhancement to add up to £50,000 of defence costs to defend regulatory investigations into ad disclosure practices.
Don't let your clients make the headlines for the wrong reasons
In many of the following claims scenarios, the defence costs and indemnity payments incurred could be enough to have a significant impact on the financial well-being of the individuals – causing them to drain their savings, sell their family home, or at worst - file for bankruptcy. Influencer and Public Figure Protection can help provide security and peace of mind to your clients that their financial stability is not compromised should the worst happen.
A social influencer forgets to include #ad on sponsored posts.
This causes the Advertising Standards Authority to investigate and issue an adverse ruling against the brand. The brand sues the influencer for breach of contract after suffering reputational damage. The influencer opts to settle this claim with the support of our in-house counsel, and the policy pays the settlement amount.
An actress posts a childhood photograph to her Instagram account where it is seen by 750,000 followers.
The photographer who took the photo alleges he did not give permission to have his photograph shared and brings a copyright infringement claim against the actress. This policy covers the costs to defend the copyright infringement allegation, as well as the payments to settle or the court awarded damages (which can be $150,000 or more in US courts).
A cricketer makes a remark during a post-match interview that their poor performance during the season is due to the quality of their bat.
The bat company terminates their endorsement deal, and also brings a breach of contract claim relating to the quality of promotion. Our in-house claims team works closely with the cricketer's own counsel to defend the breach of contract allegation, while the policy funds the defence counsel's fees.
Videos 
Watch our two minute videos for an introduction on the What, Who and Why of our Influencer and Public Figure Protection.