Your very own ski chalet
January 25, 2017
After years of visiting your favourite ski resort, have you ever considered buying a chalet of your own? We look at the opportunities for mountain living by the slopes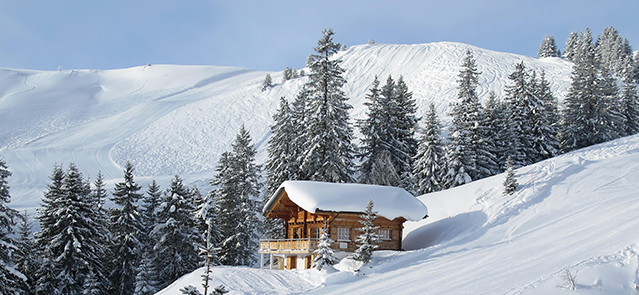 Photo: Alamy
Ski homes remain a staple of global property portfolios, but as the tastes and demographics of the winter sports market change, resorts around the world are undergoing a transition. No longer the preserve of the baby boomers as they reach the upper end of skiing age, resorts are having to up their game to attract the younger, millennial generation that are the future of the sport.
So if you're looking to buy a ski retreat, how important is it to buy a chalet with youth appeal or based in a year-round resort? We take a look at the current state of the Alpine and US mountain property markets to see what's on offer.
Alpine interests
The Alps are still the world's largest ski market, with 84% of the biggest 44 global ski resorts that together receive over 1 million visitors annually. The mountain range is spread across Austria, France, Italy and Switzerland, with France and Switzerland remaining the most popular destinations in the region.
'Most buyers will know from the outset whether they want to purchase a ski home in France (motivated for example by the short drive times or the new-build VAT incentive), or Switzerland (due to the privacy and lifestyle it affords), but the next decision is which ski resort best suits their needs,' says global head of research at Knight Frank, Liam Bailey.
Some factors to consider when looking at prices are altitude and season length. High altitude resorts such as Val d'Isère and Courchevel 1850 in France and Gstaad in Switzerland, have ski seasons that extend beyond 23 weeks. This means longer rental periods and higher property prices, says Bailey.
Gstaad, a celebrity favourite and home to some of the world's most exclusive boarding schools, topped Knight Frank's 2016 Alpine Property Index, with €1 million buying you just 32 square metres after prices rose over 13% last year.
The Three Valley resorts in France were other standouts following continual investment by the owner, Société des 3 Vallées (S3V), reinvigorating both tourist and buyer interest.
Rocky options
Building on their reputations as truly year-round destinations, premier ski resorts in the US are seeing strong levels of new investment, which is attracting a broader pool of demand. Colorado is responsible for over a quarter of all ski visits in the US and its 21 ski resorts boast the strongest international profile, according to Bailey.
'Although small in number, high-net-worth individuals from Australia, the UK, Eastern Europe and Asia are increasingly adding Aspen and Vail to their global property portfolios,' he says.
Prices in the popular regions of Aspen and Vail tumbled between 30 and 40% in the wake of the financial crisis in 2008, but both have recovered strongly since then and are now hitting record highs in some cases.
'Total sales volumes in Aspen declined during the first half of 2016 but prices have been unaffected. Above the $8 million price point, inventories are rising but the market below $5 million remains active,' Bailey adds.

Ski resorts are looking to attract younger visitors in order to compete. Photo: Alamy
Fresh powder
With younger, time-poor Generation Y (aged 20 to 35) skiers becoming an increasingly important market to target, resorts are having to diversify their offering and adapt to new trends to flourish.
The ever-growing range of leisure options for this generation is spreading the prospective market thinner according to Savills 2016/2017 Alpine Property Market report. Data shows Switzerland has been worst affected by this trend, seeing ski visitor numbers decline 17% in the past decade.
'Skier numbers in the West are at a high plateau, or, in some markets, in decline. The most resilient Alpine resorts will be those that are able to diversify their demand base. This means attracting new, younger visitors – for a variety of activities – and tapping into growing Asian ski markets,' says Paul Tostevin, associate director of Savills World Research.
With free access to wifi on the lifts as well as on the slopes more readily available, retail and real estate is being tailored towards a younger demographic and Winter X-Games type snow parks are now becoming permanent fixtures in many major global resorts.
When the snow melts
Resorts that continue to invest in their ski infrastructure and in summer activities are more likely to outperform, according to Bailey. Bouldering, paragliding and hiking are being added to the list of activities on offer to holidaymakers to combat seasonality.
The likes of Val d'Isère and Verbier in Switzerland are recent trailblazers, ploughing significant funds into their amenities. However, the resort that can lay claim to the title of most well-serviced year-round French resort is Chamonix, according to Savills.
'Chamonix is first and foremost a town with over 10,000 permanent residents and summer visitors eclipse its winter tourist numbers. Resort owner Compagnie du Mont Blanc is committing a further €477 million of investment over the next few years to upgrade the lift system and part of the valley's infrastructure,' Bailey says.
Away from France and Switzerland, Austria offers comparative value for money as its resorts are generally at lower altitude with shorter ski seasons and readily market themselves as year-round destinations in order to attract a diverse visitor base.
But before you start combing the mountains for the next up and coming ski resort, remember the fundamental rule when buying any property: a bit of research and legwork are important but more crucial is to ask yourself whether the chalet is a place that you'd be happy to spend quality time in after a long day on the slopes?