Your spare room or empty home could earn you money tax-free
March 29, 2016
Belong Safe's home-sharing expert Humphrey Bowles explains how you can make more out of your spare room or empty home, and how Host Insurance can give you flexible insurance.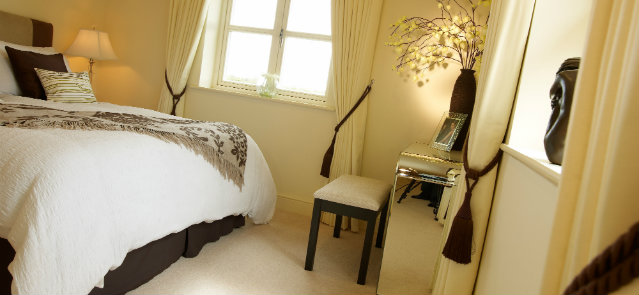 Photograph: Alamy
The Government has long said that they are supporters of the home-sharing market and now their actions speak louder than words. The rise of the home-sharing market is changing the UK economy and making our lives easier by providing a second income for many.
In March last year, the Government made it legal to rent a room in your home to paying guests for up to 90 days a year. Previously you weren't allowed to rent out your home for less than 3 months.
Now hosts are going to be able to earn a whopping £7,500 tax-free from April 6th. So for someone earning £30,000 a year, that's the equivalent of your home generating 4 months' worth of income for you. Quite a feat.
75% of hosts in the sharing economy said it was 'important' or 'very important' to be insured when participating*
Previously insurance has been a major obstacle to people joining this market. Why? Because having paying guests to stay is considered a commercial activity by insurers. This means the associated risks are not normally covered by regular annual home and contents insurance, and in some cases it could be even worse as your annual insurance could be completely invalidated.
Hiscox and Belong Safe have been working together to bring a new product to market, Host Insurance. This is a new, pioneering product for a few reasons and one we're rather proud of. First, the cover is designed to dovetail with your main home or contents insurance. And it suitably covers the risks associated with having strangers in your home. It's 'full-fat insurance' as we call it.
Secondly, you purchase it by the day… So hosts no longer need to take out a lengthy Landlord's policy to be covered.
You become a member of Belong Safe by creating a profile for you and your home on our platform, and then when you need insurance – ie you have guests to stay –  you buy cover on a stay-by-stay basis. It's that simple and it means you don't waste a penny on insurance you don't need.
"Hiscox are fully supportive of the home-sharing market. We are keen to encourage our customers to get involved and recognise Belong Safe as being the best way for them to insure themselves for when they have paying guests to stay," says Martin Mcbrearty, Hiscox Head of Underwriting Partnerships.
According to PwC, the market is set to grow to £9 billion in the next 10 years, which could see many more homeowners and renters using their property to generate an income in the UK. And as the first £7,500 of that income is going to be tax-free, we think there isn't a better time to join the home-sharing market.
Key tax-free details
You can rent out your room or house for 90 days per year and earn up to £7,500 annually tax-free. If the amount you earn from renting out the room is less than the thresholds of the Government's Rent a Room scheme, then your tax exemption is automatic and you don't need to do anything
For someone earning £30,000 a year this is the equivalent of your home doing 4 months' worth of work for you
Expenses are deductible – this includes expenses like cleaning fees, purchasing new supplies like sheets and towels or using a company to manage your bookings
In addition from April 2017, people who hire out their home via home-sharing sites or trade online through websites such as eBay are eligible for 2 new tax allowances worth £1,000 a year. This means that you do not have to declare or fill out any paper work on the first £1,000 you earn from those services
How much exactly can your home make?
Belong Safe has created a host pricing calculator which will help to give you a ball-park idea of what you can charge and check what other hosts in your neighbourhood are making
Do your research: Our Home-sharing Guide is a good source of information for those starting out or even for the more experienced host
Things to check
Many people do not realise that having paying guests to stay is likely to invalidate your home insurance or at the very least, create new risks. So use some of your tax-free earnings to make sure you, your home and your contents are suitably covered
Check with your mortgage lender that you are covered under your mortgage terms
Insurance is the safety net for the worst-case scenario, whether that's an impromptu rave hosted by the paying guest, or an unforeseen fire or water leak – arrange for a deposit to be taken to settle any small things like spilt wine or broken glasses
About Belong Safe
Belong Safe is the UK's only insurance which suitably covers the risks associated with having strangers in your home. Belong Safe want to help more people reap the benefits of the home-sharing market, safe in the knowledge that you, your property and your possessions are covered in case the very worst happens.
For more information visit Belong Safe.
*Unlocking the Sharing Economy report commissioned by Matthew Hancock MP, published in 2014