Who flies the best first class?
July 07, 2016
What do you expect from a first-class flight these days? Is it a private booth, designer pyjamas or the finest champagne that would make you upgrade? We compare the best first-class cabins across seven airlines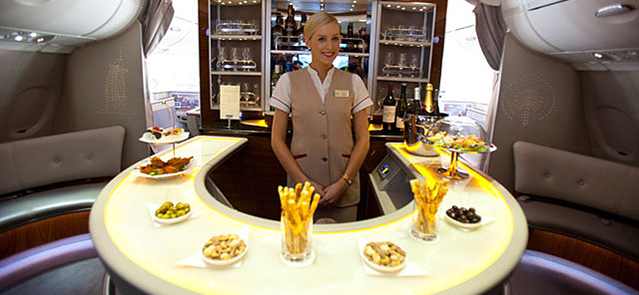 Photo: Alamy
In a world where an app can now be used to summon a private helicopter in the same way you would a taxi, the sky truly is the limit in the luxury-travel market. The game changed in 1919 when British Airways became the premier airline to offer an upper class option to customers on one of its London to Paris flights.
Since that day, airlines have been pushing bigger, better and more exclusive options in a bid to lure the discerning traveller into their luxury cabins. From Michelin-quality dining through to gold booths and private butlers, we really see what first class means when you're flying above the clouds.
British Airways
In 2015 BA introduced its Boeing 787 Dreamliner series and added an exclusive eight-person cabin to its roster. Previously BA First cabins seated 14, so this feels really special.
You are watched over by attentive stewards who will cater to your every whim – serving up Laurent-Perrier Grand Siècle, an à la carte menu, plus a full English breakfast and an afternoon tea to really let you know you're flying British.
Seats are 6'6″ long, made from fabric rather than leather, recline fully and come equipped with a proper quilted mattress and duvet.
While the on-board entertainment options aren't as generous as on other airlines, the screens are some of the biggest at 23″, and with a staggering 95kg baggage allowance, plus a laptop bag and carry-on, you can pack plenty of your own distractions.
Best bit: On the Boeing 787-9 passengers are given an Anya Hindmarch washbag stocked with aromatherapy lotions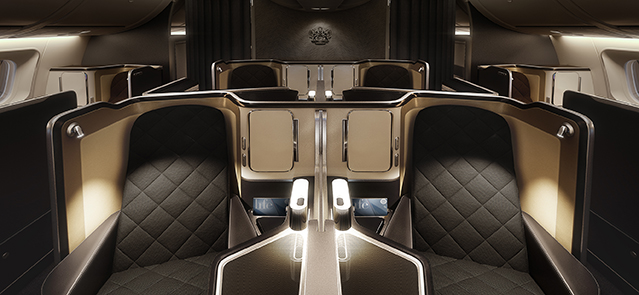 British Airways' first class offering
Qantas
Knowing that having to arrive hours before your flight and wait around is everyone's least favourite part of the trip, Qantas has made lounges its business by employing Apple designer Marc Newson to work his magic on the interiors.
Acclaimed Aussie restaurateur Neil Perry is behind the food, cooking up creative dishes that will make you feel like you've arrived at a Michelin-starred spot rather than the airport lounge, and it's much the same with the offerings on board too.
Some passengers have access to a set of virtual-reality headsets and 17″ screens on which to watch the action unfold.
Best bit: A complimentary treatment in Qantas's Aurora Day Spa before boarding will certainly ease you into holiday mode
Emirates
With this Gulf airline the journey starts at your front door, with a complimentary chauffeur service that will pick you up and drop you off at your terminal.
If you're feeling sociable you can order a drink and meet your cabin neighbours in the on-board lounge, where a bartender is on call to mix cocktails or to pour you a glass of fine wine or champagne.
Food on an Emirates first-class flight is influenced by the route, so you could be tucking into starters of dates and Arabic coffee on departure, followed by an à la carte menu (served at a time of your choosing) followed by Iranian mezze, caviar and feta.
The cherry on top of the Emirates experience has to be the on-board shower suite. Packed with Bulgari toiletries and Timeless Spa products, you can arrive at your destination feeling fresher than when you arrived at the dedicated speedy check-in desk.
Best bit: Gold-festooned booths become totally private with the use of sliding doors
Swiss Air
On a Swiss Air first-class flight, all nine of the airline's Boeing 777-300ER aircraft have access to wireless broadband while in the air.
The ability to make your cabin private and to hang your suit in your very own wardrobe makes the airline a good choice for travelling business types.
The amenity kit extends to far more than a fold-up toothbrush and eye mask. Zimmerli of Switzerland has created six different designs of sleepwear and slippers, and the skincare products are by La Prairie.
Swiss Air is all for personalisation and allows you to choose when you eat your gourmet à la carte menu, which has been created by an award-winning Swiss chef and is accompanied by five different wines and freshly brewed coffee. Every three months, a new Maître de Cuisine refreshes the menus.
Best bit: Seats have an inbuilt massage function
Virgin
Richard Branson's Upper Class Suite was created by London-based studio Pengelly Design and has won accolades for its design from Wallpaper* magazine and D&AD. However, its great style isn't limited to the seats and booth dividers; cutlery is also specially made for the airline and there's a three-course, health-conscious menu crafted by TV chef Lorraine Pascale.
A preprandial cocktail of the day (after a glass of Gardet Brut Premier Cru Champagne on boarding) is another perk.
The seats, or 'seats that think they are beds' as the airline calls them, are some of the biggest in the business: 22″ wide, or 33″ when swivelled, 6'6″ long and totally flat at the push of a button.
With Virgin, your holiday starts at the Clubhouse lounge, particularly when travelling from Heathrow. Here, the world-beating lounge offers a health and beauty salon, poolside lounge, observation deck, sky lounge, library, music room, video games room, study, bars and a brasserie.
Best bit: The Grey Goose Vodka cocktail lounge at the Heathrow Clubhouse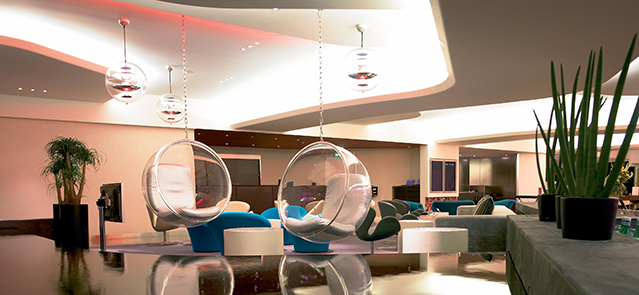 Hanging chairs in the Virgin Atlantic lounge at London Heathrow
Singapore Airlines
This airline is serious about wine. Three of the world's top critics have been assembled to test the on-board offering, allowing even the fussiest of oenophiles a superior experience.
Singapore is also the only airline serving both Krug Grand Cuvée and Dom Perignon 2004 accompanied by caviar before take off, and for dinner customers can preorder from an extensive menu up to 24-hours before flying.
When not eating or drinking, Wi-Fi and over 1,000 hours of entertainment are on offer to keep you occupied.
Best bit: New private suites on Airbus A380–800 allow you to join two together, so you can share a cabin with a partner
Etihad
Once you've read about Etihad's best offering you might not want to book with any other airline. The Residence cabin is actually more akin to a private jet, comprising three rooms; a private concierge who will arrange your meals and entertainment; and an on-board butler to cater to your every desire. Located above regular first class inside the nose of the aircraft, a room at The Residence is upwards of £12,725 for a singe journey.
Best bit: Did we mention the Savoy-trained private butler service?
Tell us about your best first class flying experience in the comments…