Where would you place a Hirst in your home?
May 12, 2017
As the 2017 Venice Biennale gets under way we talk to our Curator of the Hiscox Art Collection Whitney Hintz about how the works of artists such as Damien Hirst can give collectors the courage to buy sculptures for their homes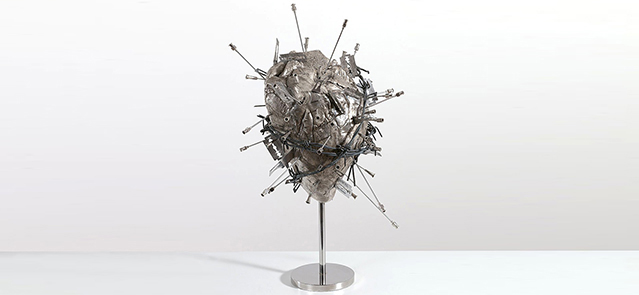 The Sacred Heart by Damien Hirst, 2005, is made out of silver and sits in Hiscox's London office
A painting on the wall is one thing, but how would you place one of Damien Hirst's creations in your living room and what effect would this have on your living space?
Visitors to this year's Venice Biennale might be wondering the same thing after they bear witness to Hirst's highest profile show to date, which he describes as 'a kind of fantasy on a ship that went down'. They may even feel that their homes, like the Palazzo Grassi or the Punta della Dogana, could benefit from a similar – albeit less expansive – installation.
But how to make the leap from buying two dimensional to three dimensional art? Whether it's a modest statue on a coffee table or a bold statement dominating the room, the decision to buy a sculpture is not one to be taken lightly.
Sculpture needs space
Whitney Hintz is Curator of the Hiscox Art Collection, which includes work by a selection of renowned international artists. Pieces range from oil paintings and photographic prints through to steel sculptures, including Hirst's Sacred Heart, which is made out of silver and struck with razor blades and needles.
Putting aesthetic considerations to one side for the moment, Hintz points to the practical issue of placing a valuable object in the middle of a space shared with people. Unlike paintings, sculpture requires more than a square of wall to display, so the space it's going to inhabit should always be part of any decision to buy. 'You really need to be practical about living with sculpture,' she says.
The sculptures Hintz oversees for Hiscox make up a little less than 10% of the collection, yet half have suffered damage in some form. 'The causes vary from the day-to-day use of the building, being knocked, scuffed, etc. It really is more demanding to look after, and something you have to take into account for your own home.'
The medium the piece is made from should also be factored into your choice of artistic centrepiece. A bronze bust, for example, is quite robust and doesn't take up too much space or require too much maintenance, says Hintz, 'but if you're buying a suspended sculpture, for example, then you've got to think a lot more carefully about where you place it. You have to make sure it's in a safe place, out of the way from someone knocking into it or tripping over it.'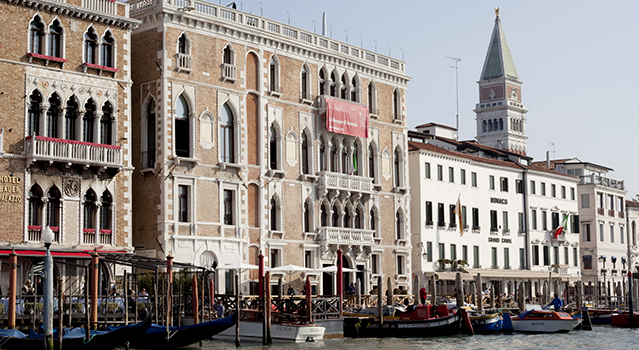 Ca' Giustinian, headquarters of the Venice Biennale. Photo: Giulio Squillacciotti
Inspiration from Venice
Hintz is attending the 2017 Venice Biennale, which is being held at a former military dockyard and in the national pavilions of the Giardini. This year, as ever, there will be a dazzling abundance of creativity on show that's shared among the city's most iconic churches, galleries and postcard-worthy public spaces.
One of the highlights for Hintz is Phyllida Barlow's work at the British Pavilion, which is recognisable for the globules of plaster and paint scattered about the exterior of the neo-classical building. Xavier Veilhan's work at the French Pavilion is quite spectacular. The French artist, who Hintz was unfamiliar with prior to her visit, recreated an earthquake-hit 1970s-style recording studio and invited musicians to work on new material there.
Most striking of all is arguably Hirst's return. Entitled Treasures from the Wreck of the Unbelievable, the work includes an 18-metre high sculpture by the name of Demon with Bowl. Early reports indicate that it may be the most expensive single art show ever held by a contemporary artist and, in the limited interviews Hirst has given prior to the Biennale, he hasn't denied speculations. And, true to form, the work is already courting controversy.
Museums versus front rooms
So what can events like the Venice Biennale teach us about exhibiting art? Of course, installations of the size and scale seen here fall strictly under the 'museum' category, and selections for the home require a little more creative thinking.
For starters, installations can open our eyes to what works in a space and what doesn't. Displaying sculptures can be more problematic than putting up a painting, so it's vital to question what they bring to the home. In Hintz's experience, sculptures can disrupt a space as much as they can complement it. But the effect ultimately comes down to personal preference.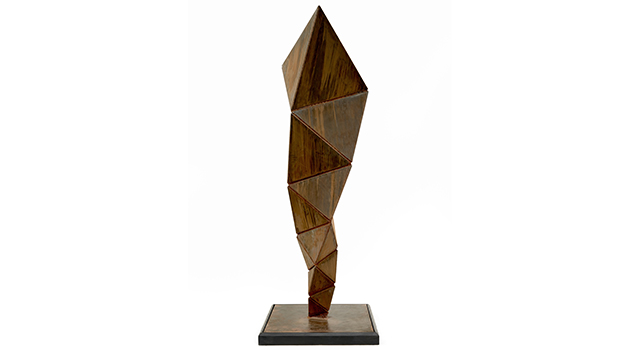 Paradigm (Solid) by Conrad Shawcross, 2015, sits in Hiscox's York office and is made from weathered steel
The simple act of seeing a sculpture in person is absolutely essential in making the right choice. 'Those who are really passionate live around their art and accommodate it, no matter what,' says Hintz. 'If you're truly committed to collecting it then you'll find a way. But I think a lot of people have to be more practically minded about it.'
When purchasing sculpture for the Hiscox Collection, Hintz must first consider where it's going to go, or if she has a space to fill. 'The York office, for example, was a great opportunity to buy sculpture because it has a large open foyer with high ceilings. There were plenty of opportunities to explore.'
Examples in York include Conrad Shawcross's Paradigm (Solid) and Michael Lyon's Kommando. 'In London and most of the other offices it's very hard to find space for even small pieces, because again I'm afraid of it being knocked over or someone accidentally hitting it,' says Hintz.
For homeowners, the risks are similar if a little less pronounced. Practicalities aside, however, the most important point is that the sculpture in question resonates with the owner. 'Having art around inspires you,' says Hintz. 'It livens up a room, it makes it more personal, and ultimately it's a reflection of who you are.'
Find out more about our Hiscox art insurance