Where is the value in high jewellery?
September 20, 2016
Which of these is more valued in the jewellery world today – the quality of the materials or the craftsmanship of the finished product? Sarah Royce-Greensill from Telegraph Luxury finds out whether it's all about the jewel or the crown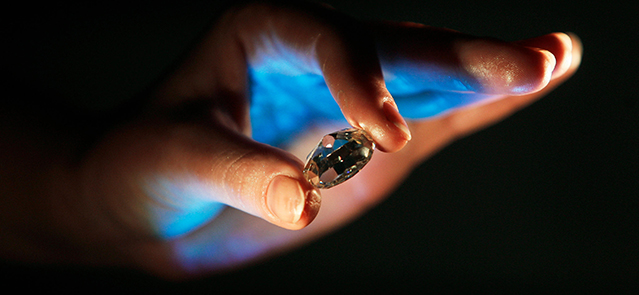 Photo: Alamy
Fine jewellery is treasured for a number of reasons: history, memories, aesthetic appeal. But it also has intrinsic value in its raw materials, not to mention the artisan hours involved in its design and creation.
'It is often said that in high jewellery much of the cost is in the design,' says Andrew Coxon, president of the De Beers Institute of Diamonds. 'This is not the case for De Beers Diamond Jewellers, as we focus on the diamonds within our designs.'
De Beers prides itself on using only the most beautiful stones. This means not just selecting high-quality diamonds according to the globally accepted 'four Cs' grading criteria (cut, carat, clarity and colour), but also examining each one's fire, life and brilliance, carefully matching the stones within a piece so that they resemble 'brothers and sisters rather than a collection of individuals'.
Every diamond above 0.20 carats that meets these standards is branded with the De Beers Marque, which is invisible to the naked eye. It guarantees the diamond's provenance and, Coxon says, safeguards jewellery for the future. 'The integrity of De Beers jewellery is protected against the loss of value from "switching". Often when high jewellery is passed down through generations the diamonds may be changed for cheaper, less beautiful alternatives.'
Quality of the stone
A focus on diamond quality is shared by many Bond Street jewellery houses – Van Cleef & Arpels, for example, only ever uses diamonds rated D, E or F in colour and FL to VVS2 in clarity. 'When it comes to jewellery, the true value lies in the stones used. If the stone is the central piece, think of it as a painting. Nature is the artist, and the jewellery is the canvas and paint,' says David Allen, creative director of Mayfair-based online diamond jeweller 77 Diamonds.
That doesn't mean you must fork out for top-tier gems. 'To get the best value for money, a top-quality D-colour, Internally Flawless [IF] diamond is not necessary,' Allen says. 'G colour and VS2 clarity can be equally as beautiful and cost less than half the price for the same carat weight.'
De Beers' Coxon agrees. 'I always advise customers to buy the largest diamond they can afford. If buying the rarest colour and quality means that the diamond is too small for your hand, it's not the right choice,' he says.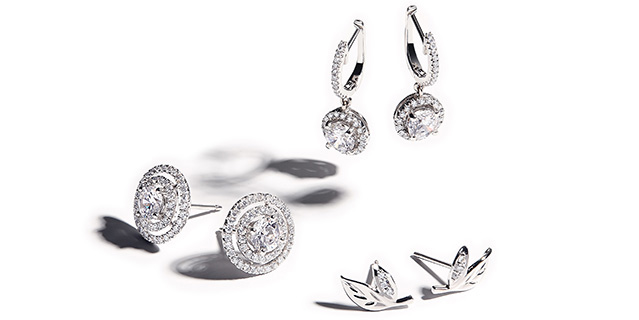 Photo: 77 Diamonds
Designs for life
Clearly, the quality of the gemstones is not the end of the story. British jeweller Theo Fennell has used some of the world's finest diamonds: his collaboration with Forevermark sees those that meet the 'Forevermark promise' of being beautiful, rare and responsibly sourced (fewer than 1% of diamonds mined globally do this) being set into showstopping engagement rings, brooches and tiaras.
However, says Fennell, 'I am not a fan of the four Cs; I think such a restricted set of criteria has taken the romance out of choosing a diamond. I love Forevermark stones because they have a lot of character. But I prefer to use beautiful stones in unusual settings without the emphasis on expensive rocks for the sake of demonstrating wealth.'
Design and craftsmanship are more important to Fennell, who sketches each piece by hand and whose whimsical creations are handmade in the workshop below his Chelsea boutique. These include elaborate cocktail rings, which open to reveal miniature portraits or figurines, and finely crafted 'garden railings' bangles, which are customised for each client.
'If you want something that will resonate for a lifetime, I would recommend putting a decent part of the cost towards having the piece especially designed and beautifully made,' Fennell says.
Seduction in the story
There are jewellers who intentionally use non-traditional, semi-precious or even non-precious materials in order to capitalise on their aesthetic appeal. When combined with exceptional craftsmanship, the results can be just as valuable as jewellery that comes with a formal gemmological certificate – and far more artistic.
West London-based jeweller Pippa Small sources unusual stones from around the world and sets them into organic, one-off designs inspired by the natural shape of the stone. From rutilated quartz and Herkimer diamonds (actually quartz crystals) to uncut tanzanite and unpolished grey diamonds, Small's jewellery is the antithesis to Bond Street bling.
'I believe it's the story of the crown,' says Small. 'The story is woven around the tale of the diamond: where it's from, its cut, its history, and who made it, where, when, why and for who. That is part of the seduction.'
German family jeweller Hemmerle is renowned for creating one-of-a-kind pieces ranging from bangles made of mammoth tusk to earrings featuring miniature porcelain dinner plates. Closer to home, Central Saint Martins graduate Lauren Adriana creates a handful of one-off jewels each year from her private studio in Notting Hill, selecting materials based on their aesthetics rather than intrinsic value. Her pieces start at five figures.
'It is true that the materials have an impact on the value of a piece; however, the originality of the design and the quality of the execution also play a hugely important role,' says Adriana. 'I believe there is always value in beautiful handmade work, regardless of the preciousness of the materials. The ultimate value of the piece is in what it means to you.'
Get high-quality cover for your jewellery with Hiscox