Where are we buying jewellery?
August 02, 2016
Are you comfortable buying a necklace or ring over the internet – or do you need to hold it in your hand? Sarah Royce-Greensill from Telegraph Luxury checks out the online market for fine jewellery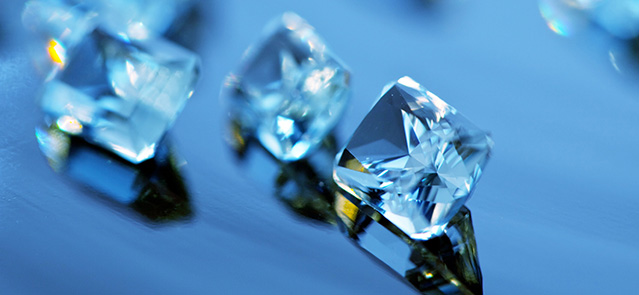 Photo: Alamy
People once scoffed at the idea of ordering groceries or clothes via the internet, let alone purchasing thousands of pounds worth of jewellery. But given the ever-increasing share of online consumer spend nowadays, it was only a matter of time before the traditional fine jewellery industry joined the digital revolution.
Online sales of fine jewellery are booming at fashion-led ecommerce sites such as Net-a-Porter and Matchesfashion.com. The former's fine jewellery category has grown 350% since it launched in February 2012, driven in part by the trend for delicate, diminutive and more affordable designs.
Some of Net-a-Porter's best-selling jewellery brands cater for the 'self-gifting' market of women, for whom contemporary jewellery from the likes of Diane Kordas and Sophie Bille Brahe is a status symbol akin to the It-Bags of the noughties.
Sophie Quy, fine jewellery buyer at Net-a-Porter, says: 'Our customers are loving earrings at the moment, be it our best-selling ear cuffs by Anita Ko, or lots of small pavé diamond hoops and studs from Maria Tash, which owns the multiple-piercing trend.'
Why you can trust online
It's not just the young designers capitalising on the power of online. In April 2015, Chanel launched its Coco Crush collection exclusively at Net-a-Porter before it even hit shops – the first time Chanel Fine Jewellery had ever been available online.
Earlier this year, Tiffany & Co partnered with the site to market its fine jewels to a global, fashion-savvy audience. From Chopard and Fabergé to Van Cleef & Arpels, the number of 'traditional' jewellery houses making the leap to ecommerce is rapidly on the rise.
Social media has also transformed the industry, says Quy. 'Instagram has revolutionised the way people discover brands, and it's incredible to see its impact on fine jewellery. Something that was once so discreet and private is now accessible for customers all over the world.'
It's a blessing for fledgling independent brands – not only can they get their products in front of influential press and buyers, many also sell via Instagram, with followers directly messaging them to order what they've just 'liked'.
Reach your level of comfort
Of course, purchasing online comes fraught with risks. At online ecommerce platform JewelStreet, these risks are mitigated by a system that sees pieces shipped from all over the globe, fully insured door to door, with free returns to boot. The idea of the site, says its founder Rob Passmore, is to allow consumers to purchase jewellery from independent designers as far afield as Brazil, LA or Australia as easily as from the shop next door.
'We are seeing phenomenal growth online, especially at a luxury price point,' Passmore says. 'There's a real sweet spot between £2,500 and £10,000 online. This seems to be the bracket people are currently comfortable buying at without seeing the jewellery. It's going up, though – average sale price has increased by 300% in 12 months.'
All of which is fantastic for brands, which are able to sell their work on a global platform, and consumers, who have access to unique pieces that aren't available locally. But others argue that buying jewellery online means the romance is lost.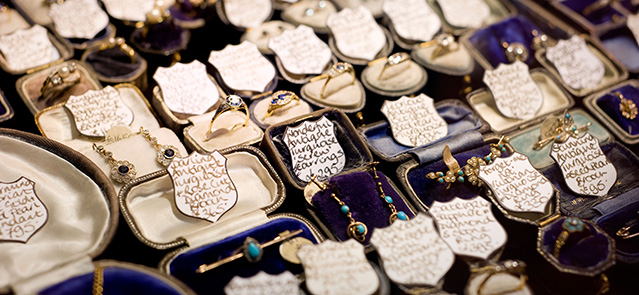 Vintage jewellery is best seen in person. Photo: Alamy
An experience that can't be replicated online
'There is joy in feeling the weight of a jewel in your hand and how it feels against the skin,' says London-based jewellery designer Jessica McCormack, whose show-stopping diamond pieces are uniquely available at her grand townhouse in Mayfair.
'Being in an environment like Carlos Place forces people to slow down and consider what they are purchasing. Clients need to enjoy a wonderful, multisensory experience – something they can remember fondly in years to come. I don't believe that, today, this can be replicated online.'
This is especially true when it comes to buying an engagement ring. Whether couples set off together for the white-glove treatment at a Bond Street big name, or a groom-to-be nervously browses around London's Hatton Garden or Birmingham's Jewellery Quarter, there's a tradition to the process that is lost with click-to-buy.
Not to mention the benefit of expert advice – whether on the four Cs (colour, clarity, cut, carat weight) or collaborating on a custom-made design. There's an overwhelming amount of information online, so a personal conversation is often the best way to calm the nerves when facing this potentially life-changing purchase.
When to be old fashioned
Vintage jewellery is also best seen in real life. 'When you're buying online, you have to rely on someone else's opinion about quality,' says Joanna Hardy, a jewellery specialist on the BBC's Antiques Roadshow.
'Old jewellery always has flaws. As long as you understand them and pay the right price, then that's OK, but you have to see it in person to know,' says Hardy. She advises:
examining the back of a piece for signs of repair or alterations that could signal poor quality
investing in a loupe (a small magnifying glass) to inspect hallmarks and signatures that verify a piece is genuine
What's more, says Hardy, the size of a jewel and colour of gemstones can be misleading when looking on a computer screen. While many auction houses offer the ability to bid online, she recommends contacting the auctioneer to view the piece before raising that virtual paddle.
'Maybe I'm old-fashioned but, for me, nothing beats feeling a jewel in your hands and trying it on. The jewellery you wear gives a message to the outside world, so you've got to get it right.'
Get high-quality cover for your jewellery with Hiscox