When did chairs become works of art?
October 20, 2016
Originally designed to fulfil a simple function in the home, chairs have become closer to works of art with the advent of modern materials and contemporary designs. So when is a chair not just a chair?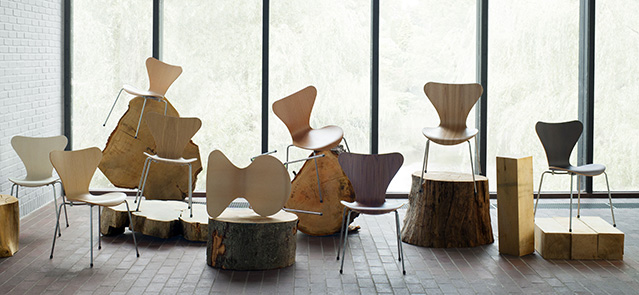 Photo: Arne Jacobsen's Series 7 chairs manufactured by Fritz Hansen
When the London Design Festival came to a close at the end of September, any notion of the chair just being something you sat on was put to rest. From Belgian design studio Muller Van Severen's powder coated loungers through to contemporary swings from the Edinburgh-based Isabelle Moore, many designers have chosen to reinvent or reimagine the chair. But when exactly did chair design move from utility and function to the aesthetic?
It all started when…
'One of the first chairs to be documented was the ancient Greek klismos,' says Tim Gosling, British designer and creator of this year's main entrance exhibition at Decorex International.
Depicted on ancient Greek pottery from the mid-fifth century BC onwards, the klismos had four curved and splayed legs with a narrow concave backrest, and was entirely made from wood.
Although not the first chair invented (ancient Egyptian pieces predate the klismos), it was arguably the most accomplished first attempt at home furnishing. 'It's a classic design that has been copied throughout history, and as such it's my favourite of all chairs,' says Gosling.
In the 1950s, post-war industrialism called for mass production at speed, and designers such as Denmark's Arne Jacobsen started creating furniture that fitted with people's pared-back lifestyles; using cheaper woods and metal legs to create pieces that could be made fast and stored easily.
'I based my work on a need: what chairs are needed? I found that people needed a new type of chair for the small kitchen dinettes that are found in most new buildings today, a little, light, and inexpensive chair,' wrote Jacobsen of his Series 7 designs.
The rise of the starchitect
Incomes became more disposable in the 20th century, and designers responded, working with innovative contemporary materials such as fibreglass, which allowed chairs to be colourful, otherworldly or even made from a singular sheet of material.
It was around this time that high-profile architects, or 'starchitects', got involved. They created items so coveted as to drive prices right up, turning the chairs into collectables.
Peacock Chair, Frank Lloyd Wright
Frank Lloyd Wright designed his Peacock Chair for the Imperial Hotel in Tokyo in 1921. The hexagon panel on the seatback is also encountered in numerous places inside of the hotel. It is widely considered one of his most complex works. Another of the architect's chairs, the Barrel, is still produced in natural cherrywood by Cassina today.
Diamond, Harry Bertoia
In the 1950s, most chairs were being made using rigid materials such as wood. Harry Bertoia, a former apprentice of Charles Eames, was one of the first to work with metal, welding his framework for the Diamond Chair together to create a springy seat that was responsive to the bodies that sat on it.
Egg and Ant, Arne Jacobsen
Architect and designer Arne Jacobsen created the Egg Chair in 1958 for the Royal Hotel in Copenhagen. It was manufactured by Fritz Hansen. Jacobsen's Ant and Series 7 designs are widely copied today.
Cesca and Wassily, Marcel Breuer
Protégé of Bauhaus founder Walter Gropius, Marcel Breuer's chair designs might seem purely functional, but they were widely appreciated as both works of art and undeniable architectural genius due to their balancing act designs. The Wassily is still the most popular of them all.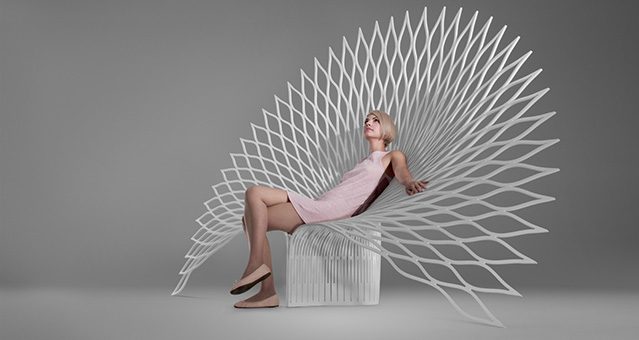 Design studio Uufie's stunning Peacock chair. Photo: Andrew Wilcox
But is it art?
Writing in 1991 for The New York Times, architect and professor Witold Rybczynski asked: 'When is a chair not a chair? When it is a work of art.' Today, perhaps it can be both.
Unveiled at Design Miami 2013, Toronto-based studio UUfie made a chair from a single latticed sheet of Corian, bent and shaped like the fanned tail of a peacock. It is still a functional piece of cabinetry, yet after the fair it was quickly moved to a gallery in Milan, begging the question of whether it was ever really intended to be sat upon.
'What's fascinating about chairs,' says Gosling, 'apart from the fact that they are absolutely the most difficult thing in cabinetry making, is that every time you sit on one it's telling you something. It's communicating to you why it was made – its history and materials – and people care about that as well as its primary function. You can't have functionality without style.'