What is contemporary art?
April 27, 2017
As the Evening Standard Contemporary Art Prize in association with Hiscox launches, we consider what the term 'contemporary art' actually means.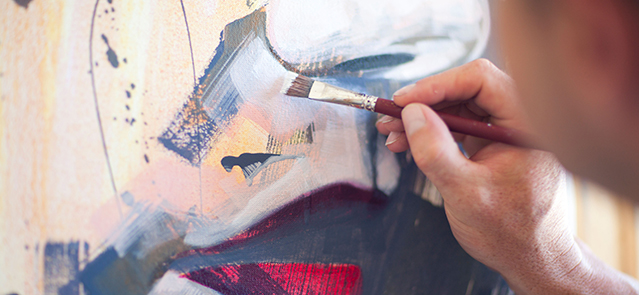 Photo: Alamy
Is contemporary art simply art produced at a particular time, created perhaps since the 1970s or 1980s, or is there more to it than that? Should you also consider the medium, style and subject matter of a piece?
'Contemporary art is a broad term used to define artistic practitioners who are working now and are making fine art,' says Whitney Hintz, art consultant and Curator of Hiscox's art collection. She notes the vast range of artists who come under this banner – from the emerging talent finding its way into smaller galleries through to well-established giants like Jeff Koons, Gerhard Richter or Damien Hirst, who are actively shaping our artistic tastes.
When did it begin?
It's useful to draw a line in the sand regarding when art stopped being modern and started being contemporary. For Hintz, modern art refers to works from the 20th Century. However, establishing a starting point for contemporary art is no easy feat – even top institutions hold different opinions: the Institute of Contemporary Art says it dates from 1947 to present, the New Museum in New York claims the late 1970s, while the Tate argues that contemporary art began in the 1980s.
'Contemporary art? That's fresh paint,' says Hintz, drawing her own distinction. 'It's works that are being made at the moment, they're still in transition, whereas modern art has been solidified, it's part of our recent art history. It's about redefining its own meaning every time, with every work.'
What does it look like?
So it might have begun in 1947 or in the 1980s… does it hold any particular characteristics? Stylistically, there isn't one over-arching motif or technique that defines contemporary art.
A key moment for British contemporary art was the Young British Artists (YBAs) movement, explains Hintz, and their profound impact on British culture. The likes of Damien Hirst, Sarah Lucas, Cornelia Parker and Tracey Emin entered into the scene in the 1990s. Their art didn't have a singular distinctive style, rather they worked with what the Tate defines as 'complete openness towards the materials and processes with which art can be made, and the form it can take'.
For Hintz, the YBAs 'changed the way people thought about art. Their art, coupled with their personalities, demanded attention and they brought art into mainstream consciousness'. By tapping into other areas of popular culture, the YBAs made art sexy again as a result of their success and their fame, and inspired another wave of new artists after them.
'The UK has been at the forefront of the contemporary art market for the past 30 years and artistic output, particularly in our capital, is rife. It's an exciting market to be in,' explains Bobby Read, Head of Art and Private Clients at Hiscox, who is one of the judges sitting on the panel for the Evening Standard Contemporary Art Prize competition.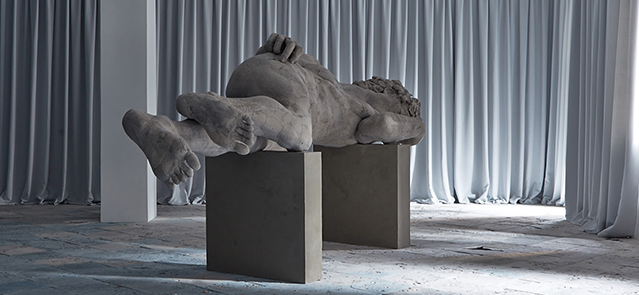 Two Suns by Adrián Villar Rojas shows how contemporary art can also hark back to more classical forms. Photo courtesy of the artist and Marian Goodman Gallery. Photo Credit: Jörg Baumann
What does it sell like?
Is a piece of contemporary art more likely to be an object, a video, an installation or photograph rather than a canvas? Throughout the history of art, there has been a hierarchy of mediums that still holds true today: painting has ruled the roost as arguably the purest form of expression, with sculpture coming second.
'Painting maintains a timelessness, it's easier to covet than sculpture,' says Hintz. 'While classically and traditionally, painting is the highest form of fine art, does it still hold true? That's up for debate, and many disagree. If we look to the art market, however, and think about art as an asset, the safest acquisition historically is painting.'
For contemporary artists considering their bank balance, the future is in two dimensions. 'An installation isn't ever going to have the same transactional value as painting. Even sculpture, depending on the scale and medium, can be more challenging,' explains Hintz.
What does it feel like?
'People have become more neutralised nowadays,' says Hintz. In the 1990s, art was graphic, heavily politicised and made up of unconventional materials. The 1997 exhibition at the Royal Academy entitled 'Sensation' and filled with YBA artists is useful example. 'It was about shocking the audience and introducing new subjects, like religion, sex, gender and race in a very explicit way. So now, in the aftermath, what can shock us anymore?' Hintz asks.
For Read, first impressions count when it comes to contemporary art. 'I look for immediate impact. Does it grab you straight away? Does it move you? Then, I like to hear the story, the context of the work, the artist's intention.'
As well as looking forward, contemporary art can also hark back to more classical forms that are rooted in tradition and historical references. Take the Argentinian sculptor Adrián Villar Rojas, who took the world by storm in 2011 at the 54th International Art Exhibition of the Venice Biennial.
Rojas's large-scale clay and cement monolithic sculptures resemble ancient ruins, modern and mythical figures. They challenge the idea of everyday perceptions of reality, as well as the role of the human artist. 'Everybody was talking about it, he attained instant recognition for his work that used mundane modern materials and elevated them to fine art,' says Hintz.
Rojas is currently represented by the high-profile Marian Goodman Gallery, and held his solo exhibition Two Suns at their stunning space in New York back in 2015. 'Venice gave him a stamp of establishment when they included him in the Arsenale exhibition,' comments Hintz, adding that Rojas is definitely a contemporary artist worth following.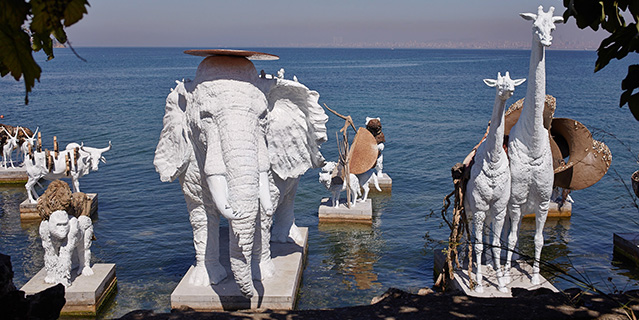 The Most Beautiful of All Mothers by Adrián Villar Rojas was an installation at the 14th Istanbul Biennial in 2015. It had lifesized fibreglass creatures carrying other animals made from cloth, pottery, iron, wood and terracotta. Photo courtesy of the artist and Marian Goodman Gallery. Photo Credit: Jörg Baumann
Where does it live?
'Global cities are saturated with contemporary art. There's much more room and scope for the public to access and to delve deeper if they want to,' says Hintz.
With museums and galleries advertising a lot more, shows are becoming more like blockbusters. The Tate Modern is a perfect example. 'It's the third most visited museum in the UK and it has changed the conversation about contemporary art, as well as the way people view it. It's not something that's only for a set few, it's been opened up to a much wider audience. There's clearly a huge appetite for it,' says Hintz.
So with an increasing array of art events, fairs and biennials clamouring for our attention, does greater exposure make contemporary art fleeting? Does it have a moment in time and then pass? Does it go viral and then vanish? While fine works of art have been tested and vetted by generations, with contemporary art there is no historical or critical distance. So how do you know if a piece will last? The answer, according to Hintz, is time.
The Evening Standard Contemporary Art Prize in association with Hiscox, is a new competition open to London-based artists. The artist of the winning entry will receive £10,000, Hiscox Fine Art Insurance for a year and a lifetime Arts Pass.