Ultimate guide to luxury train travel in Europe
September 23, 2016
Continental rail travel might still be the most stylish, relaxing, evocative way to travel. But what makes First Class, really first class? Daniel Elkan of Snowcarbon goes on board to find out…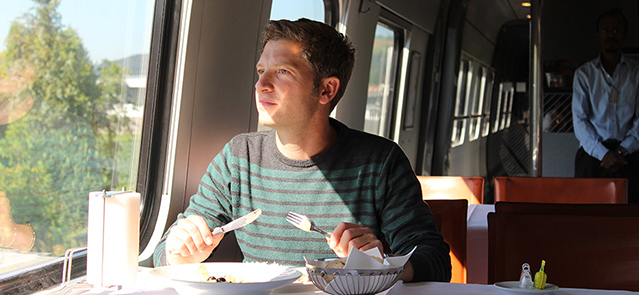 Picture credit: Dan Elkan
The romance and allure of rail travel is unlikely to go away anytime soon. It might be slower than flying, but door-to-door many journeys can give the plane a run for its money, and deliver a smoother, less fragmented experience – as well as a more eco-friendly journey.
With more and more high-speed trains added to the European rail network, journey times are shrinking. However, for many travellers, comfort is more important than speed.  Are some trains so luxurious that you'll barely want to get off?  And what's the catering like at 300 kilometres per hour? Our journey around Europe gives you some insight into what's in store for you on board.
Eurostar, UK-France
Eurostar's version of 1st Class is the oddly named Standard Premier, and the level up from that is Business Premier.  In both cases you are paying for the extra legroom, tables and the confident, attentive staff who periodically roam the isle making sure that you are well catered for with complimentary food and drink.
The meals come neatly presented, with real glasses, cutlery and crockery.  In Standard Premier this is a light meal, although refills of items such as croissants, rolls and wine seem to be unlimited. In Business Premier it's a more substantive offering, with a menu created by chef Raymond Blanc.
The introduction of a new fleet of trains, the e320 series, in November 2015, gave Eurostar the opportunity to turn up the quality of their offering a notch, but the offering seems to have divided opinion and many travellers prefer the older trains (known as TMSTs), citing comfier seating, more distinctive décor and a café bar that is large enough to hang out in with a more varied menu.
Food highlights:  braised topside of beef in red wine, with swede and carrot mash
Wi-Fi: yes, free on the new e320 trains, although connection quality varies
Verdict: friendly, attentive staff – shame about the tiny café bars on the new e320 trains
TGV, France
It's a relaxing experience, the TGV.  The French know how to create a fast, smooth and quiet train – and once on board you are cocooned in this comfortable bullet, speeding through the countryside at 300km/h. Etiquette on these trains means that it's rare to hear anyone yapping into their mobile, which makes the whole experience more relaxing.
The most obvious difference between 1st class and standard class on a TGV is the spacious, soft-cushioned seating in 1st class, and the ubiquity of power sockets.
Real restaurant carriages were canned in 1996 by a bottom-line focussed management that may have missed the bigger picture.  So the only options for food are the stand-up café-bar, which dispenses a range of offerings of varying quality.  'The café bar is always popular with passengers,' according to bar steward Lionel Lavaud. 'Without it, the train travel wouldn't be the same experience.'
Food highlights:  plat froid (11:90€); yoghurt from Annecy (4€)
On-board Wi-Fi:  No
Verdict: smooth and comfortable, but time to up the game on the cuisine
RailJet, Austria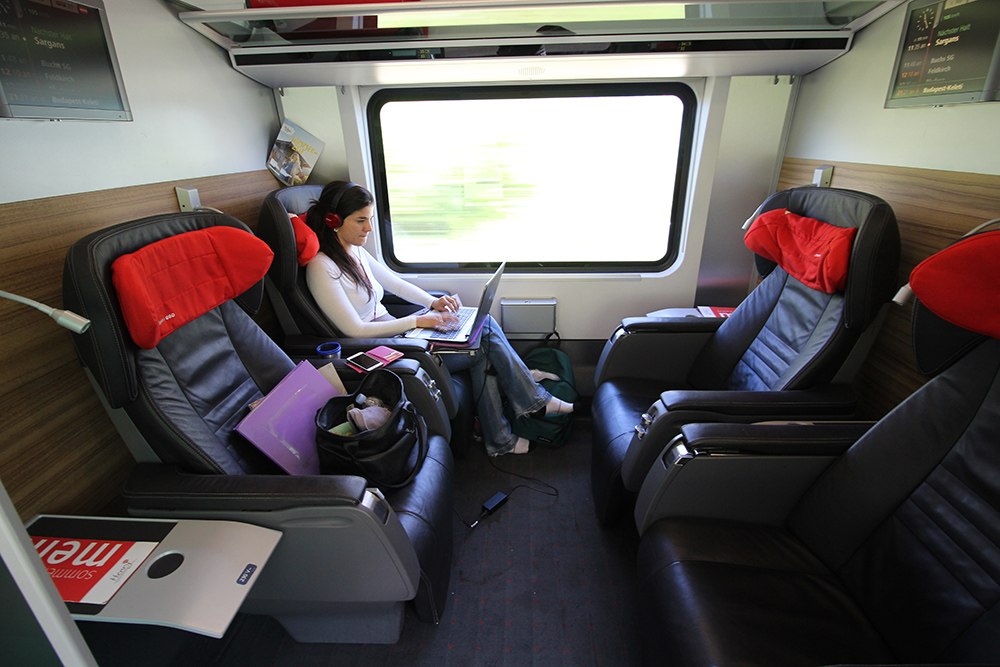 In 2009, Austria introduced a swish fleet of RailJet trains, which travel at speeds of up to 230km/h.  Smooth and quiet, these trains have spacious First Class leather seats and three-person cabins in Business Class, to give privacy for meetings.
You'll also find a restaurant carriage with a wide selection of dishes and draft beer – an unexpected find on board.  The food is fresh and well prepared and although the size of the seating area in the restaurant is limited, there's a waiter service that delivers into First and Business Class carriages, so you can order and dine at your seat.
As you'd expect from a country where 70% of the landmass is mountainous, there are some inspiring views.  As the trains pass through valleys such as the Arlberg, you'll see imposing Alpine peaks on either side, as well as passing villages parading traditional Austrian architecture.
Food highlights: smoked salmon (8.90€) and Viennese patties with salad (9.90€)
Wi-Fi: yes
Verdict: spacious compartments and dine-at-your-seat service make this train a real pleasure
ICN (Inter-City Neigel), Switzerland
Trust the Swiss to get things right.  Not only do they excel at running trains on time, they also design them with an evocative experience in mind.  Underpinning this is the belief that you should be able to enjoy a fine-dining experience on the train and in good egalitarian tradition the dining cars are open to any passengers – regardless of your ticket type. In First Class or Business Class you can also order and dine at your seat.
The restaurant carriage is nice and quiet. The tables have tablecloths, and dining on real plates with real cutlery and a tablecloth as spectacular Swiss scenery invariably glides past is a real pleasure.
'The Classic Breakfast is a popular way for commuters to start their day,' says Abdullah Nassir, a steward who has been working for Swiss Railways for seven years. 'It's an important part of their journey.  English business people are often surprised that a carriage and service like this exists, and they find it a calming place to work from  – as well as being good for an informal meeting.'
Food highlights: Thai chicken curry (CHF 19.90)
On-board Wi-Fi: no
Verdict: dining in style make these trains an experience – and the scenery will speak for itself
ICE, Germany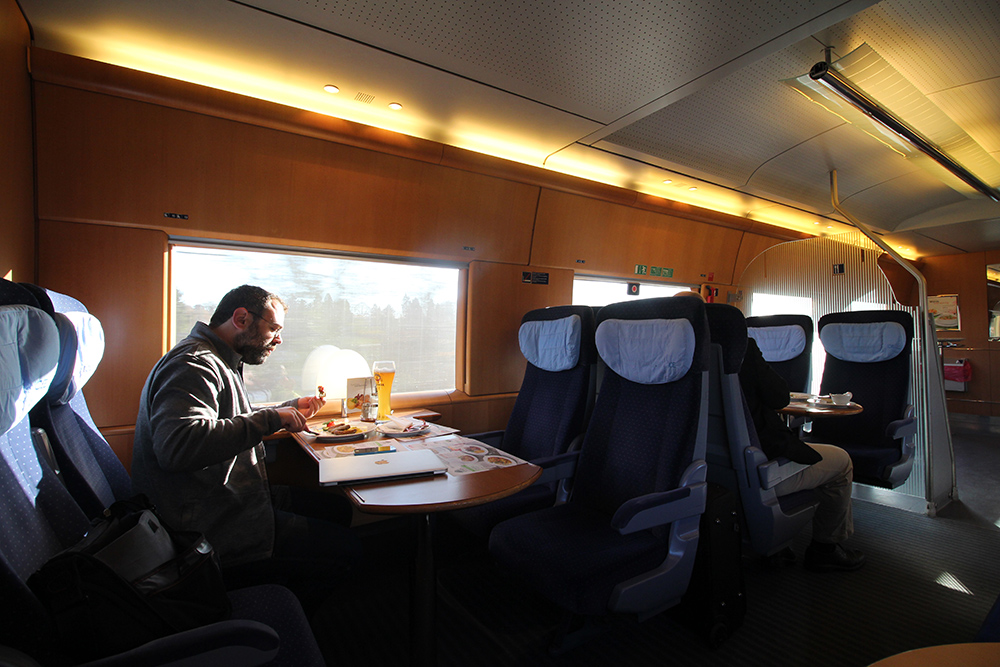 Germany's sleek fleet of ICE trains is arguably the pride of the European network.  Hugely spacious, with wood-panelled décor that will make you imagine you are lounging in a modern gentlemen's club, these super-fast trains certainly feel like they are ahead of the game. Indeed, walking through Standard Class you might mistakenly believe that you've already arrived in First.
The restaurant carriage has comfortable bucket seating – although perhaps too few of them. As you might hope for on a German train, draft beer gushes from the taps.
Food highlights: chili con carne (8.20€) and draft Franziskaner Hefe-Weissbier Hell (4.20€)
Wi-Fi: yes
Verdict: beautifully crafted trains mean you can travel in style with a real sense of space.
Frecciarossa ETR 500 & 1000, Italy
Trenitalia high-speed Frecciarossa trains hurtle at 300km/h on the higher speed lines (north – south) and 200km/h when travelling east – west, such as between Venice and Milan.
While these trains have personable décor and comfortable seating, the food on board is a let-down.  In Italy of all places, a country where eating well is of huge import, these trains have abandoned all semblance of fresh, quality food.  If you have enjoyed dining on German, Swiss or Austrian trains, you'll find the buffet carriage here will come as a huge disappointment.
Instead, bring food on board to enjoy with some of Italy's majestic scenery – which certainly won't disappoint.
Food highlights: none
Wi-Fi: yes
Verdict: smart, stylish seating areas – but the café-bar's food is woeful
Daniel Elkan is a freelance travel journalist and founder of www.snowcarbon.co.uk, an independent guide to how to travel to ski resorts by train.