The rise of statement staircases
August 11, 2017
More than a just climb to the next floor, a bespoke staircase makes an architectural statement that can give your home a fresh identity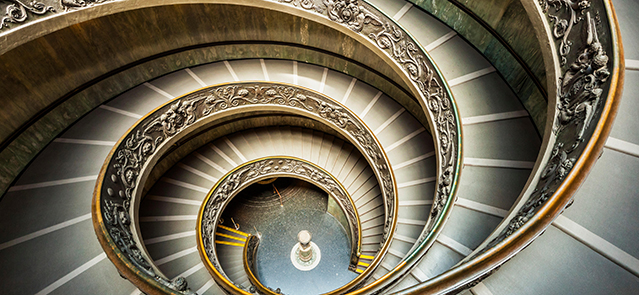 Photo: Alamy
From the stunning double helix that connects the different galleries housing the Vatican's art collection to the incredible spiral spanning six floors at the Garvan Institute of Medical Research in Australia, stairs can be so much more than just a way of getting from one floor to the next.
Whether it's inner-city space saving or a grand entrance hall, bespoke staircases have increasingly become a focal point for architects. So if you're thinking about taking the next step towards your dream stairway, what should you consider?
Think disruptive
Founder of art and architecture firm Atmos Studio Alex Haw has worked on a number of ambitious stair projects for superyachts, hotels and luxury homes. 'I think the stair is a real piece of interest because it's the most disruptive piece of architecture. The room is just a box and the walls are generally flat.'
For Haw, material is key when looking at the atmosphere you want a staircase to create. 'Glass is amazing for bringing the light down, but it's kind of scary. You should consider the warmth you want to feel – do you want the stair to feel like a piece of timber or do you want it to feel industrial? Do you want it to feel slow or graceful? Think of the orientation when you emerge from the top – or the bottom – what are you seeing?'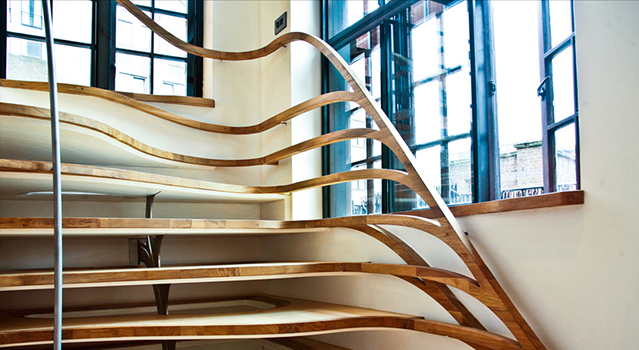 Staircase with filigree handrail, as part of a residential 'room in a room' project. Photo: atmos
Material decisions
While wood remains a popular choice in staircases, steel, glass and concrete are also very hardwearing and easily adapted to many styles. Metal work and stone often mean working with artisan blacksmiths or stonemasons, which adds substantially to the cost but gives a unique finish.
Richard Witcher, founder of architect and design firm Witcher Crawford, created an S-shaped staircase with a naval bronze balustrade made by an artisan blacksmith. 'The costs of his labour alone were £30,000,' he says. 'We could have had the same concept for the staircase and used a much simpler balustrade, but it made a really unique statement.'
One of the most complex home projects Witcher Crawford have worked on was a modern staircase with 'floating' wooden treads wrapped around a hollow ribbon of high-grade stainless steel which spirals upwards.
'We had to plan this minutely to prevent people running up and down stairs causing resonances to ring through the steel and pulling the pins out. That cost around £25,000, but you could easily spend a hell of a lot more when you start talking about bronzes where you have a blacksmith involved,' says Witcher.
Climb budgets
This price point of around £20,000 to £30,000 for a bespoke residential staircase is one that comes up regularly with the architects we spoke to, with around £25,000 per flight covering design and build costs.
At the very least, clients should expect to pay in the £10,000s, according to Haw. More enclosed styles tend to be cheaper, so building into the wall will reduce the cost, but for a floating or more sculptural set of stairs that is self-supporting, prices start at around £20,000.
'The cheapest stair we ever did was £10,000 and that was with a stainless-steel hand rail, which was a large percentage of the cost. Glass costs a lot and is quite dangerous, steel can be cheap but the labour involved adds to the cost and complexity,' says Haw.
Flight planning
Working with an architect on a bespoke staircase will often be part of a wider home refurbishment project, so storyboards and mood boards will likely be part of the design process early on. But doing your own research so you have some idea of the styles and materials you like is a good way to get the conversation started.
'I like it when people have an idea of what they want. I think people should think how open or closed they want it. Noise is important too – do you want to hear people when they come down? Will you accept some bounce? How open do you want your staircase to feel?' says Haw.

Richard Witcher designed a stainless steel and glass spiral staircase with 'floating' wooden treads for this contemporary home in Hampshire. Photo: Matt Livey
Step changers
Don't be afraid to mix and match styles. A traditional house can still incorporate modern elements in the design and layout. Maintaining a traditional exterior of the house but going with a stripped back, modern feel on the inside is something clients are increasingly asking for, according to Witcher.
'I think if you have a neo-classical house you are probably going to want to follow those lines. But it might be that you look at the materials you're using and instead of sticking to a plain old timber staircase, you look at some marble or limestone treads instead,' he says.
While there's much to think about before you embark on a bespoke staircase, the results can ultimately give your home an identity that sets it apart from the crowd. 'People increasingly want something that has been made for them, a kind of grandeur of their own,' says Witcher. 'The statement staircase is now much more personal, and much more considered.'
Find out more about our Renovation and Extension Insurance