The 12 bottles of Christmas
December 14, 2016
From Christmas eve through to New Year's day, Honest Grapes wine director Tom Harrow suggests the perfect wine accompaniment for every festive moment during the holiday season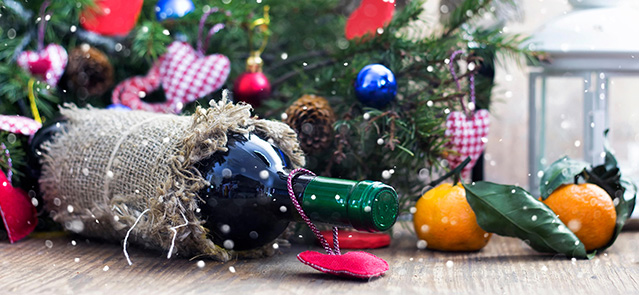 Photo: Alamy
I do enjoy Christmas! It's that time of the year when you can drink all kinds of different wines almost all day and no one will judge you. This year, I have a great selection in mind to match the variety of occasions and the abundance of foods and flavours on offer.
A Prosseco in a Christmas tree
I started going through my festive selection while decorating the Christmas tree. I enjoyed a fantastic bottle of artisan Prosecco – bright and lively like the Christmas lights, with a low enough content of alcohol that the decorating didn't get out of hand.
Dal Bello Don Gallo Prosecco has recently been voted that The Independent's Best Buy Prosecco, and for good reason. A dry, elegant and refreshing aperitivo, fully sparkling with a fine mousse, this is a real cut above the commercial styles. Fine floral aromatics and ripe but fresh fruit on the tangy palate. A great accompaniment to light food and canapés, it is perfect as a mid-morning drink on Christmas Day or New Year's Eve.
Two glasses of rosé
Another sparkling wine I'll be having this season – one close to my heart and close to home too – is the Herbert Hall Rosé. From the lush vineyards in the Kent countryside comes this blend of traditional Champagne grapes, processed to retain distinctly English crispness: think David Niven sauntering along the riviera in a freshly pressed linen suit. Rosé sparkling wine always adds a bit of glitz and colour to special occasions, so this is one to bring out at New Year's too.
Three French brothers
However, if you want a bottle of Champagne to pop open when the clock strikes midnight, go for the Frerejean Freres Blanc de Blancs. I remember sabraging the first bottles produced at the wine's launch last year on the steps of the family's chateau, and during which most of the initial production was consumed!
The latest batch made waves recently, and continues to convert all who try it. In a recent tasting we did with DrinkUp London, this Blanc de Blancs stole the show. This brilliant quote from Jane Ryan at DrinkUp London perfectly sums it up.
'This particular Champagne was incredible, with loads of nutty brioche on the nose as well as apples and orchard fruits. Its mouthfeel was far silkier, richer and plumper than any of the wines beforehand and as a small-grower champagne, with a production of only 3,000 bottles, this rivals any of the big brands for taste alone.'
Four sips of Riesling
Back to Christmas day and with all those flavours and aromas abounding, you need the right wines to enhance the experience. Red wine is Christmassy and warm, tending to be more popular with winter comfort food and Christmas roasts. You'll still need some whites in your holiday repertoire and I have just the ticket: two superb German wines worthy of a special occasion.
The Clemens Busch Marienburg Riesling VDP Grosses Gewächs Felsterrasse, 2014 is as complex as its name – a laser-sharp, richly textured wine from star winemaker Clemens Busch in Mosel, Germany.
Riesling is the king of grapes, and the Mosel its most illustrious terrain and so produces its ultimate expression. Nowhere in the world is the identification of vine, winemaker and produce more precisely defined – and nowhere have we found Rieslings to compare with these. Weighty, seeringly acidic and very minerally, this wine was awarded 94 points by the Wine Advocate and is a great match for goose and strong white cheeses.
Five fruity whites
For a fruitier, more approachable white, I recommend the Weingut am Stein Stettener Stein Silvaner VDP Grosses Gewachs, 2015. A gentle herbal nose accompanies notes of ripe and dried apricot. Full bodied, with firm acidity, this is a Grand Cru quality wine at a very reasonable price point and something a little bit different to impress jaded palates.
Six complex Germans
There's also something very Christmassy about German food and drink, so I'll be surprising my guests this year with an exciting German Pinot Noir rather than one from New Zealand or Burgundy. Weingut Schnaitmann Fellbacher Lämmler Bergmandel Spätburgunder GG is sophisticated and powerful but still hedonistic. The nose is complex, with dark red fruits, smoke and dry spices. You can taste dense hedgerow fruit, oregano, sage and allspice notes evolving with every new sip.
Seven surprising Italians
It's not all German wines for me this season. The San Leonardo 2010 from Trentino, Italy is an outstanding Bordeaux blend which has received 'Tre Bicchiere' from Gambero Rosso for an extraordinary 13 vintages consecutively and was numbered among the Guide's 'Fifty wines which changed Italy'.
Another highly reviewed wine, this vintage received 95 points from James Suckling. Elegant and balanced, this will be a great accompaniment to my roast turkey but even better with rib of beef where it will surprise traditional claret lovers.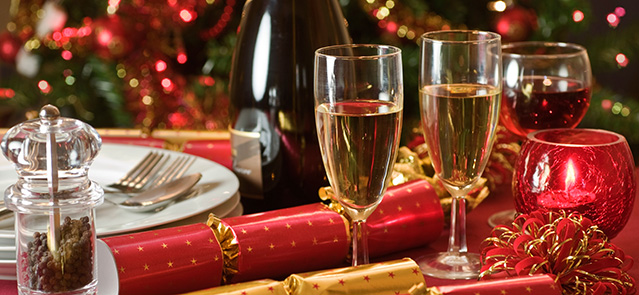 Photo: Alamy
Eight hearty reds
If you prefer bigger, more juicy reds then go for Chateuneuf du Pape – my first wine love always over-delivers and is spicy, warming and sweet-fruited. Clos des Brusquieres 2012 is richly hedonistic yet vivacious, packed with spices and framed by a whiff of old leather, polished wood, incense, liquorice and parma violets. A hearty red and great value.
Nine vintage classics
If you want to bring out the big guns, you won't get better than Valdicava Brunello di Montalcino Madonna del Piano Riserva, 2009 from Tuscany. A delicious fusion of cardamon, cumin, earth, pepper, chalk, violets, tar and dark berries, this is the best wine from a very classic vintage. It will need a good decant but is one of those wines that suffuses all the senses and will be my Christmas treat to myself.
Ten New York fairytales
I'll jazz it up a bit now with some New World reds, with cool names, from cool producers. The Australian Ochota Barrels The Fugazi is very rock 'n' roll, showing the elegant side of Grenache, lots of perfumed cherries, chocolatey tannins, and bright acidity. Woodsmoke and cloves, hints of balsa and anise complete the package.
Barbecued or seared red meats would be the obvious choice, or venison or other cloven-hoofed game if you're going for a more eccentric festive meal. The wine is named (like most of their cuvées) after an American punk band so it's perfect to accompany The Pogues' Fairytale of New York, definitely my favourite Christmas song.
Eleven special occasions
You're spoiled for choice with reds this year, with all the fantastic new-wave producers. Gramercy Cellars Columbia Valley Cabernet Sauvignon comes from Master Sommelier turned star producer Greg Hambleton. Big, hearty, fruit forward but perfectly balanced, it's perfect food wine for a special occasion and a big hit at tastings.
Twelve port alternatives
Last but not least, to finish proceedings and as a wacky but rewarding alternative to port, try the Laborum Late Harvest Malbec, from Cafayete in Mendoza. This sweeter (but not sickly) dessert red is wonderfully herbal with dried cranberry fruit, crushed cloves and more allspice – the signature tastes of Christmas and really good with Stilton or chocolate.
Find out more about Honest Grapes
Your wine collection is automatically covered up to £10,000 with our home insurance