Super home extensions guide – part 1
June 17, 2016
Thinking about transforming your loft into a panoramic leisure lounge or blending the kitchen and garden space? Property expert Nicola Venning guides you through the extension planning process…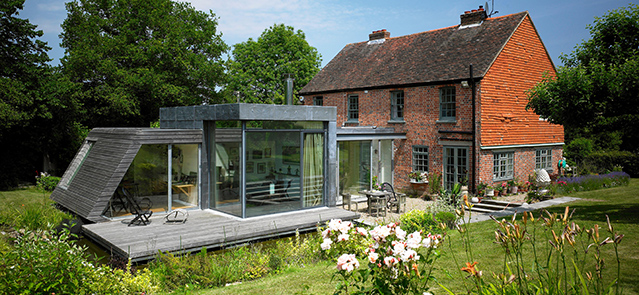 Photograph: Alamy
The extension has come of age. Television shows such as Grand Designs and George Clarke's Amazing Spaces have shown that architectural ambition is not restricted to new corporate offices in the City or residential riverside developments. Across the UK, there is now a desire to bring cutting-edge design into the very heart of our homes.
Whether it's remodelling a bachelor pad into a family home by opening out the kitchen or creating more light in a traditional terrace with the introduction of ceiling-stretching skylights, extensions can transform and expand our living space.
Spacious and inviting, a well-designed extension can improve the way a home is used and it can even enhance your lifestyle. With summer upon us, a popular addition is the garden extension – sitting rooms with glass walls that invite the garden 'in' and allow you to connect to the outdoors. But it doesn't stop there:
A fashionable kitchen extension with steel-framed Crittall glass doors can create an inviting family space for entertaining and relaxing…
A new basement with a frosted-glass ceiling can provide a much-needed study or playroom…
A cool loft conversion with a folding glass panel can ensure you get the most from the lightest room in the house.
Before the work begins, it's important to remember that you need to inform your insurer. 'Most home insurance policies incorporate a condition which states that the individual must notify their insurer if they plan to carry out works to their home and failure to do so can affect the coverage provided or worse, invalidate the policy entirely,' says Tim Slattery, Hiscox Personal Lines Underwriting Manager.
So with your insurer in the loop, it's time to start planning your new life in your transformed home. Here are some simple steps to creating the perfect super-­extension.
1. Capture your vision
The secret to creating a successful extension is a very clear brief. Write down your aims and objectives and find some pictures similar to your own ideas. Pinterest and architects' websites abound with wonderful images.
Darren Furniss, an architect with KTB Architecture in south London, suggests creating a scrapbook of pictures as this will provide 'a very good visual basis to start designing from'.
2. Find an architect… now
An architect will develop your brief and help realise your ideas, so it is a good idea to hire one as soon as possible.
Your working relationship should be comfortable and open. You need to feel you can ask questions, while an architect needs to be able to suggest new ideas. 'There always has to be some kind of a dialogue,' says Furniss.
Personal recommendation is often the best place to start when looking for an architect, but it's also worth checking out the Royal Institute of British Architects (RIBA), which lists UK Chartered Practices. Networking websites such as Pinterest and Houzz are also useful.
Choose a professional with experience of your type of property – some architects specialise in conservation, others in modern minimalist blocks, so you need to find the right architect for your project.
3. Ask questions and more questions
In order to come up with the best design, an architect not only needs to know what you want the extension for, but equally how you wish to use the new space.
Do you want a kitchen extension because you are the consummate host, or because you are seeking a generous communal family room? How you plan to use the room will influence how it is designed.
The design stage is the best time to ask questions. If you don't feel experienced enough to assess the design, try and visit some of the architect's similar, completed projects. Then you will clearly know what you do and do not like. Remember that it is cheaper to make alterations at this point rather than later.
Furniss's current project is a large two-storey extension in Belgravia, London that links the Grade II-listed house with the mews cottage behind. His brief was 'to open up the space' as much as possible. The owner also wanted the flexibility to 'close down different areas' when they were not needed.
The new extension, which cost over £1 million, has airy ground-floor rooms with large glass doors that can be opened up or shut down as desired and creates versatile spaces suitable for different types of entertaining.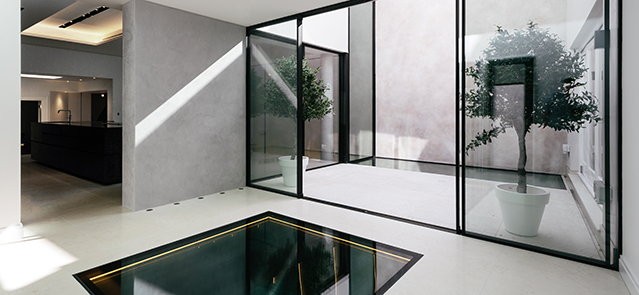 This stunning extension in Belgravia was completed in a Grade II-listed home. Photograph: KTB Architecture
4. Plan with permission
Once you have agreed a design, your architect will create the drawings for planning and building regulations and apply for planning permission. This is relatively straightforward providing there is sufficient consultation.
As his project involved a listed building, Furniss consulted both a heritage officer (necessary with all listed buildings) and the local planning officer.
Planning permission is not needed for certain types of extensions. Under permitted development rules, for example, a terraced home can be extended 4m from the original building line or 6m with the neighbour's permission (detached homes have slightly different guidelines).
When Simon Hayward, architect and co-owner of HS Architects in Shipston-on-Stour, South Warwickshire, was working on a large sitting room extension for a farmhouse, the planning application was relatively simple.
Located within a hamlet on the border between Oxfordshire and Northamptonshire, the period farmhouse was not listed so Hayward delivered a well-designed proposal just to the local planning officer. 'It was a straightforward consent within eight weeks,' he says. 'Our advice would be to always gain a lawful development certificate from your local authority that falls within permitted development.'
Costing over £80,000, the extension was designed to blend with the house and has 'locally sourced limestone walling to match existing walls', while the roof is in reclaimed blue/black slate, which is 'commonly used in the area'.
The extension enjoys panoramic views of the landscape in addition to focusing morning daylight deep into the building via the full-height gable glazing. The owners were delighted with the result and now use it as the main living area of the house.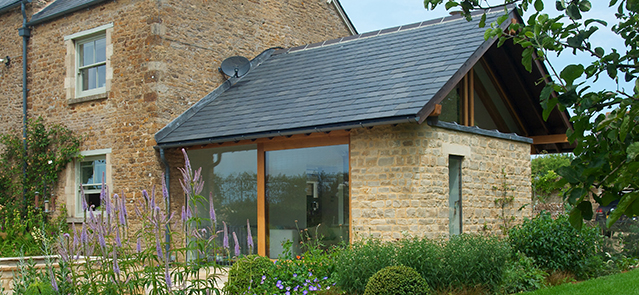 Local limestone matches the existing walls in this farmhouse extension. Photograph: Jeremy Foster Design
5. Always be prepared
Building work is messy and time consuming. Constant noise and dust 'is the most wearing factor', says Hayward. If you can move out, then you should do so, but visit the site regularly to monitor progress.
If you have to stay, avoid cohabiting with the builders and create a temporary living space elsewhere, even if it is the kitchen. It's also worth keeping your neighbours informed of any building work and limiting the noise to reasonable hours.
'Unfortunately, many homeowners do not realise the risks which building works present to them,' says Hiscox Home Insurance specialist Tim Slattery. 'We recently conducted some research that highlighted just 50% of individuals undertaking works notify their insurer – the rest either assume that their insurance policy already covers it, that the builder is insuring the project, or they simply forget to tell us.'
6. Don't forget the numbers
Architects' fees are based either on a percentage of the build, hourly, or in set amounts paid at different stages. As the project moves along, it's worth considering staged payments to safeguard against surprising fee hikes if costs rise.
While an architect's first aim is to provide quality design and to match the client's brief, they are not always best qualified to advise on specific cost. So if you are working on a project with a fixed budget, consider hiring a quantity surveyor who can control costs and manage expectations.
7. From start to finish
Generally, a new extension will go through the following steps:
Feasibility study
Design
Planning and building regulations submissions
Tendering for construction
Inform your home insurer – the step that's often missed out
Build and completion
Allow four to five months from the feasibility study to tendering for construction. Building work depends on the size of the project, but on average, a garden sitting room takes about five to six months, while a small loft conversion is about eight weeks.
'If you complete a project knowing you have really made a positive difference to how your clients use their building, then you have done your job,' says Hayward.
Nicola Venning is a regular property contributor to The Sunday Times, The International New York Times, Billionaire and Country Life
Find out more about our Renovation and Extension Insurance