Seven of the world's best art hotels
January 02, 2017
When it comes to luxury hotels, savvy guests are seeking more than a great turn down service and a master chef in the kitchen – it's all about the art on the walls.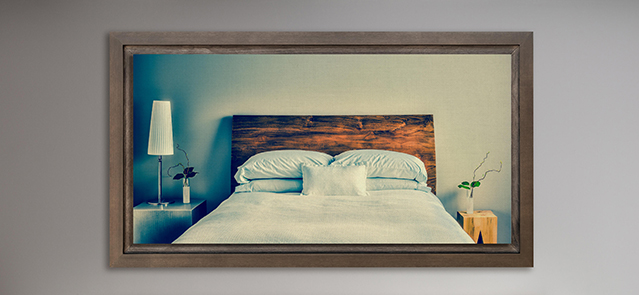 Photo: Benoit Daoust/Alamy 
What qualifies as a great hotel these days? Do you look for great room service, well-appointed vistas or sumptuous linens? Or maybe it's none of the above; maybe what matters to you during a holiday is being able to dine in the hotel restaurant with an impressive piece of art above you.
From London's South Place Hotel, which is filled with specially commissioned artwork by modern artists, to the Philippe Starck-designed Le Royal Monceau-Raffles in Paris, which has its own on-site gallery, we give our top seven picture-perfect hotels around the world.
MONA Pavilions, Tasmania
Straddling the divide between art gallery and hotel, the MONA Pavilions in Tasmania offers eight stylish modern cabins named after famous Australian architects or artists. The adjacent Museum of Old and New Art (MONA) demands a full day of exploration to take in the collection of more than 1,900 works of multimedia Australian and global art, many of which are pleasingly controversial in nature. Refreshingly, the gallery doesn't take itself too seriously, as you'll see from the website commentary.
Gramercy Park, New York
The landmark Gramercy Park Hotel has been a meeting place for artists, musicians, actors and politicians since 1925 – Humphrey Bogart was married on the roof terrace and John F Kennedy lived here for several months. In the sixties its reputation got somewhat steamier when The Rolling Stones used it as a base after the completion of their American tour, followed by Debbie Harry in the seventies.
Today the art is more of a focus than celebrity, and it doesn't just hang from the walls but also the ceilings, in the case of Brooklyn-based artists Annika Newell and Tom Schultz's 4,000 light bulb installation in the Drawing Room. The hotel's collection, which changes regularly, focuses on the 20th century, and includes work by Keith Haring, Jean-Michael Basquiat and Andy Warhol, most of which are boldly coloured and large in scale.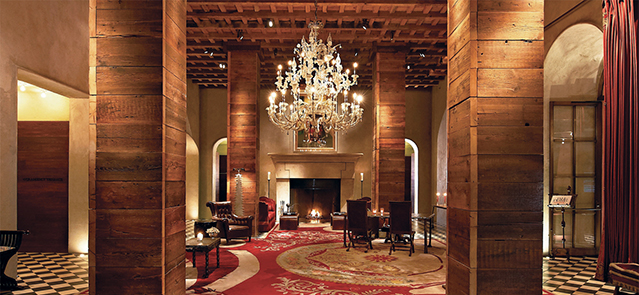 Gramercy Park's collection includes work by Jean-Michael Basquiat and Andy Warhol
Hotel Le Negresco, Nice
In stark contrast to all that modernist architecture is Hotel Le Negresco. For over a century, this grande dame has welcomed artists such as Salvador Dali, The Beatles and Elton John to its palatial setting overlooking the dazzling French Riviera.
On display inside the hotel are more than 6,000 works of French art spanning five centuries and including some of the old masters, including Louis XIV's portrait by Hyacinthe Rigaud​ – identical to that exhibited at the Louvre and the Palace of Versailles. Even when you're not ogling the art, the decadent rococo interiors topped by a frothy pink dome designed by Edouard Niermans provide plenty of eye candy.
Durslade Farmhouse, Somerset
Situated on the edge of picturesque Bruton in Somerset, Durslade Farm is the setting for the acclaimed contemporary art gallery Hauser & Wirth. Set back from the original cow sheds, five buildings (two modern editions and three adapted barns) house gallery spaces that show exhibitions by the likes of Martin Creed, Subodh Gupta, Richard Tuttle and Karen Guthrie.There's a strong focus on sculpture, many of the works spilling out into the landscaped gardens.
Within Durslade Farmhouse, the Grade II listed adjoining residences, art hangs on the bare brick walls, and a specially commissioned mural by Guillermo Kuitca covers the entire dining room. Having the acclaimed restaurant Roth Bar & Grill nearby makes it very tough indeed to leave.
The Dolder Grand, Zürich
Since reopening in 2008, the iconic Dolder Grand has displayed more than 150 works of art – mostly sculpture – throughout its expansive grounds. This ranges from Joan Miro's abstract bronze 'Projet pour un monument' to Marc Quinn's delicate white orchid, 'The Archeology of Desire', to pop art by Andy Warhol and Takashi Murakami's psychedelic 'Troll's Umbrella'. The rooms are pared back with soft-hued furnishings, dark wood floors and plenty of light from the floor-to-ceiling windows that frame views of Zurich below.

The Dolder Grand has displayed more than 150 works of art throughout its grounds
Le Royal Monceau – Raffles, Paris
The on-site contemporary art gallery at Le Royal Monceau – Raffles in Paris doubles as an events space, but you needn't worry if your entourage isn't event-size as you can also find works from the hotel's vast collection of specially commissioned modern art in each of the rooms. In one of the suites are a series of portraits of Ray Charles – who was once a regular visitor – by photographer Arlette Kotchounian and the impressive life-size wooden elk and deer sculpture by Russian artist Nikolay Polissky stands proud on the first landing. There's even an 'art concierge' service here. Located on prestigious Avenue Hoche, the hotel is just a hop and a skip from L'Arc de Triomphe.
South Place Hotel, London
Don't be fooled by the chunky and underwhelming façade of this building in east London – inside it's all about the art. When the area first began to rejuvenate, artists were the first to move in, so it seems apt that art by local creatives and on loan from the Hoxton Art Gallery hangs throughout the seven levels. Regular exhibitions take place on the first floor and the hotel even launched its own annual creative prize, with the winners taking pride of place in the lobby window.