Sculpture in the City – art meets life in the Square Mile
June 15, 2017
The capital's financial district is gearing up to become a huge open-air sculpture park – and this year it's bigger and better than ever, says Bobby Read, Hiscox's Head of Art and Private Clients.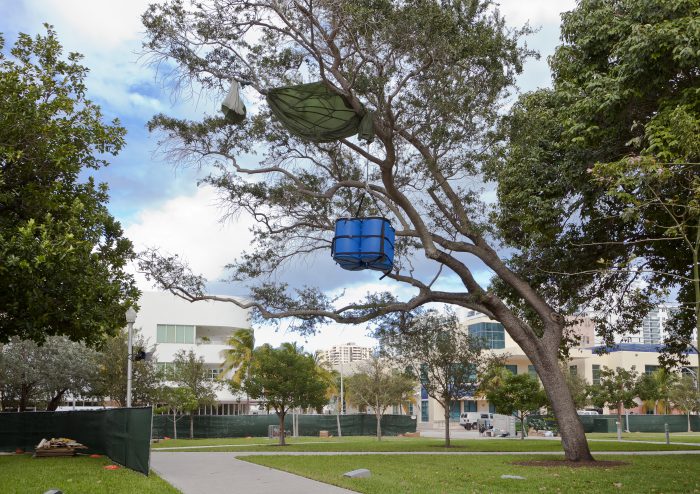 Never has there been such urgency, or The Eloquent and the Gaga – (Alchemy Box # 45) by Ryan Gander
This month sees the City of London once again transformed into an enormous outdoor art gallery, when the latest edition of Sculpture in the City is unveiled.
Spot a Damien Hirst on the City streets again
The exhibition, going live on 27 June, sees sculptures and installations dotted around the Square Mile. Works include Temple, a six metre-high sculpture of an anatomical model, by the Turner Prize-winning enfant terrible of the British art scene Damien Hirst, and Apple Tree Boy Apple Tree Girl, a monumental aluminium sculpture by up-and-coming artist Paul McCarthy, as well as pieces by the likes of Gavin Turk, Mark Wallinger and Martin Creed.
Apple Tree Boy Apple Tree Girl by Paul McCarthy
This year's exhibition will include six new locations and artworks spread further than ever across the financial capital. Sculpture in the City is now in its seventh year and every time the works have got bigger, grander and more exciting. Artists' willingness to let their work be exhibited is a huge endorsement of the project, shown by this being the second time one of Hirst's pieces has appeared in the London streets, as demonstrated by Hirst's second outing on the City's streets following the showing of Charity in 2015.
Tourism in the City
Canary Wharf shows how the thoughtful use of some really interesting, eye-catching artworks can enliven the built environment. But that is a private estate, unlike the City, which makes Sculpture in the City all the more of an achievement. What began as a small experimental project has now laid down some firm roots to become a talked-about event in London's art calendar.
It also confirms the City as a growing tourist destination. People visiting London from all over the world increasingly include a trip to the Square Mile within their itineraries to see its iconic buildings by world-renowned architects, like Norman Foster's Gherkin, Rafael Viñoly's Walkie Talkie and Richard Rogers' Lloyd's Building. Now, into the bargain they also get to see some wonderful works by internationally renowned artists.
Lloyd's is even becoming part of the exhibition itself, with some of Mhairi Vari's installation Support for a Cloud attached to the outside of the building.
Having thought-provoking artworks situated cheek-by-jowl with today's steel-and-glass temples to Mammon also shows the City's softer side. Showing art in public places does brighten up people's lives, and enables us to see the places we think we know so well in a totally different way.

Support for a Cloud by Mhairi Vari
Our love of art
Hiscox has supported the project since it began in 2011, and it is a very public expression of our love of art. Personally, I'll be quite sad to see Sarah Lucas's rather beautiful, witty and sensual golden marrows go from outside our building. But I'm also excited to see their replacement: Ryan Gander's visually arresting, thought-provoking piece Never has there been such urgency, or The Eloquent and the Gaga – (Alchemy Box # 45). It's sure to give me a tiny frisson of fear when I walk into the office each morning – it's four large plastic water barrels slung together as if dropped from a plane, hanging precariously by a parachute caught in the branches of a tree.
Why not come and see the pieces on display for yourself? After this month's sad events just across the river Thames, Sculpture in the City is a vivid reminder of what a vibrant and dynamic place London is.
Find out more about Sculpture in the City which runs until May 2018.