Quick fixes for solving home storage problems
July 03, 2014
Creating extra space in your home can be simple and stylish says Megan Oliver, Associate Director at Godrich Interiors.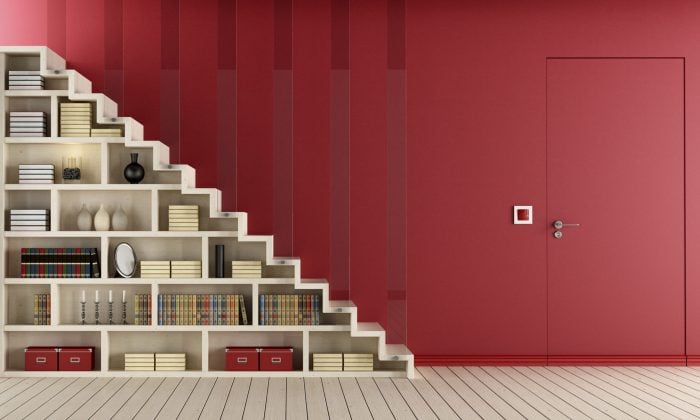 Every homeowner is familiar with the feeling of moving into a new home. Your possessions seem to rattle around now that you have a bigger kitchen, an extra bedroom and more cupboard space.
For many homeowners, it's your possessions that make a house reflect your personality or your flat feel like home. So you start to acquire interesting pieces of furniture and homeware. You buy more books or add to your wardrobe and shoe collection.
You may also start to expand your family at the same time. And children, however tiny, always come with a load of kit that needs space.
So, before you know it, what seemed like a large space is starting to feel cramped. Cupboards are stuffed, if not overflowing, and it's becoming hard to find a space to squeeze in that new book or pair of shoes. The temptation is to shove things away at the back of the wardrobe or under the bed, out of sight, to stop them looking messy.
Practical tips for home storage
Even in the smallest of homes, there are ways to make better use of the space available. Here's some quick and easy fixes:
Look up and not across. You'll be surprised how much space there is up high
Vintage luggage racks above doors can hold suitcases to house your winter clothes, leaving the space under the bed free for day-to-day storage
Shelves above doorways, or tucked away on the stairs, can house books
Find ways to display things rather than try to hide them. Make a feature out of your collection of tea cups
A simple and inexpensive trick is to buy a set of nice looking boxes and store away items on the top of kitchen cupboards or the wardrobe
Your bed will have space underneath, so use that. If you buy a divan make sure it has drawers. If not you can buy underbed storage boxes.
If you have a very small space and you try to hide too much away in built-in furniture, it can feel as though you live in a cupboard. To get a more personal feel, you could buy an interesting piece of furniture to house your belongings. I have an antique cocktail cabinet in my bedroom where I keep my growing shoe collection. It's practical and it looks nice, too.
Finding inspiration
If you're stuck for ideas, there're plenty of resources online to give you inspiration. I'm a fan of Pinterest, which has ideas to inspire and great pictures, too. Houzz is another great source of inspiration, featuring design ideas, products and pictures of interiors. It's currently US based, but a UK site is launching soon. For inspiration on children's rooms you could trying looking at Elke Magazine.
Leafing through magazines is a good way to get ideas. To keep up with trends in interiors I read Elle Decoration, World of Interiors, Living Etc, and Wallpaper for architectural inspiration.
In my next post, I'll consider how to make the best use of nooks and crannies if you need extra space for a home office, an extra toilet or extra storage for kids' toys.
Find out more about Megan's work at www.godrichinteriors.com.