New Year's resolutions for your home
January 18, 2016
Is your Dry January already feeling a little damp? Has the meticulously planned exercise regime staggered to a halt? Never mind, interior designer Abigail Ahern shares her top New Year's resolutions for de-cluttering and taking control of your home instead.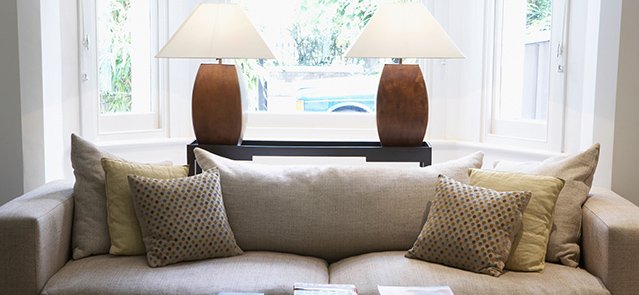 Photograph: Alamy
As your frying pan magically finds its way back onto the hob, after being banished to the back of the cupboard in a pique of dietary fervour, it might be worth considering a New Year's resolution that's easier to keep, namely, getting your house back into shape.
Whether your living room has lost its groove in a sea of cushions and oversized gadgets or the hallway has become a cramped corridor where you constantly struggle against an army of coats and scarves, now is the perfect time to regain control of your home and transform it into that sleek, orderly living space you've always dreamed of.
Interior designer, author and retailer Abigail Ahern has some straightforward tips for fighting the clutter in your home and giving it a facelift for the new year. 'You want your home to wrap you in contentment the minute you walk through the door. It should be somewhere that lifts your spirits and makes your heart skip a beat. If that's not the feeling you get from your home, it might be time for a revamp,' she says.
Love your living room
When it comes to the living room, Abigail recommends stashing all the clutter – from remotes and chargers through to old magazines – inside a console or coffee table. 'Shut it behind closed doors, so you've just got the good-looking stuff out on display. The best thing to do is show your coffee table a bit of love and style it up. It's quite simple to do – a stack of beautiful books, a fab plant or flower arrangement, a candle… voila!'
Bedroom harmony
While the bedroom is supposed to be a harmonious space where couples can retreat from the rigours of the day, many struggle with too many clothes and a fight for wardrobe space. 'Storage is absolutely key and my husband and I have individual wardrobes,' says Abigail. 'We actually brought an entire wall forward to build a wall of wardrobes – if you can sacrifice square footage for storage, the bedroom is the place to do it. I promise it's worth it.'
Kitchen paradise
This Christmas, kitchens across the country will have been introduced to yet another must-have all-in-one appliance that slices, dices and juices. But how should you transform the kitchen from a gadget junkyard into a culinary paradise? 
Abigail's advice is to decorate your kitchen as you would your living room. 'Don't hold back on the decorative accessories that bring a room to life – artwork, lamps, cool vases, consoles, open storage, rugs, flowers and greenery. That's when the magic happens.'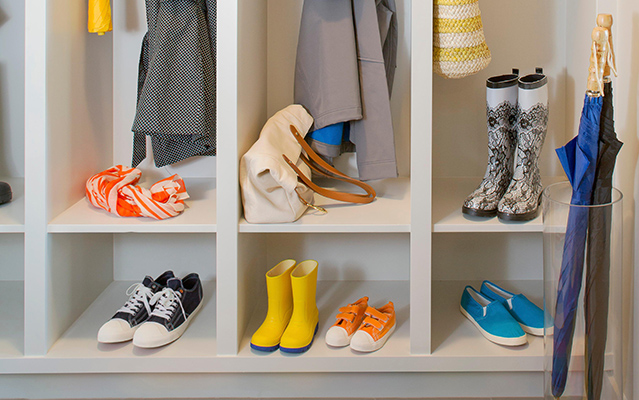 Make sure all the space you do have is optimised. Photograph: Alamy
Storage hacks
In the post-Christmas period, storage, clutter and organisation can be a bit of a headache. Safestore, a UK provider of flexible self-storage solutions, gives its top tips to help you get the most out of your living space.
1. Use wooden plank-style shelving above doors. This is a great way to store items, especially in bathrooms, box rooms and utility rooms. It means you have access to the bits and pieces you might need and keeps everything off the floor.
2. If it's your kitchen cupboards causing problems, there are a couple of things you can try. The first is to use a tiered, hanging magazine rack as a pan lid holder fitted to the inside of the cupboard door, and the second is to install a rod or pole to hang any spray-nozzle cleaning products on. Both are really easy to do and should help you save some space.
3. Corner shelving is a great way to add storage space and organise clutter within any room of the house. It can also be used in hallways and adds a great focal feature.
4. Wardrobe space can be hard to come by, so it's key to make sure all the space you do have is optimised. Try using the backs of the doors for additional storage – add coat hooks, rails, anything you can for that little bit of extra room. You can also use 'S' hooks and chains to turn where one hanger would fit into a place to hang 5 separate items. This works best with shirts – thicker jumpers won't sit properly.
To get more home inspiration go to Abigail Ahern's blog
Find out how to lead a clutter-free life with Safestore