Make room for furnitecture
June 28, 2017
Furnitecture can expand your kitchen but divide your living room, so what exactly is it? Design and interiors expert Claudia Baillie explains the concept and the names to look out for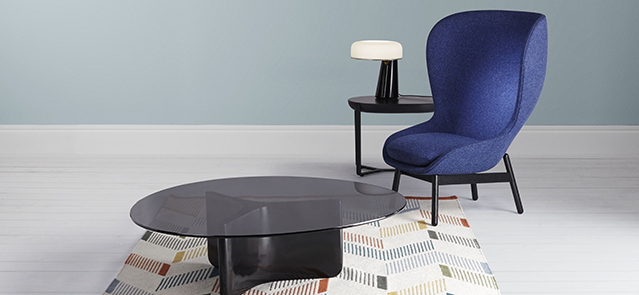 Image: The new Doshi Levien for John Lewis range creates a sense of privacy within a room
Do you have any furnitecture in your home? It could be shelves that divide and reconfigure a room, chairs that create private enclosures, or expandable kitchen units that maximise every precious inch.
An expression used to describe the meeting point between furniture and architecture, furnitecture is something that everyone can experiment with in order to make the most of their living space. And there are hundreds of classic, contemporary, innovative and hardworking pieces of furnitecture to choose from.
Shelving ideas
Probably the most straightforward type of furnitecture is shelving. It can be used not only as storage, but also to section off areas of rooms or open-plan spaces. Some of the most effective and stylish are design classics, including USM Haller storage, which was created over 50 years ago by Swiss architect Fritz Haller.
'The system was based on Haller's modular architecture and is made up of three key elements: chrome-plated steel tubes joined together by ball connectors, plus metal panels of powder-coated sheet steel,' says Ian Weddell CEO of USM UK.
'The modernist vision was based on the idea that its height or width could be extended easily in order to adapt to any space or requirement. More than 50 years later the design hasn't changed, meaning that a piece bought when it was launched in 1965 can still be added to or reconfigured, and therefore the function changed if so desired.'
On a similar track, the Eames Storage Unit (ESU) is an innovative system of multifunctional shelves developed by Charles and Ray Eames in 1949.
Originally designed to furnish the revolutionary Eames house – a building built entirely from industrial pre-fabricated parts – the ESU shelving unit is constructed strictly in keeping with the principles of industrial mass production, and has since become an icon of mid-century design.
More recently British designers Edward Barber and Jay Osgerby designed Planophore for Vitra, a dual-purpose room divider and bookshelf. Named after the first successful model aeroplane powered by twisted rubber bands, it has solid shelves with rounded bottom edges, which are reminiscent of aircraft, while vertical aluminium panels can be rotated to serve as shelf dividers or positioned parallel to the shelves to create a partition.
Other good examples of shelving furnitecture are the flexible and multifunctional Interparete shelving system and the Air freestanding closet, both by Piero Lissoni for Italian company Porro, and the Nuage family of bookcases and storage units designed by Charlotte Perriand for Cassina.
The Tokyo storage unit by Cattelan Italia is a vertical shelving unit featuring a unique design that, thanks to its adjustable height, means it can be fitted between the floor and ceiling anywhere in a room.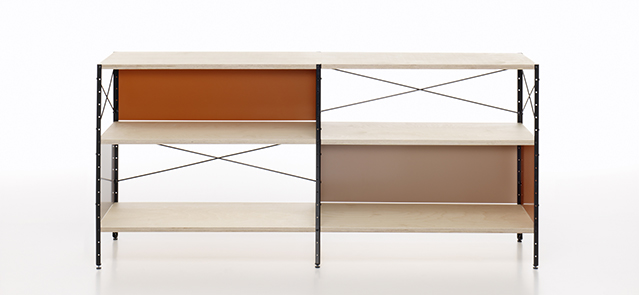 Image: Eames Storage Unit ESU 2HU by Charles & Ray Eames for Vitra is a design icon. Courtesy of Aram Store
Seating for privacy
A more surprising incarnation of furnitecture is the new breed of sculptural sofas and chairs, designed specifically to enclose the sitter and create a personal space.
At the more extreme end of the scale are examples like the Showtime Poltrona lounge chair by Spanish designer Jaime Hayon for BD Barcelona, which features a vast, sculptural lacquered canopy, or Hayon's just-released two-seater Ro sofa for Fritz Hansen.
For a retro version, look at the Amoebe Highback chair by Verner Panton. Created in 1970 for his famous Visiona installation, it embodies the exuberant spirit of the early 1970s and has a flexible backrest that curves over the head of the sitter giving a sense of shelter and seclusion.
Brand new on the market is the Open Home range by design studio Doshi Levien for John Lewis, which includes both the high-back Nami chair, and the Pondok sofa. 'It began not as a stylistic endeavour, but as a response to the growing trend of fluid and open living spaces,' says Jonathan Levien of the collection.
'Activities such as resting, dining, working and entertaining are merging in most modern homes, so that spaces become more flexible in their purpose, as do the objects that inhabit them. The collection consists of elements that can define a sense of place within an open living environment.'
Similar cocooning sofas include the Cloud High Back by Italian-born, Swedish-based designer Luca Nichetto for &Tradition, which is constructed to act like a private enclave, creating a sense of both physical and acoustic intimacy, and the Alcove sofa by Ronan & Erwan Bouroullec for Vitra.
The 'mobile micro-architectural' piece is available in several different heights, the concept of which is to create a room within a room. Image: The revolving Circle Kitchen can be cleverly contained behind sliding doors, perfect for compact spaces
Small reinvention
Perhaps the place where furnitecture becomes cleverest is in the kitchen, where technology is married with skilful design, and units are configured to make the most of every valuable inch. A classic example is the Minikitchen by Italian furniture brand Boffi.
Designed in 1963 by Joe Colombo, the plastic, coated-wood and stainless steel cube on wheels was powered by a single cord and included three fundamental functions: storage, cooking and refrigeration, all of which were packed in to less than one cubic metre.
The 2007 reissue of the original design, which is on display at the MoMA museum in New York, is made from white Corian, and is now also available as an outdoor model.
Following a similar principle, the award-winning, multifunctional Circle Kitchen is a 180° revolving compact unit housed behind sliding doors. Designed specifically for small and urban spaces, it houses as much storage as 12 standard cupboards, with the larger models also boasting a fridge, dishwasher, oven, microwave and an induction hob, as well as a canopy extractor fan.
On a slightly larger scale is the wonderfully elegant and customisable b2 kitchen by Bulthaup. Based on the idea of a 'kitchen workshop', it comprises three freestanding, drawer-free mobile units including a workbench to house the sink and cooker; a tool cabinet for utensils, crockery and food; and an appliance cabinet for the oven, dishwasher and fridge. When the cleverly designed pieces are closed, everything is neatly hidden.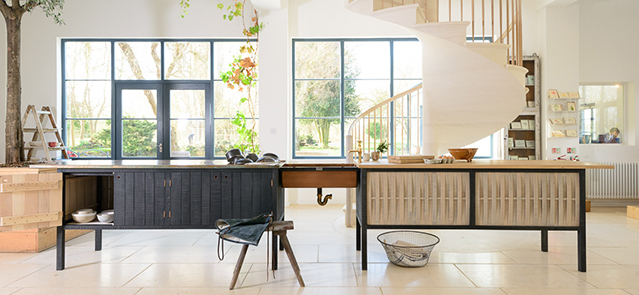 Image: The Sebastian Cox All-In-One island by deVOL
Island living
More recent examples of kitchen furnitecture include the All-In-One island by British designer Sebastian Cox for deVOL, which houses everything you need in one linear unit. Described as urban rustic, the modular design means you can add or take away cabinets as you please to make a bespoke piece personal to you, and to fit any size room.
The island, which is crafted from textured woods and smooth copper, can be configured to incorporate a cooker, dishwasher, sink and plenty of storage, all in one practical and stylish piece of furniture.
Similarly, the newly launched K-In/K-Out kitchen by Italian manufacturer Rossana is a freestanding, monolithic-looking island unit clad in a range of finishes including grey stone, heat-treated oak, eucalyptus and dark olive veneer.
Thanks to a high burnished-steel plinth, the K-In/K-Out appears to magically float. Designed by Architect Massimo Castagna and available as both indoor and outdoor versions, the top slides open to reveal appliances and a work surface beneath.
@claudiabaillie is a London-based design and interiors journalist who has been Interiors Editor at the Sunday Times Style, Features Editor at Livingetc magazine and Acting Features Editor at Homes & Gardens
Find out more about Hiscox building and contents insurance. Individual items or sets up to £15,000 are covered as standard – you don't need to list them or buy separate cover.