How to join the cycling pack
February 03, 2017
Packs of cyclists wearing matching jerseys, pumping out the miles in pursuit of a good cause… if this sounds like something you'd be interested in, Richard Peace has some advice to get you started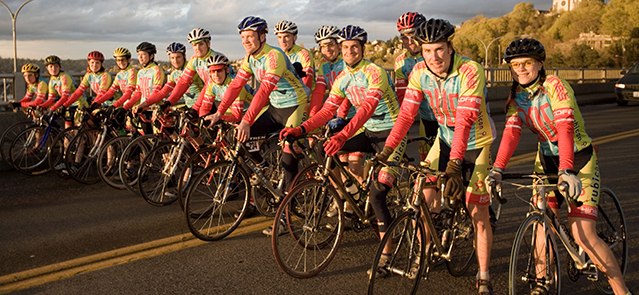 Photo: Alamy
Have you ever seen groups of lycra-clad riders gliding quickly and smoothly along your local roads and fancied a go yourself?
There are several reasons to ride in a group. One of the biggest is simply the sense of camaraderie that comes with conquering hills together using only pedal power. If you're a novice rider, you can also pick up tips and advice from more seasoned practitioners as well as learn how to ride in a group – an extra set of skills altogether from solo riding.
For the more seasoned cyclists, you might also find you get a performance boost – there can be physical effects (for example slipstreaming behind those in front to reduce wind resistance) and psychological ones (many riders feel carried along by the group and the physical exertion somehow seems less).
But where to find these migratory flocks of cyclists in the UK and what kind of preparation should you undertake before joining the pack?
Making new friends
If you have no contacts with any group cyclists, Cycling UK, one of the UK's most longstanding cycling organisations, is a great place to start. Its official advice is simply to get in touch with your local group – take a look at the map.
'Each local cycling group has a different history, different makeup and a different take on exactly what they offer,' says Cycling UK, adding that the best initial advice is to 'simply be honest about your experience and ability – everyone started as a beginner! This way the group leader will know how much support you will need and which of their rides will be suited to you best.'
Cycling UK stresses a few basic pointers to help you enjoy your first group ride to the full.
You just need to turn up with a multi-gear bike in good working order and basic toolkit (spare inner tube, pump and tyre levers at the minimum).
Either the group leader or another group member will be assigned to look after you; listen to their advice carefully and follow it.
Don't panic if you fall behind as group etiquette is to wait for trailing riders.
Never ride more than two abreast and don't overlap wheels with the rider in front.
Try and master the basic hand signals and shout calls used in group rides. It's all straightforward stuff but you just need to remember to do it if you are not used to group riding.
Be aware of others in the group and make them aware of your intentions. So don't ride too close to them and remember smooth gentle manoeuvres are safest.
Cycling UK says it's happy for riders to come along for free for up to three rides to see if group cycling is right for them. After that, if you are sold on group riding, you can join the local group or if you want to join in group rides anywhere in the country then Cycling UK membership could be a good option.
Other possibilities for group riding include joining British Cycling but the accent here is more likely to be on sporting performance and competitiveness than leisure. If you just want a gentle leisure ride with others, perhaps around a local running track or lake, then your local council may run events.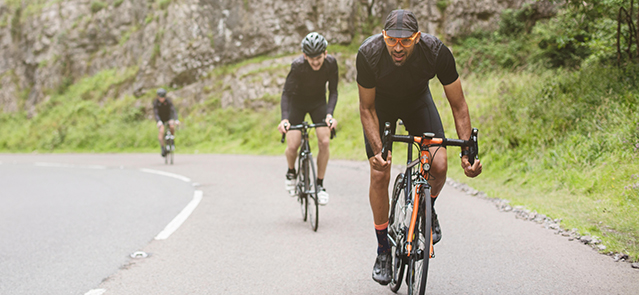 Cycling in groups can give you a performance boost. Photo: Alamy
Changing up a gear
Local group rides certainly get you into the swing of group riding, but if you've mastered the basics of group riding, have a basic level of fitness and want the thrill of riding in a mass peloton then perhaps a sportive is your next venture.
Short for cyclosportive, a sportive is a mass participation event that has a sporting element. It is timed so you can compare times with others if you wish but it is essentially non-competitive, though some sportives do award prizes and placings to some of the fastest riders.
Inspired by continental events such as the Étape du Tour, there are now a whole host of sportive style events in the UK. Here's a selection of the most popular:
Cycling for a good cause
Charity rides add an extra dimension to cycling in a group, and an extra set of motivations, nicely summed up by Sophie Leather from Sustrans, the pioneer of the 'safe routes' concept in the UK: 'People undertake charity rides for a number of reasons… to achieve a fitness goal, raise money for a cause close to their heart or to share a sense of camaraderie.'
There's no doubt certain charity rides just seem to capture the imagination of the participants. Here's a quick selection of the most popular and interesting.
Coast to coast: There are many variations on the coast-to-coast route crossing the north of England, from the classic across the Lakes and Pennines, the Way of the Roses across Lancashire and Yorkshire, through to Hadrian's Cycleway following the eponymous wall.
Nightrider London 2017: Night riding brings a whole new set of skills to group riding. Just make sure your batteries are full. London's Nightrider is one of the most popular.
LEJOG: Land's End to John o'Groats is the grandaddy of all rides and one of the easiest and best to enter is the Sustrans' organised one. Riders in LEJOG can expect to be riding alongside two experienced guides from Saddle Skedaddle holiday company with mechanical and first aid expertise. There's also a support vehicle and luggage transfers.
If you want to go the whole hog and organise your own charity ride then Cycling UK may be able to help. Whatever your cycling aims, there will be a group for you.
Richard Peace is a regular contributor to Cycle magazine
Find out more about Hiscox Bicycle cover as part of Hiscox Home Insurance.