How to light your home in the winter months
November 18, 2014
With the right lighting, you can reflect the best elements of your home says interior designer Hugh St Clair.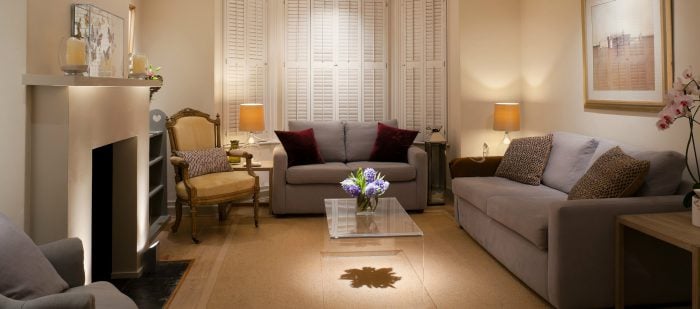 Gone are the days when a central pendant light and a few table lamps would suffice. Today it's possible to install sophisticated lighting schemes that add distinction and drama to beautiful objects in one area and a calm and warm atmosphere in another. Now we live in more open plan spaces and, through judicious lighting, it is possible to cook, work and relax in the same room.
Professional lighting consultants such as London based Kate Beard divide requirements into three main categories: task lighting for working cooking reading; accent lighting which will illuminate paintings, sculpture and objects; and ambient lighting to create an overall mood in areas where one entertains and unwinds.
Finding the right lighting solution
So what is the first step to creating a well lit home and the ensuing feeling of smart wellbeing? There an overwhelming amount of choice and possibilities. Lighting professionals around the country are on hand to guide the confused home owner through lumens and Lutron. A good interior lighting designer should spend time plenty of time with clients to gauge their personal requirements and preferences before drawing up a plan.
If you're unsure where to start, an initial step could be to buy the comprehensive and informative illustrated book Perfect Lighting by Sally Storey of John Cullen Lighting. Sally Storey also teams up with designer paint suppliers and art dealers, such as Philip Mould (best known from the BBC's Antiques Roadshow and Fake or Fortune?) to give illuminating talks.
But lighting technology moves fast. Twenty years ago halogen spots recessed in the ceiling and arranged in a grid were the way of doing things. However, they only light the floor and not the vertical surfaces.
Today halogen is being mostly replaced by energy efficient LED spotlights, which should be positioned differently. For example, near a wall, an angled spot could shine on a picture or beautiful curtains. A bit further from the wall a wider beam gives a warm wash. In the kitchen, one could be placed under the cupboard or shelf to shine on the work top.
Complementing your home
When choosing accent picture lighting make sure that what you buy will properly read and interpret  the colour of the art work. Some of the best quality fixtures can be found at specialists Hogarth, for example.
For an ambient atmosphere, up lighters work well and can be found at the Lighting Store. These reflect off the ceiling and give the room soft overall illumination. Ambient lighting can also be provided from table lamps which again cast beams up to the ceiling but also a warm glow through  a coloured shade.
Porta Romana, Best and Lloyd and Vaughan are well worth visiting for a variety of attractive lights. For beautiful antique pieces Norfolk Decorative Antiques excels.
Lights based on mid century factory fittings are fashionable today and Holloways of Ludlow have a large selection of desk and wall mounted ones.
With the phasing out of incandescent bulbs it is possible to get LED lights for old fittings. However do buy a dimmable bulb by a reputable brand, such as Phillips or Osram. These might be more expensive but the rays are softer and warmer than cheaper alternatives.
With the advance in LED compact fluorescent bulbs only need to be used in wardrobes, garages or as a porch light. They are very cheap to run but their light is cold and unflattering.
Hugh St Clair is an interior designer and journalist. Find out more about his work at www.hughstclair.com. Read more from Hugh on getting the right bespoke item to complement your home.
Picture credit: John Cullen Lighting
Guest writers may post on this site. The views, opinions and positions expressed within these guest posts are those of the author alone and do not represent those of Hiscox or its employees. The accuracy, completeness and validity of any statements made within these guest blogs are not guaranteed and we accept no liability for any errors, omissions or representations or any liability regarding infringement of intellectual property rights. Our social media house rules which also include details on how to contact us about any concerns you have regarding our social media channels, can be found here.