How to protect your high-value gems
January 05, 2017
Diamonds are a girl's best friend for today's super-rich, but keeping them safe is becoming an increasing problem, says Robert Read, Head of Art and Private Clients at Hiscox.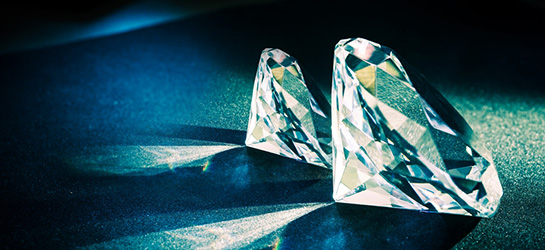 Conspicuous consumption is the height of fashion right now, as a quick flick through any celebrity magazine will show – page after page will be devoted to pictures of stars flaunting some enormous gems. But, as high-profile jewellery thefts have shown, the bling lifestyle can be risky.
The past 20 years have seen an ever-increasing appetite for high-value gems among the super rich. Showman diamond dealer Laurence Graff – the jewellery market's Larry Gagosian  – has almost singlehandedly created a super-luxury niche in unusual coloured gems, for which buyers are willing to pay tens of millions of dollars. As a consequence, the average value of jewellery collections has skyrocketed. Back in the mid-1990s, a £5 million collection, perhaps including a single piece worth £1 million, would attract gasps. Now it would prompt only yawns.
In the space of two days in May, two gems sold for record amounts. The 'Unique Pink' sold for £21.9 million, the most ever paid for a pink diamond, while 'The Oppenheimer Blue' sold for £40 million, making it the most expensive stone sold at auction. We insure several collections worth hundreds of millions of dollars, and some around £1 billion.
Know your employees
These prize pieces are obviously designed to be shown off, but for their owners the big question is how they to protect them while also enjoying them. It goes without saying that good safes and alarm systems for their homes are prerequisites, but it's often what goes on inside those homes that is the biggest problem.
Surprisingly few very wealthy people, beyond those with specific concerns for their own safety, carry out background checks on their permanent retinues. This lack of vetting means they will know very little about the backgrounds of the people who work for them everyday.
But the super rich's globe trotting lifestyles also entails hiring a shifting cast of casual staff in all of the places they visit. Their wealthy employers will usually know absolutely nothing about these people – even though they will share intimate details of their private lives with these assistants or rely on these drivers and bodyguards for their personal security during their stay.
Knowing staff members' personal history isn't paranoia given that high-value jewellery robberies are not opportunistic smash and grab raids. We're not talking about a thief ripping a Rolex off someone's wrist while they're waiting for the green man at traffic lights. Today's jewellery thieves will know what they're looking for, and even where to find it, because invariably they will be acting on tip-offs or inside knowledge. Everyone, from the plumber who comes to fix a leaky radiator to a party guest, could, if they were so inclined, provide some piece of information that could be potentially useful to a burglar. So it's a question of knowing who works for you, and preventing those who don't from having free access throughout your property.
Don't skimp on security
In today's social media world, many stars will provide more than enough information about themselves to help thieves build a detailed plan – even helpfully posting pictures on Instagram of them wearing their most cherished possessions. It is therefore imperative for these gem owners to ensure they have round-the-clock protection.
If you were to walk down the corridor of any of the world's best hotels late at night you would see bodyguards stationed outside many of the suites. It may be that their occupants have more to fear than a jewel thief, but these bodyguards present a very physical deterrent to every possible ne'er do well. That is absolutely necessary, because it isn't just the gems that are very tough. The thieves understand they will need to take the jewels from their owners using force. That prospect attracts a certain type of criminal – not a gentleman cat burglar in the David Niven mould, but an unscrupulous villain who won't flinch from using violence to get what they want. For that reason alone, gem owners shouldn't be tempted to skimp on security. For even if they don't particularly value their jewels, they should put a very high price on their safety and that of their nearest and dearest.
Get cover for your high value jewellery with our high quality jewellery cover.