How to choose the right flooring for your home
December 23, 2015
Interiors expert Hugh St Clair gives the lowdown on the best types of flooring for your home, from encaustic tiles for areas of heavy traffic, to velvet pile carpet in the bedroom.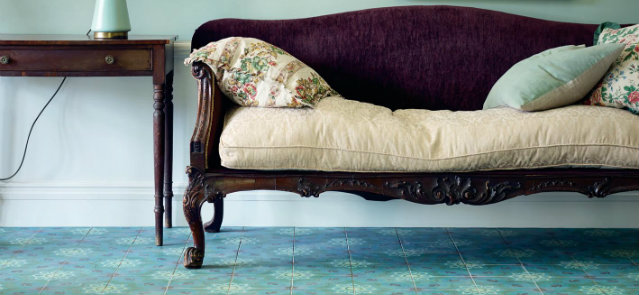 Image: Fired Earth – Encaustic tiles
Floors are subject to fashion like so many other things – in the 1970s we put down fitted carpets everywhere, even in bathrooms. In the 1980s cork tiles were the default flooring in most homes, then sisal. Now, all the fitted carpets have been ripped out and it's floorboards and rugs everywhere. Although encaustic tiles – which are inlaid rather than painted and were very popular with the Victorians – are making a comeback.
That said, flooring in a home should be a mix of materials, depending on the area of the house.
Areas of heavy traffic, halls and utility rooms
Traditionally, hallways were often tiled. Fired Earth has a new collection of encaustic tiles based on traditional designswww.firedearth.com. Encaustics are very porous so they need sealing. Do not clean them with supermarket floor cleaners, rather polish them monthly with Lithofin which does not contain acids or bleach. In a boot room or laundry a cheaper option is "The New England" range of matting from www.unnaturalflooring.com. It looks exactly like sisal, but unlike sisal it is non-absorbent and easy to clean. Surface dirt can be vacuumed and spills can be washed with a mop and warm water. Dr Shultz cleaning products are available from floorcare24.com and can be applied with a soft brush – it is the best cleaning product for this flooring and is also suitable for all laminate and cork floors.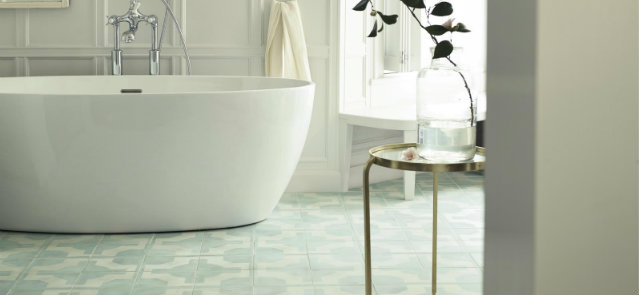 Image: Fired Earth
Bathrooms and kitchens
Fitted carpets may feel warm in a bathroom but they absorb moisture. For a more colourful approach, bathroom rubber flooring from Dalsouple www.dalhaus.co.uk is fun and modern and comes studded and ribbed, both as a tile and on a roll in a kaleidoscope of colours. All limestone must be slip-tested. Bush hammered, flamed and sandblasted are the least slippery finishes, such as those found on www.artisansofdevizes.com and www.stone-age.co.uk – and they look both calm and smart in a bathroom or wet room. When choosing a floor for the kitchen, one has to carefully consider various factors. Limestone looks wonderful but is porous and spilled soft drinks and food containing acid can cause damage if the sealant is not completely impenetrable. Again, it can't be cleaned with products from a supermarket. As with tiles, limestone can be hard on the feet. Bamboo flooring such as that found on www.bambooflooringcompany.com is an alternative. Sustainable, hard-wearing but softer underfoot bamboo is also easy to clean with "Bona Pro Hardwood Floor Cleaner".
Bedrooms and living rooms
Nothing creates a feeling of cosiness in a bedroom better than woven and velvet pile carpets in enveloping red and dark blue, either patterned or plain, such as those found on www.victoriacarpets.com and www.carpetsofchelsea.com and timpagecarpets.com. Floorboards painted pale grey or white bring in light to downstairs rooms. When adding a rug choose one that touches all the legs of the chairs in the seating area. For a carpet to cover the floor area in a large room leave an 18-inch border of floorboards round the edge. In a small room leave around 8 inches. For beautiful antique rugs and carpets from all over the world visit www.larta.net which is the website of an annual April textile's fair and also respected dealer Joshua Lumleyon www.decorativecollective.com. A breakfast or dining room doesn't often need a rug so a floor stencil on painted boards would really add an individual touch www.stencil-library.com.