How to approach a garden renovation project
August 22, 2016
Simplicity is key when scoping out a project, and using quality materials is absolutely essential says Charlotte Rowe, owner of a successful garden design consultancy. In her own words, 'there's no such thing as an Ikea garden.'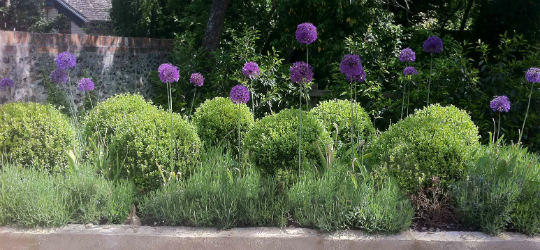 From luxurious aesthetics to the importance of planning, Charlotte covers all bases when it comes to garden renovations.
Getting it right from the start: organisation is key
Before you do anything else, an accurate site survey of your garden should be carried out. Finding out the exact measurements of your outdoor space is essential in any garden design project. Secondly, you'll need to have a clear idea of what you want to get out of your renovation. Going into a project with too many ideas can lead to a cluttered space that doesn't work. Simplicity is key. Questions to ask yourself could include:
How will you use the garden?
Where will the garden be viewed from?
How much maintenance are you prepared to do?
Do you want garden lighting?
Don't forget, apart from the actual garden design, you'll have hard landscaping materials to choose, plants to consider and furniture to buy. With this in mind, bringing in a garden designer is often the most important first step of a garden renovation project.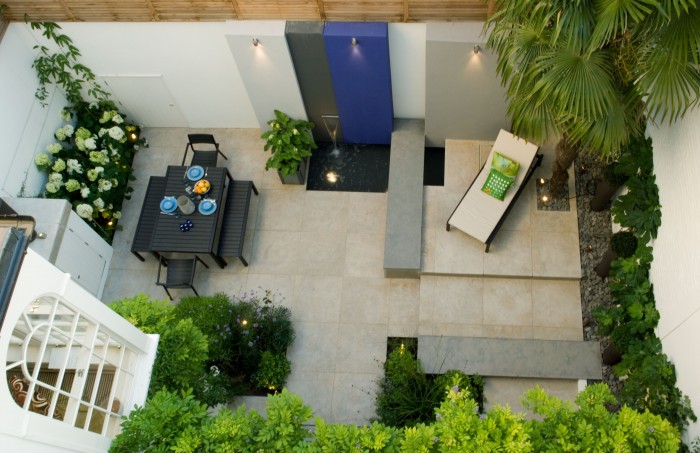 Photograph Copyright Harpur Garden Images
The bigger picture: planning your look
When designing gardens, we try to limit our palette to one or two materials on the ground, two or three colours for the planting (including the colour green) and very little additional clutter in the form of pots and ornaments. When it comes to the overall look of your garden, remember you'll be viewing it from your house. Make a note of the sight lines looking onto the garden so that different focal points can be viewed from each room.
From the floor up: what's trending now
It's always tricky to discuss general design trends as climate dictates a lot of what's possible, as opposed to interiors where anything goes. But one current trend that's popular both inside and out at the minute is polished concrete floors. I designed my first garden with a polished concrete floor twelve years ago when it wasn't really heard of. Now it's increasingly popular and lends itself beautifully to exteriors as it's forgiving to the feet and lasts really well. If you do want to go for polished concrete, you've got a few options to choose from. One of them is poured polished concrete, which is power floated to achieve a smooth polished effect into which expansion joints are then cut. This is the process used for most internal polished floors. Colour can be added when you use this method so you can achieve a more tailored look, but it's not ideal for vertical surfaces such as stair risers and raised beds.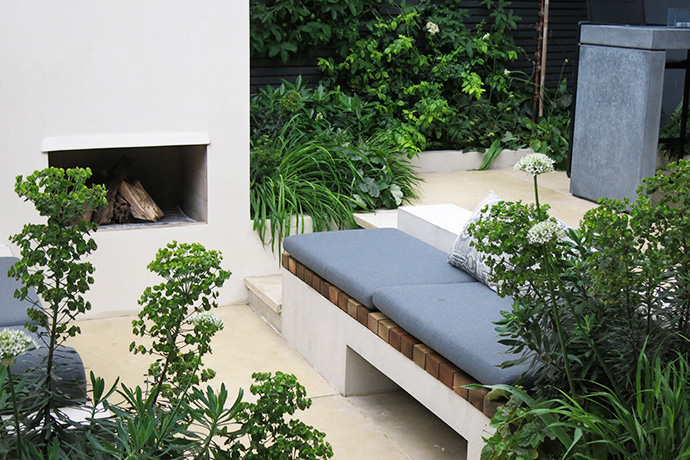 Photograph Copyright Charlotte Rowe Garden Design
The other option is a diamond polished concrete where the concrete is poured in large format areas, tamped and dried then polished to achieve a more natural looking honed surface. Both processes can be hit and miss for a range of reasons so it is crucial that this is carried out by a specialist.
Beating the British weather: creating a stylish and practical space
Fireplaces, fire bowls and fire pits seem to be eternally fashionable in this country, most probably because of the temperamental nature of British weather. For a look that's both natural and striking, we'd recommend going for a fireplace that uses solid fuel such as logs instead of gas. When we design these for our clients we also provide a log store, which can look really nice and add to the visual appeal of the garden. Our fireplaces are all designed individually for particular spaces, coming in different shapes, sizes and materials. But one thing they all have in common is tall chimneys, which are essential for the smoke to be able to rise properly. If the chimney doesn't 'draw' correctly, smoke will billow out of the grate.
Today's garden dining: bringing the outdoors in
Cooking in the garden is more popular than ever and barbeques are getting more attractive and adventurous because of this. When choosing what's right for you, think of what kind of cooking you plan to do outside. For simple barbeques, a gas open top barbeque will do. But if you want to roast, you'll need a barbeque with a lid and possibly a built-in back burner. Some people like to do all of their cooking outside, in which case an additional side burner might be helpful. The nice thing about eating outside is that there's no real need to create a formal dining area – it has the potential to be very relaxed. Bi-fold and sliding glass doors are really popular at the moment because they allow the outside to merge within. They can give the feel of an entire wall being removed from a room in the house, creating a semi-outdoor space perfect for relaxing and eating.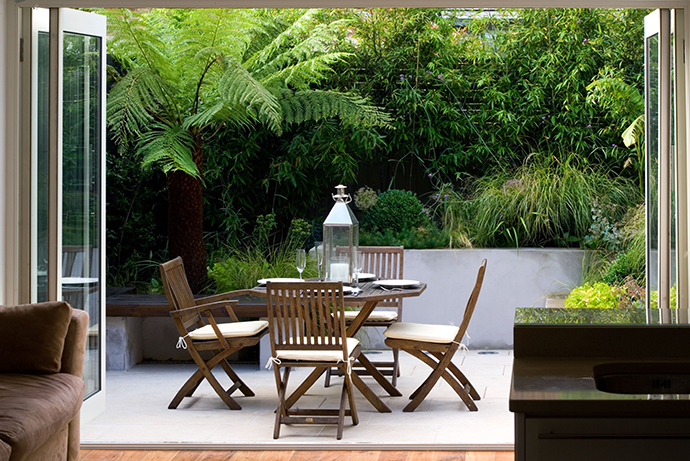 Photograph Copyright Clive Nichols
We often design informal eating areas using low coffee tables, sofas and chairs. Gone are the days where a few teak (or fake teak) chairs were the best option for seating outside. Now there's a huge range of furniture available using glass, porcelain, polished concrete, and waterproof fabrics. We're buying in a lot of beautiful hand-made crocheted outdoor furniture from Italy at the moment, which goes down really well with our clients.
Substance meets style: taking a tailored approach
When it comes to garden design it's far from a case of one size fits all. If there are children in the family, a lawn for sports and playing may be a pre-requisite. But a professional couple without children may want a haven of peace with paving, planting and atmospheric lighting. We always try to create more than one 'living' space even in our small gardens, creating screening out of hedges and small trees, or using arbours to create small 'rooms'.  Contrary to what people might think, dividing up a small garden can actually make the space look bigger. This is because it fools the eye, training it to look to the foreground and then into the distance so that it becomes a staged visual journey.  A large open space with no barriers or features gives no opportunity for the eye to 'read' the space.
When to leave it to the professionals
It's always good to get professional help with garden lighting because, apart from anything else, it all has to be certified now. And it's crucial that all fittings are IP rated for outdoors to ensure there's no water ingress. As well as this, it can be difficult to choose lighting for gardens because of the organic nature of plants – lighting needs to allow for their growing. We tend to concentrate on lighting trees and focal points, as well as any planting that's loose and soft – it's very difficult to light solid planting such as topiary, hedging or shrubs.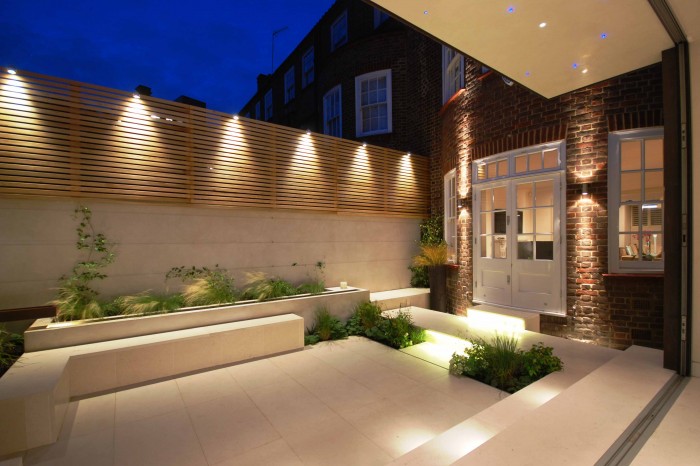 Photograph Copyright Charlotte Rowe Garden Design and Light IQ
It's also best to seek professional help when designing complex landscaping, as the detailing and construction needs to be waterproof and weather hardy. Only certain timbers and stones can be used and they need to be installed using particular methods. Ideally, it's a good idea to use a professional landscaper or garden designer in any major renovation project. You should check that they've had proper training and seek references before starting. You can also check out the Society of Garden Designers' website for accredited/registered members. With the right help and a clear vision for your garden, it can become one of the finest assets of your home.
Find out more about Hiscox garden insurance.
Charlotte Rowe is an award-winning garden designer and a registered member of the Society of Garden Designers. Find out more at Charlotte Rowe Garden Design.