Have appetite will travel – the world's best food festivals
May 08, 2017
When it comes to planning the ultimate holiday experience, don't follow the sun, follow the gourmet trail instead. We dish up the best in food festivals around the world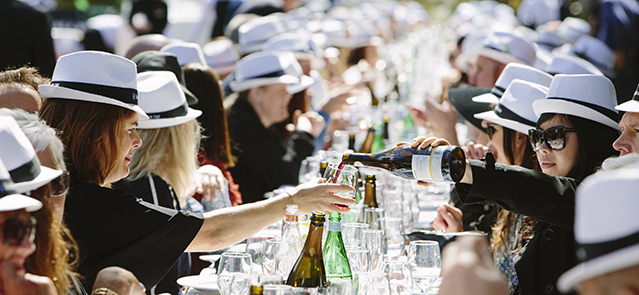 Lunch at the Melbourne Food and Wine Festival. Photo: Daniel Mahon
From Le Salon du Chocolat in France and Way Out West in Sweden through to Melbourne's Food and Wine Festival, there is a veritable feast of gourmand-centric events to whet your appetite if you're willing to cross a few time zones.
$100 Gourmet, Singapore
Every month
Singapore is without a doubt a food mecca. On the gourmet front, local tastemakers sit alongside the likes of Mario Batali, Guy Savoy and Wolfgang Puck. The Savour group continues this trend, specialising in unique culinary experiences hosted throughout the year.
Savour Gourmet, held in 2016, featured a specialist gourmet market stocked with products flown in from around the world: Iberico pork, Miyazaki wagyu and Hokkaido lavender-flavoured ice cream to list just a few.
Also worth checking out is $100 Gourmet, a monthly event that sees world-renowned chefs curate bespoke one-time menus in partnership with the hottest local chefs, cooking at some of Singapore's coolest establishments.
There are over nine restaurants to choose from throughout 2017. In May, enjoy the tapas tradition of Spain jointly created by Frank Camorra (MoVida) and Jordi Noguera (PIM PAM by FOC) through an exclusive six-course menu paired with Dalmore Scotch whisky. Check the website for more details on other events.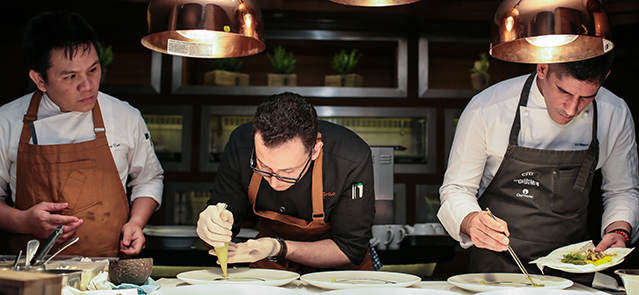 $100 Gourmet sees world-renowned chefs curate bespoke one-time menus every month
Porto Cervo Food Festival, Costa Smeralda, Sardinia
12 – 14 May
Hosting a boutique event focusing on the best of Sardinian and Italian wine and food production, Porto Cervo is hard to beat when it comes to a glamorous setting. We doubt it would require too much arm-twisting to convince any traveller to head for the Med, so consider this festival a bonus to your next Italian holiday.
Backdropped by the spectacular Costa Smeralda – one of the most enticing coastlines in this region – world-famous and small producers gather to showcase their products as part of a weekend filled with tastings, master classes, demonstrations, gourmet dinners and a stack more.
Le Salon du Chocolat, France
28 October – 1 November
You may have missed February's Le Salon du Chocolat in Brussels but fear not chocolate lovers. Held in the Porte de Versailles in late October, Le Salon du Chocolat returns, featuring 500 participants from France and abroad: chocolatiers, pastry makers, confectioners and representatives from cocoa-producing countries, along with top chefs, pastry chefs and designers.
These chocolate professionals will treat guests to recipes, workshops, conferences and a bunch of other activities. The chocolate sculptures are also rather spectacular – 2016 featured an Eiffel Tower in chocolate by Jean-Luc Decluzeau.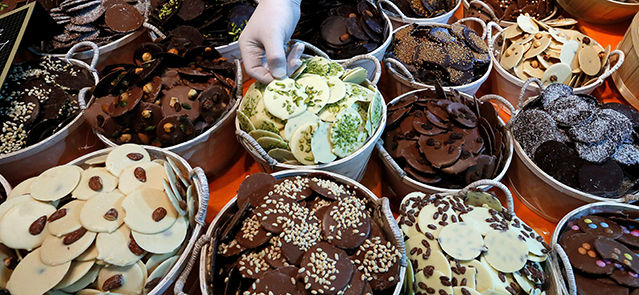 A selection of treats from Le Salon du Chocolat in Brussels. Photo: Alamy
Way Out West, Sweden
10–12 August
Set within Gothenburg's Slottsskogen park – all street lamps, winding paths, rolling grassy slopes, trees, and pretty ponds – Way Out West is firstly a music festival, but also a must-visit for its culinary line-up. What makes the festival special is that all the food on offer is vegetarian and vendors focus on seasonal and local sourcing under the direction Mats Nordström, of restaurant Wasa Allé, who has won multiple awards for his organic cuisine.
The food is all 'environmentally smart', which means organic, fair and eco-labelled. Sustainability is also a focus – the festival's carbon footprint came down 25% with the decision to go vegetarian in 2012. (Veggie fans should also consider the Vegetarian Festival, a nine-day Thai celebration that is part of a general mind and body detoxification and is held annually from September to October in Phuket.)
Tobago Blue Food Festival
15 October
This one is a little off-piste, but you'll be rewarded for making the trip. It's also on the Caribbean island of Tobago, so think sun, sand and surf. In its 18th year, the Blue Food Festival is set in the coastal village of Bloody Bay, and focuses on dishes using dasheen — a root vegetable eaten in abundance in the Caribbean because it can be cultivated in flood conditions.
You can try dasheen roasted, fried, boiled, sliced, mashed or grated into delicious street-food-style dishes and island specialities. There's also live entertainment, a kids' fun zone, live demonstrations and much more.
Food and Wine Festival, Melbourne, Victoria
March 2018 (dates TBC)
Melbourne and its surrounding regions are a gastronomic playground. Indeed, we're a touch jealous of Victorians, what with an abundance of fresh seasonal produce, bustling food markets, innovative chefs and their award-winning restaurants, expert winemakers, the warmest hospitality and passionate artisan producers – all on their doorstep.
Luckily, the Food and Wine Festival means you can get in on a slice of the action. Celebrating its 25th year in 2017, this state-wide festival features over 300 events across Victoria. Visitors can indulge in bespoke events held in Melbourne's labyrinthine network of restaurants, laneways, lights-turned-down basements and dizzying rooftops as well as more happenings spilling into spectacular regional Victoria. We also suggest making a special trip to Brae.
Find out more about Hiscox travel insurance